If as expected by the survey numbers, the Institute for Supply Management Index of Manufacturing Activity to be released this morning hits the 50.5 mark, it will be the first time that level has been seen since January 2008 and also above the level (50.0) at which the factory sector is seen to been expanding vs. contracting.
Since the theme lately has been one of inconsistency, it would be a shame to leave manufacturing and one of the things all manufacturers use a lot of, electricity, out of the discussion.
Sans parts of Texas where the string of days where the mercury topped 100+ degrees for close to 70 days recently electricity usage is down by some pretty impressive amounts this year.
American Electric Power (NYSE:AEP) said that industrial demand had dropped by 20% in the 2nd quarter, the sharpest decline the company had seen in decades. This translated into a 9% decline in retail energy sales and a 35% drop in revenues from wholesale customers.
That AEP has been a laggard in pushing its customers on the energy efficiency front makes the above numbers more indicative of what is happening in the economy as cuts in automotive and steel production at many of its customers reduce demand.
AEP's CEO, Mike Morris is pushing for a new rate structure that will allow utilities to cover their fixed costs if demand stays at its current levels.
Additionally, the nation's largest wholesale power market, covering parts of 13 states east of the Rocky Mountains ranging from Delaware to Michigan saw demand fall 4.4% in the first half of the year which was a key factor in pushing spot markets power prices down by 40%. YoY energy use had fallen 2.7% from 2007-2008.
To put this in perspective, electricity demand has grown by over 2% in 45 of the last 58 years and there have only been 5 years since 1950 where electricity demand dropped in absolute terms.
The good news is that businesses that are large power consumers are getting a break when they need it most. Andy Morgan, president of Pickard China, a manufacturer of fine china in Antioch, Ill said his electricity costs are down 30%-40%. "We've definitely reaped savings. You'll take whatever you can get, especially in a down economy. That's one of the few blessings in this storm."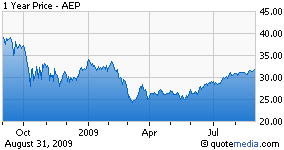 If the demand for power is down you wouldn't necessarily be able to tell from looking at the CDS/equity combo for AEP. The CDS levels moved steadily lower this year from a high of 95bps in March to a low of 40bps on 8/10. A recent move up in the CDS to 60bps on 8/19 did not dampen the stock's move as after bouncing off of the $25 level a few times between March and May the stock has moved up to a recent high of $31.86 on 8/28 and closed last night at $31.43.
Today begins the two-month stretch that has traditionally kept investors a jittery as a live wire on a wet street. At least we can take some comfort that we're not paying a lot for the sparks.
Enjoy the week.