As we have written before with regard to Google (NASDAQ:GOOG), NII Holdings (NASDAQ:NIHD) has a large portfolio of tower assets that it is desirous of selling to a larger operator of tower assets, like American Tower (NYSE:AMT) or SBA Communications (NASDAQ:SBAC). As an alternative, we think it may be wise to investigate whether it can use one of its subsidiaries (Nextel Peru is selling its assets) as a vehicle to transfer these tower assets into, and then spin off -- perhaps on a tax-free basis -- to its shareholders. This could nearly double its current share value, as these assets are currently unrecognized in NIHD's current share price.
These assets also may be of strategic value to current shareholders of NIHD who may not want further concentration in the regulated business of wireless telecom, but who are interested in wireless and broadband communication infrastructure. The towers represent a growing business opportunity in their own right. That's especially true in the emerging Latin American NIHD territories, including Brazil and Mexico.
Yesterday, AMT held its quarterly conference call and expressed an opinion that we believe highlights long-term strategic value for NIHD shareholders in these tower assets. Here is what we want to highlight from that transcript:
Operator: Your next question comes from the line of Imari Love with Morningstar.

Imari Love -- Morningstar

Just wanted to touch back internationally on zoning restrictions, ground leasing dynamics, access to licensing. If you can just speak to, maybe just on a high level, things getting on the margin easier to make moves, build in acquisitions internationally, specifically in Latin America. Or are things starting to get a little tighter from maybe a regulatory backdrop perspective?

James Taiclet -- Chairman, President, and CEO

Broadly, zoning and permitting restrictions are increasing in difficulty in every market at a different pace, but they're increasing everywhere. But also I think it's important to reiterate that zoning is not what makes a franchise tower. What makes a franchise tower is the economic disincentive to build next to an existing site, because the existing site is able to capture, on its own, within its territory, all of the license holders in that location. So if there are five license holders and we have a tower there, we've got five potential customers.
NIHD has 4,500 towers in Brazil and 3,000 in Mexico it is trying to sell, and another ~800 in various operating territories, according to the transcript of their last earnings call. Its getting more difficult to build these structures, according to AMT's CEO. Why sell them now, when you can give them to your holders tax-free and get full market valuation for them? All told, AMT has approximately ~55,000 towers. With 8,300 towers, NIHD has a great foundation to create a pure-play spin-off for its shareholders.
Let's take a look at NIHD's major holders and insiders:
Click to enlarge images.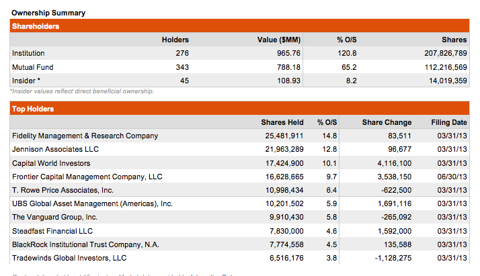 Click to enlarge
All these holders would make great candidates to hold a newly spun-off company with great growth and yield prospects from the ongoing mobile computing paradigm shift. If I was an insider with 8.2% of NIHD, I certainly would love to get another currency -- possibly even tax-free. Moreover, if I was allowed during the earnings call this morning, I would ask if management is considering this as a possible alternative to a sale of Brazil and Mexican towers.
One other note: We were made aware yesterday of optionapps.com, which we feel is worth visiting because it highlights factors we report on frequently such as the negative rebate rate, which they call the "negative implied borrow rate." The site highlights some interesting facts about NIHD, such as its rank in volatility change, as pictured here:

Click to enlarge
As you can see, NIHD is No. 1 on this list. With today's earnings due before the open and the earnings call upon us, we expect volatility to increase in the foreseeable future in this name. But we also see NIHD as a long-term "Brazilian emerald in the rough" to hold.
Disclosure: I am long NIHD. I wrote this article myself, and it expresses my own opinions. I am not receiving compensation for it. I have no business relationship with any company whose stock is mentioned in this article.