It has been a rough couple of weeks for holders of potash producers Mosaic (NYSE:MOS), Potash Corp. (NYSE:POT), and Agrium (NYSE:AGU). And Monday's announcement by Uralkali (OTC:URALL) that it plans to sever its alliance with Belaruskali and increase potash production feels like salt in the wound. However, this should not have come as much of a surprise.
Primarily used in agricultural fertilizer, the production of potash is dominated by 5 global players: Canadian producers Potash Corp., Mosaic Company, and Agrium, Inc. and Eastern European producers Uralkali and Belaruskali. The Canadian companies operate Canpotex, a jointly owned potash marketing and export firm while the European companies have a joint operation under the Belarusian Potash Company (BPC). Together Canpotex and the BPC ran a powerful duopoly keeping potash prices artificially high. Prices, which for decades had been below $200 per ton, rose from under $200 per ton to over $400 per ton between 2007 and 2011. Uralkali's announcement and subsequent statements regarding increasing production and lowering prices breaks the duopoly and changes the economics of the industry. Upon release of the news, Mosaic, Potash Corp. and Agrium dropped 17%, 16% and 5%, respectively.
Investors now fear that the producers will enter into a price war and statements made by Uralkali's Chief Executive, Vladislav Baumgertner, seem to back up that assertion. He was recorded as saying "the potash price may fall below $300 a ton after the change in our trading policy." As of July 29th, Potash sold for $410 a ton according to weekly price data from Green Markets. Based on its historic pricing, the price per ton of potash could be cut in half.
Unrest and dark storm clouds were brewing in the potash industry long before Uralkali's announcement. For those of you who were listening to these signals, you may have already moved to the sidelines or hedged your positions and be sitting in a great position to capitalize on this pullback.
The signs of trouble ahead were numerous:
May 22nd - Uralkali threatens to delay two of their potash mine expansion should the BHP Jansen project move forward. In 2010 BHP Billiton Ltd. (NYSE:BHP) made a hostile bid for Potash Corp. which was blocked by the Canadian government. BHP has subsequently developed plans for expanding into the potash business by developing its own mine known as the Jansen project.
May 15th -

Mosaic announced delays in planned expansion of potash production while it waits for better conditions.
May - North American potash exports fall below their 2012 level.
July 16th -

Mosaic reports weak earnings and sights declining phosphate prices and soft demand from China and India.
July 25th - Potash Corp. earnings miss expectations. They cited lower prices for fertilizer nutrients and increased global competition and cut their outlook for the year.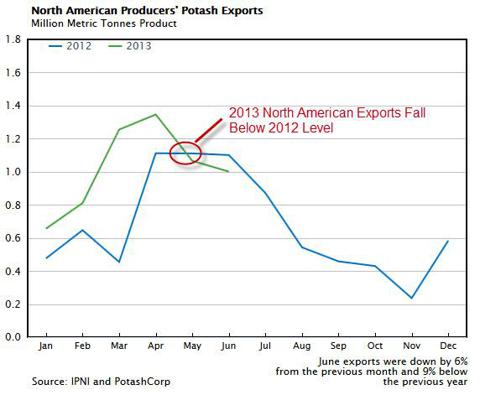 Source: Potash Corp
Mosaic Enters Elevated Risk State on May 23rd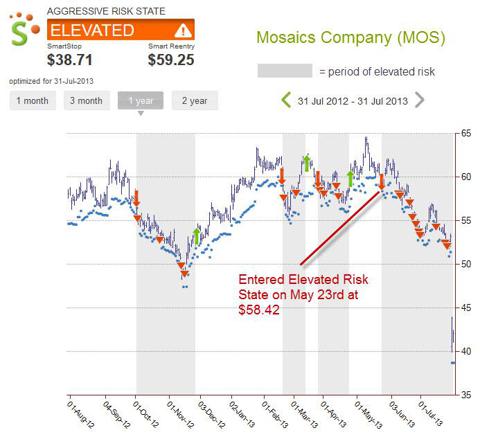 Source: SmartStops.net
So what happens now?
Demand for potash is expected to remain strong due to continued global population growth and demographic shifts. However, pricing uncertainty and associated risks due to the loss of cooperation among the producers is significant. Based on pre-2008 pricing, in the near term a 50 percent retrenchment in phosphate pricing is possible. At some point, the lower potash prices will flow through to lower fertilizer prices, increasing use and demand of the end product. This increase in volume may offset some of the impact and pain. Eventually, demand will catch up with any added supply and once again phosphate prices will begin to rise. However, this will take some time to play out.
The price corrections in Mosaic, Potash Corp. and Agrium have already been significant with losses from their 52-week highs of 36%, 35% and 26%, respectively. But I suspect there will be better entry point opportunities over the coming weeks before producer relationships settle into a new normal. While the current pain is severe, five years from now, this may prove to have been a great buying opportunity. For those that want to play the global demographic game through potash-based fertilizers and are thinking of catching the falling knife, it would be prudent to spread out your purchases and protect your assets with tight stops or hedges until the dust has settled.
Disclosure: I have no positions in any stocks mentioned, and no plans to initiate any positions within the next 72 hours. I wrote this article myself, and it expresses my own opinions. I am not receiving compensation for it (other than from Seeking Alpha). I have no business relationship with any company whose stock is mentioned in this article.