The Q2 2013 earnings report for Trulia (TRLA) had several highlights that caused after-hour investors to raise the price by 11%. The major highlight was that if the company removes stock-based compensation and an acquisition for the quarter, they go from a loss of $0.07 a share to an adjusted earnings of $0.05 a share. In this article, I will share the highlights and analyze why I do not believe they are worthy of the current stock price. Here are several highlights taken from the Trulia.com earnings report:
Total revenue for the second quarter of 2013 was $29.7 million, an increase of 77% year over year.
Monthly unique visitors in the quarter were 34.9 million, an increase of 49% from 23.5 million in Q2 2012.
Total subscribers at the end of the quarter were 32,123, a 49% increase from 21,544, in Q2 2012.
Average monthly revenue per subscriber for the quarter was $194, a 31% increase from $148 in Q2 2012.
Although the year-over-year growth seems impressive, there are two reasons why I believe a lot of investors are misreading these results. The first reason is that the revenue growth seems to be directly proportional to spending by the company to grow revenue, just like its main competitor Zillow (NASDAQ:Z). This in turn leads to very low margins and, in Trulia's case, negative margins, as their net income was a loss of 0.07 cents per share. In the charts below, we can see that the highlighted revenue and expenses figures seem to be directly proportional and have been for the past several quarters:
Click to enlarge images.

So, as per the past quarters, it seems as if spending has driven up the revenue while sacrificing profit margin. This may be a strategy to gain market share, but then again it can be a business model that can never recover from this type of revenue generation. My belief is that this "middle-man" business model can never have great margins as these companies will always have to spend a lot to get website traffic, which in turns leads to higher revenues.
The second point, which I think investors are missing, is that they are looking year over year vs. quarter over quarter, since the housing market is rising every quarter. Here is a report from Cenus.gov that shows home sales rising every month and the overall housing market growing: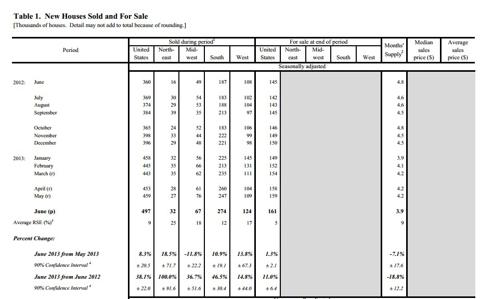 So, investors should look at growth from one strong quarter to the next in a rising market vs. a much weaker housing market at the beginning of 2012, which no doubt would make the numbers in a stronger market look better when compared to this year's quarters. Taking that into account, here are a couple more key metrics that show how Trulia and companies like Zillow (Z) and Move, Inc. (NASDAQ:MOVE) generate the majority of their revenues:

The unique visitors, subscribers, and subscriber rate are not very impressive from Q1 to Q2 for a "growth company" -- even though the real estate market seems to be growing a lot stronger with growing home sales.
In conclusion, investors are currently very excited about the year-over-year growth for revenue, unique monthly users, and subscribers. But two things should be pointed out: One, the growth is not that impressive for a "growth company," which is a company with a very high current price-per-earnings ratio, quarter over quarter. Two, the spend is rising quarter over quarter. If an investor feels as if the company can break away from the low margins at some point and grow naturally without having to keep increasing spend, then this might be a great company to invest in. However, I believe that the Internet ad sales market that Trulia and its peers operate in is currently very overpriced for their future potential, which in my eyes seems to be increased spending to generate higher revenue growth.
Disclosure: I am short Z. I wrote this article myself, and it expresses my own opinions. I am not receiving compensation for it (other than from Seeking Alpha). I have no business relationship with any company whose stock is mentioned in this article.