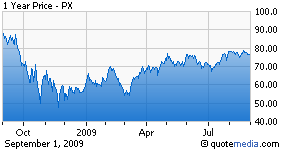 Back in February in this column, I reviewed Praxair (NYSE: PX), one of the dominant players in the specialty gas sector.
You may recall that Praxair – a global, Fortune 300 company – is the largest industrial gases company in the Americas, and the world. With 27,000 employees in 30 countries, Praxair supplies its products to a wide array of customers around the globe.
It produces, sells and distributes atmospheric, process and specialty gases. It's also a manufacturer of high-performance surface coatings for metals. The company's advanced manufacturing segment designs and manufactures cryogenic and non-cryogenic gas supply systems for various manufacturing processes.
Back in February, the company wasn't laying off workers or closing factories. And two quarters later, the stock is up around 18% and business is steadily improving.
Chairman and Chief Executive Officer Steve Angel had this to say on the company's recent quarterly conference call:
"Challenging economic conditions persisted globally in the quarter, resulting in overall volumes on par with the first quarter. We have begun to see pockets of sequential improvement in Asia and South America, where economic activity appears to be reacting positively to fiscal and monetary stimulus programs."
As more and more stimulus money actually gets deployed on existing infrastructure projects (I saw three on my way to Baltimore this week), companies like Praxair will see their revenues and earnings begin to rise.
As if to anticipate that happening, the company recently took advantage of the lowest borrowing costs in four years and issued over $1 billion in corporate bonds.
Borrowing costs are falling as banks correctly perceive that rising profits and a recovering economy will enable companies to more easily make debt payments.
This has bank managers putting the valium back in the medicine cabinet and getting back to the business of lending. Bankers are starting to loosen their purse strings with regards to lending, and capital is beginning to flow once again.
As the pace of investment picks up, companies will be busier and begin to ramp production, replacing hiring with layoffs. Praxair is certainly one of the companies that will be at the head of the parade that is beginning to form between now and the end of the year. I expect its good fortune to only get better.
Disclosure: None