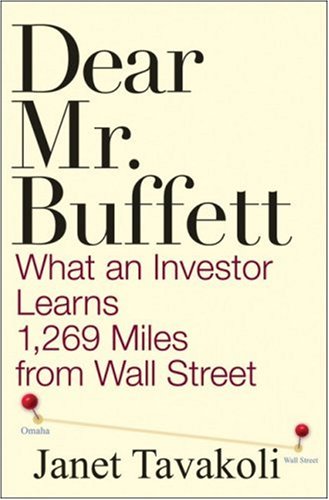 About The Author (via TSF)
Janet Tavakoli is the founder and president of Tavakoli Structured Finance, Inc. (TSF), a Chicago based consulting firm providing expert experience and knowledge about maximizing value in the face of complexity and uncertainty. TSF provides consulting services to financial institutions, institutional investors, and hedge funds. Ms. Tavakoli was years ahead of the financial industry predicting that lax underwriting, excessive leverage, and misrating of structured products would result in a global financial crisis.
What's The Book About?
Dear Mr. Buffett chronicles the agency problems, poor regulations, and participants which led to the current financial crisis. Janet accomplishes this herculean task by capitalizing on her experiences with derivatives, Wall St, and her relationship with Warren Buffett. One wonders how she managed to pack so much material in such few pages!
Unlike many books which only analyze past events, Dear Mr. Buffett offers proactive advice for improving financial markets. Janet is clearly very concerned about protecting individual rights, promoting honesty, and enhancing financial integrity. This is exactly the kind of character we should require of our financial leaders.
Business Week once called Janet the Cassandra of Credit Derivatives. Without a doubt Janet should have been listened to. I'm confident that from now on she will be.
Closing thoughts
Rather than a complicated book on financial esoterica, Janet has created a simple guide to understanding the current crisis. This book is a must read for all students of finance, economics, and business. If you haven't read this book, please do so.
Warning – This book is likely to infuriate you, and that's a good thing! Janet provides indicting evidence and citizens may be tempted to initiate vigilante-like witch trials. Please consult with your doctor before taking this financial medication.