Over the past two years, one of the most debated stocks out there is UGG maker Deckers Outdoor (NASDAQ:DECK). The maker of the popular brand has seen its stock plunge then rebound, only to be stuck in the $50s in recent months. Investors want to know where this name goes from here, and there are a lot of questions surrounding the name. Today, I'll break down the latest report, analyze the company's questionable guidance, and explain why I think the recent pullback may be one to take advantage of.
Second Quarter Results:
During a very hectic time for earnings season last week, Deckers reported its fiscal second quarter results. You may know that Deckers is involved in a huge plan to open a large number of new stores. A fair amount of those stores were opened in late 2012, with some of those expenses expected to carry through into the first half of 2013. Deckers is a very seasonal business, with a large share of their revenues coming in the second half of the year. However, their operating expenses are spread out fairly evenly throughout the year. This means that in lower revenue quarters, of which Q2 is the lowest, the company generally loses money. Deckers told us earlier in the year that the extra store expenses would mean that the loss in Q2 of 2013 (in terms of earnings per share) could be double the $0.53 loss from the 2012 period. When Deckers reported Q1 results a few months ago, they gave the following guidance for Q2 of 2013:
Revenues expected to be flat with 2012. In that quarter, the company's revenues were $174.44 million.
The company expects a loss of $1.10 compared to a loss of $0.53 in the second quarter a year ago.
Analysts had already been taking down their earnings forecasts to adjust for the store expenses, going from a $0.64 expected loss at the Q4 report to a $0.94 expected loss at the Q1 report. So the $1.10 loss that was given was very disappointing at the time. Analysts were also looking for 6.1% revenue growth, to approximately $185 million, so the forecast for revenues to be flat, around $174 million, was a bit weak. As the quarter went on, analysts continued to adjust their expectations, and here's where they stood going into the Q2 report:
Revenues of $179.14 million, growth of 2.70%.
A loss of $1.04 per share.
The headline numbers for Q2 were mixed overall. Deckers reported revenues of $170.09 million, a decline of 2.5% from the year ago period. That figure missed by more than $9 million. However, on an earnings per share basis, the company's loss was just $0.85, which was 19 cents better than expected. That's a fairly sizable beat, but it seemed to have gotten lost with the huge revenue miss. I'm guessing that most of Friday's 9% decline was due to the top line revenue miss.
The following table shows the company's Q2 margins against the year ago period, which I can use to further examine the results.

Gross margins declined by 112 basis points. Deckers is still being hurt by the higher sheepskin prices that were locked in over the past couple of years, as they mentioned on the conference call. These higher prices obviously hurt the cost of goods sold, which only declined by 60 basis points year over year, compared to the 249 basis point decline in revenues. Gross margins were also negatively impacted by more close-out sales. These gross margins should start to improve in Q3 and Q4, as Deckers realizes the lower sheepskin prices that they started to lock in during late 2012.
On the operating side, results were obviously impacted by the store expenses. Selling, general, and administrative expenses saw a 10.07% rise over the year ago period. That's not good when your revenues and gross margins are declining. As a percentage of revenues, SG&A expenses totaled 66.19% (of revenues), up from 58.64% in the prior year's period. This explains why you saw an 868 basis point decline in operating margins, expanding the operating loss by nearly 49%. Deckers has told us that their newer stores will be a bit lower margin, so investors should realize that the days of operating margins around 25% (for the year) are probably gone. Deckers will look to get back into the high teens over the next couple of years.
Deckers also saw its "other items" category swing from income producing to an expense. While the $480,000 difference from the year ago period doesn't seem like much, it is when your operating loss was already $42.75 million to begin with. Deckers reported an effective tax rate of 32.00%, up from 29.41% in the year ago period. That's actually a good thing in a loss quarter because you get more back. You want your effective tax rate to be lower when you are profitable and higher when you are not.
As I mentioned above, the company did lose $0.85, which was much more than the $0.53 in the year ago period. Strangely enough, this is where the company's stock buyback actually hurts. By reducing the share count, you actually hurt your earnings per share numbers when you are losing money, as the loss cannot be spread out over as many shares. Had the Q2 share count been the same as the year ago period, Deckers would have only lost $0.77. This isn't a big deal, because the company is yearly profitable, so you want a lower share count. However, it is something worth noting, as it is an important fact about buybacks investors should learn.
Overall, Q2 was not a great one for Deckers. The UGG line has been called a fad by many, and the 6.9% decrease in year over year UGG sales will only help fuel the bears. Deckers was again hurt by weather, this time impacting the Teva and Sanuk brands. If I were the company or investors, I would have wanted another few million in revenues, even if it meant a larger loss. The company can always cut costs, which it did a decent job of in Q2, but getting revenues is the important part.
Full Year Guidance "Raise":
Deckers' guidance is where things get really interesting. You may know that one of the biggest reasons I was a Deckers bear for the longest time was their extremely weak, some might call it conservative, guidance. Going into this quarterly report, Deckers had issued below analyst expected guidance for six straight quarters. That can be okay if the company beats that guidance, but they haven't been, not consistently anyway.
The company announced that it would be opening 36 new stores this year, instead of the 30 previously forecasted. So when they announced that revenues are expected to rise 8% this year, instead of the 7% previously expected, that might be due to the new stores. Analysts have since raised their yearly forecasts, with the current estimate calling for 7.6% revenue growth this year. That number was at 6.9% going into the Q2 report, and I expect it to rise closer to 8% as we move forward.
The company also raised its earnings per share guidance from 5% growth to 8% growth, but this number is extremely misleading. The extra 3% growth equates to about 10 cents when you take into account the $3.45 produced in 2012. However, they beat their own forecast (not the analyst one) by 25 cents in Q2. They guided to a loss of $1.10 but only lost $0.85. So they raised their yearly forecast by 10 cents, but had beaten their Q2 forecast by 25 cents. That doesn't exactly add up. I'll explain what this means in the next section when I break down the individual quarterly guidance for Q3 and Q4. Since the Q2 report, analysts have increased their average estimate from $3.69 to $3.74.
Q3 and Q4 Guidance:
For the Q3 period we are currently in, Deckers guided to revenue growth of 2.5%. That doesn't seem like much for their second busiest quarter of the year, but it was better than expected, with analysts looking for just 1.9% growth. However, the forecast for a 41% decline in earnings per share was worse than expected. That implies about $0.70 per share in profits, six cents below what analysts were looking for. That's most likely due to the added SG&A costs from the additional stores they will be opening, as well as the fact that they have not bought back any shares this year.
Q4 guidance seems to tell a similar story. Deckers guided to revenue growth of 14.5% for Q4, implying about $707 million in revenues. That's a bit ahead of the roughly $685 million analysts were looking for. Q4 is the company's largest revenue quarter, and their guidance implies that about 46.5% of this year's revenues will come from Q4. That's a big risk and reward for any firm. On an earnings per share front, the company's guidance implies about $3.82. Analysts were looking for roughly $3.94, so again, the forecast is light, most likely due to new store openings.
An interesting note on Q3 and Q4 estimates here. While the full year analyst average has risen by 5 cents in the past week, Q3 estimates have come down by 3 cents and Q4 estimates are down by a dime in that period. Remember, Deckers beat analyst estimates by 19 cents in Q2, but guidance was a little light for Q3 and Q4.
Key Takeaways From Guidance:
There are a couple of key items I must point out about the guidance that may influence how you view the company. First, I want to remind you about the company's buyback. Despite the company not buying back a single share during 2013 so far, the diluted share count, which is used to determine earnings per share, declined from 38.244 million to 34.428 million (for the first 6 months of the year). So when Deckers guides to earnings per share growth of 8%, you must realize that a lot of that "growth" is due to the reduced share count, and not rising net income. It is possible that if Deckers does buy back some shares in the second half of this year, that you could see earnings per share rise, potentially by a double digit percentage, and still see net income fall. The company would be less profitable overall, but the buyback would help boost earnings per share by a sizable amount.
The second key takeaway is how the company is using its available resources. For most of 2012, the company was pouring millions into its stock buyback program. Now, the company is focusing on investing in the business, whether it be new stores or expanding IT infrastructure. They reiterated on the call that for right now, they want to invest in the business and not necessarily buybacks. As we saw in the guidance above, that means you can expect more sales, but potentially lower profits. It also means that earnings per share could take a second hit, because the share count won't be declining as much as some might have originally thought. If you go back to my share count discussion above, you remember that now is the time to have a lower share count, as the company is profitable.
The third important item to remember is history, and there are a few parts to this. First, this company is dependent on weather to a fair extent, so a warm winter will significantly hurt the UGG business. The 2011-2012 winter saw this problem, and that's why shares tanked so much as sales did not materialize. The second part of the history lesson is the 2012 second half. Deckers always guides to a big second half, as that's when most of their sales are. But at last year's Q2 report, they said that Q3 would not be great, but not to worry because Q4 would be huge. Well, Q3 turned out to be absolutely dreadful, and they drastically reduced their Q4 forecast. In fact, they went from guiding to Q4 earnings per share growth of 22% to forecasting a fall of 14%, and cut their revenue growth forecast by two-thirds. Deckers is guiding to a fair amount of growth in Q4 this year, especially on the EPS front, so they must deliver. If they take down the Q4 forecast again this year, there are going to be some major problems for this stock.
Balance Sheet and Buyback Update:
Deckers' balance sheet is in very good shape. You might worry when you see a cash balance of just $49 million at the end of Q2, along with $26 million in short-term debt. It might appear even worse than a year ago, they had more than $114 million in cash and no debt. Don't be alarmed though. Over the past year, they've spent $120.7 million on stock buybacks and $64.5 million on new stores and their new corporate headquarters. This company is producing a lot of cash, which they have spent on buybacks and expansion.
There have also been concerns over the company's inventory levels, which have led to close-out sales at times, including this year's Q2. I'm not worried about the inventory balance, which rose just 4.56% over last year's end of Q2 figure. For a company opening several new stores and expecting 8% revenue growth for the year, an inventory rise of 4.56% is nothing to be worried about. The company is selling more, so they need more. Inventories may be a little higher than they've averaged historically, but Deckers has some new product lines and items like Pure, and that requires some extra inventory here and there.
While some key financial ratios are down from last year, they still are healthy, and again, it's because of the cash draw. The current ratio has declined from 2.74 to 2.44 in the past year, but that still leaves the company with more than $371 million in working capital. The debt (liabilities to assets) ratio improved ever so slightly from 29.74% to 29.73% over the past year. Deckers is likely to take on more debt in the next quarter or two, and don't get worried when they do. They just need to purchase inventory for the holiday selling season, and they will pay the money back once they are paid. They took on more debt last year than the year before, so it will be interesting to see how much they take out this year.
I mentioned above that Deckers has not bought back any shares so far this year. I think that was a mistake, as shares were under $45 and even $40 during the first two months of the year. The company does not seem to want to use debt to repurchase shares, and I can understand that. They do have about $79 million left on their current buyback plan, which is equivalent to about 1.5 million shares at current prices. The company had 34.45 million shares outstanding at the end of Q1 according to their 10-Q filing, so they could buy back another 4% of shares, given some dilution for executive options. Deckers has not filed their 10-Q yet for this quarter, so we'll have to use the first quarter number for now.
Stagnant Short Sellers:
One of the main reasons I believe there is potential in shares of this name is because of the possibility of a continued short squeeze. At the latest update from NASDAQ, there were still 9 million shares short, more than 25% of the outstanding share count. That's a very high short interest in any name, and with a 3-month average volume count of just 800,000, it would take more than 11 full trading days for all shorts to cover. That makes a short squeeze very possible. I've tracked short interest in this name for about a year and a half now, and you can see how it has moved below.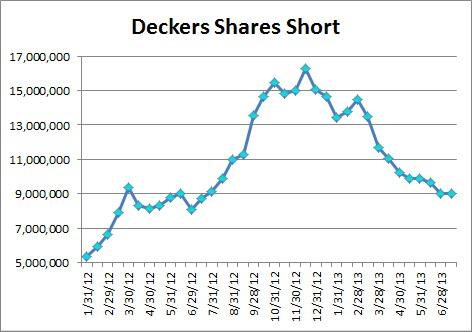 Last December, more than 16.28 million shares were short, and more than 7 million of those shares have been covered since. Even with all of that covering, we haven't even gotten to the halfway point yet. There are still plenty of non-believers in this name. When you get a mixed earnings report like we did last week, it doesn't help the bull case. That's why you haven't seen a Netflix (NASDAQ:NFLX) or Tesla (NASDAQ:TSLA) like short squeeze in Deckers. What I've argued will happen, and it has already to some extent, is a gradual short squeeze. Deckers has shown this, being more than 92% off its 52-week low of $28.53. Not all of that is due to short covering, because we were in the high $30s when short interest peaked. However, this name could make a slow march higher, realizing large gains over a long period, instead of a quick, sharp pop.
Other Industry Movers:
In recent months, I've been more bullish on a separate footwear name, and that is Crocs (NASDAQ:CROX). The company famous for its holed flip-flops showed more revenue and earnings potential than Deckers, and traded for a much more reasonable valuation. However, I no longer see Crocs as the better buy after their latest earnings bomb. Crocs issued very weak guidance, which has blown their growth story to pieces. Shares have lost 21% in just three days. Crocs still trades at a cheaper valuation to Deckers on a 2013 P/E basis, but is expected to report an earnings plunge like Deckers did last year.
Updating my projection scenarios:
A few months ago, I explained why I thought there was upside in Deckers shares based on a variety of reasons. One reason was that I projected a few income statement scenarios, and showed how even if Deckers just met expectations, shares could rise. After gathering the second quarter results and guidance for the rest of 2013, I'm updating my assumptions today, and will then share my results. Here are my current assumptions for the three scenarios. Diluted shares are in thousands.

After the Q2 revenue miss, I've taken down the worst case scenario to just 3% revenue growth, in case they miss again. I've bumped up the normal revenue scenario to the 8% growth they are now forecasting, and am maintaining the 300 basis points of additional revenue growth for the best case. I did not change my margin scenarios. I do think gross margins will be a little better than expected, but we also have the extra store expenses to account for. For that reason, I'm not changing anything, but know that I think we'll see better gross margins offset by more operating expenses. I just don't want to try to predict the size of those changes right now. I dropped the tax rate to 31% because I think they got back a little more in Q2 than expected, so I think the yearly tax rate will be a little lower. I also bumped up the share count by a quarter million for each to account for the fact that they aren't buying back stock right now. The final change was an adjustment to the "other income" number in the normal case, which I did just to get the normal case to the analyst average of $3.74 for earnings per share. I also put the "other income" numbers for the other two scenarios at $0 since it is extremely difficult to predict those numbers. After all of those changes, here are the three scenarios.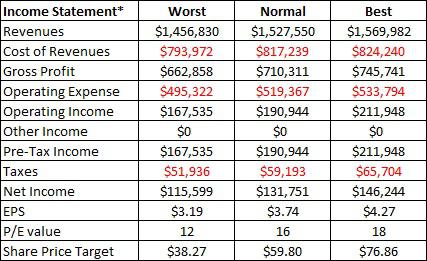 *Dollar values in thousands except for EPS, P/E value, and share price target. Numbers may appear off due to rounding.
If Deckers comes in at the worst case scenario, I do see a fall of 30% possible. Another bad year and there will be serious concerns over the UGG brand. In the normal scenario, Deckers has 9.07% upside over Wednesday's close. That's a respectable gain in my opinion.
If Deckers can hit the best case projection I laid out, I could see nearly 40% upside in shares, which also would be due to a potential short squeeze. You also could see more buyout rumors if results are better, and that gives some potential upside to shares. However, let me give this one caution. Due to the extra number of stores being opened, as well as the potential for no stock buybacks, there is the possibility that $4.00 could be the maximum for earnings per share. In that case, I think the price to earnings multiple is about 17, meaning a stock price of $68.00. That would still be 23.88% upside, which wouldn't be bad for the next 7 months roughly (Deckers probably won't report until late February). Deckers has a lot of potential, but sales must materialize, and they need to spend wisely on new stores.
Final Thoughts:
Shares of Deckers have come down 8.51% since their pre-earnings high last week, and I think that may present an opportunity. While Q2 sales missed by a wide margin, it is their weakest quarter of the year, and they had a much smaller loss than forecasted, which is always good. The company raised its full year forecast on paper, but investors need to look at the math to see how the numbers really changed. Deckers is a very profitable business that produces a lot of cash. In recent years, that cash was used to buy back stock, but now the company is using it to expand its store base. That should help improve sales over time, but it will add extra expenses. A more balanced approach between new stores and buybacks would probably be better for investors. The company is in great shape financially, and improving results could chase short sellers away, leading to a squeeze. Deckers shares have the potential for large upside if this company can deliver. They haven't recently, and a fair share of that has been weather related. If a cold winter comes, this name is perfectly positioned to break out, and I think they are better equipped to execute now.
Disclosure: I have no positions in any stocks mentioned, and no plans to initiate any positions within the next 72 hours. I wrote this article myself, and it expresses my own opinions. I am not receiving compensation for it (other than from Seeking Alpha). I have no business relationship with any company whose stock is mentioned in this article.
Additional disclosure: Investors are always reminded that before making any investment, you should do your own proper due diligence on any name directly or indirectly mentioned in this article. Investors should also consider seeking advice from a broker or financial adviser before making any investment decisions. Any material in this article should be considered general information, and not relied on as a formal investment recommendation.