Among my core holdings, which are generally dividend paying stocks with generous share buybacks, ConocoPhillips (NYSE:COP) would have to be my highest conviction position. Not only does ConocoPhillips return large amounts of capital to its shareholders, but it has also shown operational excellence. In addition, ConocoPhillips has shown great progress in its asset shift, away from high-risk overseas projects, to lower-risk domestic projects. This shift is now paying dividends, with Q2 2013 being ConocoPhillips' best quarter since the spin off of Phillips 66 (NYSE:PSX). ConocoPhillips currently offers a $0.69 per share quarterly dividend, a 4.5% increase from the prior levels, and yields 4.25%.
On August 1, ConocoPhillips reported its Q2 2013 results. For the quarter, ConocoPhillips posted earnings of $2.1B, or $1.65 per share, compared with $2.3B, or $1.80 per share last year. It should be noted that last year's results included $0.5B from downstream earnings which have since been spun off to Phillips 66. When adjusting for certain one-time items, ConocoPhillips' adjusted earnings were $1.8B, or $1.41 per share, down from $1.5B, or $1.19 per share, last year.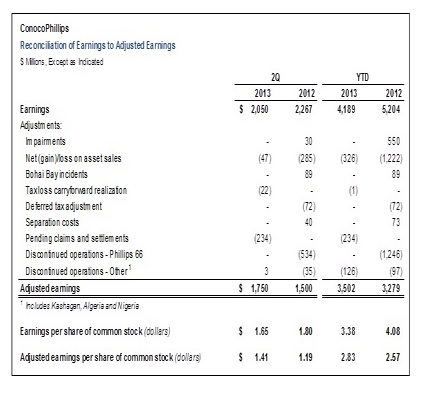 Production Overview: Major Increases in North America
In the news release, ConocoPhillips noted that it plans to gradually increase production by 3% to 5%. For the quarter, ConocoPhillips produced about 1,552M BOE/D which includes about 42M BOE/D from discontinued operations. When only considering the 1,510M BOE/D from continuing operations, ConocoPhillips' production grew 1.4% from the 1,489M BOE/D last year. YTD, ConocoPhillips' realized price per BOE fell slightly to $67.70 per BOE compared with $68.82 per BOE last year. This is mostly a result of lower overall prices for liquids (crude oil, NGLs, and Bitumen), partially offset by higher prices for natural gas.
The largest area of production growth for ConocoPhillips has to be in the Eagle Ford, Bakken and Permian plays which grew to 203M BOE/D, up 47% from last year. In particular, the Eagle Ford production grew to 121M BOE/D, up nearly 100% from last year. The Eagle Ford now represents about 25% of ConocoPhillips' total lower 48 production.
In Canada, production increased by 3M BOE/D to 271M BOE/D. ConocoPhillips was able to turn around several projects in the quarter, which increased production. ConocoPhillips is expanding its oil sands projects and they continue to be on schedule.
Overall, ConocoPhillips' total North American (Lower 48 plus Canada) production shifted towards liquids and away from natural gas. Total liquids production was up 17% from last year and now represents 49% of production in these two segments.

Click to enlarge
Operating and Free Cash Flow
In the quarter, ConocoPhillips generated $3.7B of operating cash flow, up 54% from the $2.4B last year. However, when adjusting for working capital of $700M, operating cash flow was about $4.4B. During the quarter, ConocoPhillips spent about $3.9B in capital programs, repaid $0.85B in debt and paid out $0.8B in dividends. However, the company did receive about $0.5B from asset dispositions and recognized a $0.9B benefit from a capital lease asset in Malaysia. As a result, ConocoPhillips' cash reserves fell by around $1.5B to $3.90B in the quarter.
Dividend, Share Buybacks, and Payout Ratios
As noted above, ConocoPhillips increased its dividend by about 4.5% to $0.69 per share per quarter. This was the first increase in ConocoPhillips' dividend since its spin off of Phillips 66. As a percentage of ConocoPhillips' adjusted earnings, the current dividend represents a 48% payout ratio. In terms of ConocoPhillips' FCF payout ratio, this would be impossible to calculate as the company was technically FCF negative in the quarter. When using ConocoPhillips' adjusted FCF, which excludes working capital, the FCF payout ratio would have been 170%. So far in 2013 ConocoPhillips has not repurchased in shares as it focuses on its asset portfolio turnaround.
Updated Guidance
ConocoPhillips has also provided an update for its 2013 production guidance. The company now expects to produce between 1,460M to 1,490M BOE/D in Q3 2013. For FY 2013, ConocoPhillips expects to produce about 1,515M to 1,530M BOE/D. FY production from discounting operations is expected to range from 25M to 40M BOE/D.
ConocoPhillips total capital spending for FY 2013 is expected to be about $15.9B for continuing operations and $0.6B for discontinued operations. The company also announced that it has reached an agreement to terminate its long-term agreement at the Freeport LNG Terminal. This is expected to result in a non-cash charge of about $540M in early 2014. However, it will also result in ConocoPhillips saving about $50M to $60M in annual operating costs over the next 19 years.
As part of its asset portfolio shift and to fund its North American capex, ConocoPhillips has announced that it plans to dispose of assets in Kashagan, Algeria and Nigeria. This is expected to bring in about $9.0B in total proceeds by year end 2013. As a result, ConocoPhillips expects total proceeds of $10.5 from its asset dispositions in 2013.
Conclusion
Overall, ConocoPhillips' Q2 2013 was rather impressive. ConocoPhillips is clearly back on track for growth. With a recent dividend increase and much better than expected earnings, ConocoPhillips is also operating soundly. In addition, ConocoPhillips' North American assets, such as the Eagle Ford, have allowed it to increase production even in the face of large asset dispositions. These newer domestic assets will provide ConocoPhillips with a much better risk-profile than some of its peers.
Disclaimer: The opinions in this article are for informational purposes only and should not be construed as a recommendation to buy or sell the stocks mentioned. Please do your own due diligence before making any investment decision.
Disclosure: I am long COP, PSX. I wrote this article myself, and it expresses my own opinions. I am not receiving compensation for it (other than from Seeking Alpha). I have no business relationship with any company whose stock is mentioned in this article.