There has not been a more interesting case study in recent years than Amazon (NASDAQ:AMZN). The online retail and service giant has done a wonderful job of increasing revenues, while profits have gone in exactly the opposite direction. You would think that investors would not love that combination, but they have, as Amazon continues to trade near its all-time highs. Amazon continues to make "investments in its future" in terms of fulfillment centers, content spending, and other areas, which have left the company with little to no profitability. Today, I'll explain how Amazon is getting closer to the cliff's edge, and why the company needs to start improving its numbers.
Second Quarter Results:
Last week, Amazon reported its fiscal second quarter results. The company reported revenues of $15.70 billion, which missed analyst estimates of $15.73 billion. Amazon came in at the upper end of its range, as its guidance midpoint for Q2 was $15.35 billion. Don't forget, when Amazon reported Q1, Q2 estimates called for $15.94 billion. So analyst estimates came down by about $200 million, and Amazon still missed.
Despite increasing revenues by $2.87 billion over last year's period, Amazon's operating income actually declined from $107 million to $79 million. Amazon did say operating income suffered an $18 million hit due to foreign exchange rates, but there still would have been a decline. Amazon's operating margins, including the currency hit, went from 0.83% to 0.50%.
On the bottom line, Amazon swung from a $7 million profit to a $7 million loss. Yes, a company with more than $15.7 billion in quarterly revenues actually lost money in the quarter. This isn't a total surprise, as Amazon has lost money in two of the past four quarters now. Thanks to the decline in operating income and net income, Amazon's trailing twelve month operating and net profit margins declined again. The chart below shows these two trailing twelve month margins over the past few years.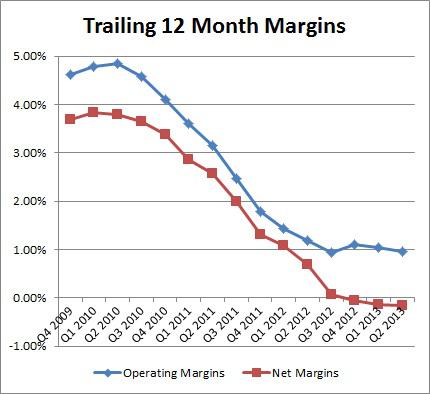 You'll notice that the net profit margin is actually a loss at this point, and it hit a new low point after Q2. Amazon had a $274 million GAAP loss in Q3 of 2012, so there is a possibility that Amazon's net profit (loss) margin will rebound after the Q3 results. That's assuming of course that Amazon doesn't surprise with another large loss.
Weaker Than Expected Guidance:
Amazon provided the following guidance for Q3:
Net sales are expected to be between $15.45 billion and $17.15 billion, or to grow between 12% and 24% compared with third quarter 2012.
Operating loss is expected to be between $440 million and $65 million, compared to $28 million in third quarter 2012.
Like many of Amazon's recent reports, guidance was very light. Analysts were looking for $16.98 billion in revenues, or 23% growth. That is well above the $16.3 billion midpoint analysts were looking for. Amazon also guided to an operating loss, which most likely means that it will have a net loss for the quarter. Analysts were looking for a $0.09 profit, meaning this forecast is also light.
Analyst Estimates Continue Lower:
As you can probably figure, analysts have begun to hack away at their estimates. The average revenue estimate for Q3 has already come down from $16.98 billion to $16.75 billion. The average earnings estimate has gone from a profit of $0.09 to a loss of $0.08. Analysts have also reduced their Q4 profit forecast from $0.93 to $0.78.
We've seen this pattern before, especially in recent years. Analysts start out with really high estimates for Amazon, and are forced to cut them as the year goes on. The following table shows the average 2013 estimate for revenues and earnings, going back to when Amazon reported Q2 last year.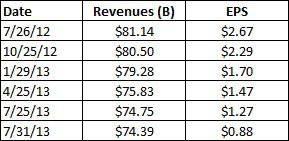 So in just over a year, analysts have pulled back their revenue estimates by $6.75 billion dollars. The only other name where I've seen a similar change is Apple (NASDAQ:AAPL). Apple's estimates are coming down because their product launches are going to be later than originally expected. Amazon analysts have reduced their EPS forecast by $1.79 in the past year plus, a decline of more than 67%. It is very likely that the average revenue estimate will be close to $74 billion soon, and the earnings estimate heads towards zero. Remember, Amazon actually lost money last year, and that could happen again this year.
You can probably also guess that 2014 estimates are coming down as well. Since Amazon reported its Q1 report in April, the 2014 average revenue estimate has been cut from $92.53 billion to $90.31 billion, a decline of more than $2.2 billion. The average earnings per share estimate has come down from $3.55 to $2.82. I would figure that these estimates are likely to continue going down, especially the earnings per share figure.
The Prime Battle:
Amazon continues to invest heavily in its Prime Instant Video service, as the company battles Netflix (NASDAQ:NFLX) for streaming domination. During the quarter, Amazon picked up more key content, and it has gone from 5,000 titles to over 41,000 titles in less than two and a half years. Amazon is also starting to deliver its own original content, but its originals are not as hyped as those that are on Netflix.
The question for Amazon relates to pricing and costs. Amazon Prime costs $79 a year, or about $6.58 per month. That's about 1/6 less than what Netflix costs per month, although Netflix has a larger content library. The other consideration is that Amazon provides Prime members with free two-day shipping, no minimum order size, a free Kindle book each month, in addition to the streaming service. For those that use all of the services, Amazon is probably losing a fair amount on Prime. Netflix has started to get its domestic streaming service to a respectable profit level, but one must wonder about Amazon. Can it continue to pile on content without a price raise? Unfortunately, Amazon doesn't provide a lot of detail into its numbers, so we don't exactly know how many Prime subs it has, or how this segment is actually doing.
Amazon, Netflix, and others will continue to see higher content prices, as more players enter the space. Hulu's capital infusion allows that service to acquire more content. We are just one major player, like an Apple or Google (NASDAQ:GOOG), away from the playing field really changing. Amazon has certainly made this space more competitive, but one must wonder how much it has cost them.
Balance Sheet Update:
Amazon's financial flexibility also has dwindled a bit in recent years. There are two specific items I'd like to focus on today, the current ratio and the debt (liabilities to assets) ratio. Because this is a seasonal business, the quarter to quarter numbers can be volatile, which is why I like to calculate a four quarter (twelve month) rolling average. The first chart I'll show is the current ratio.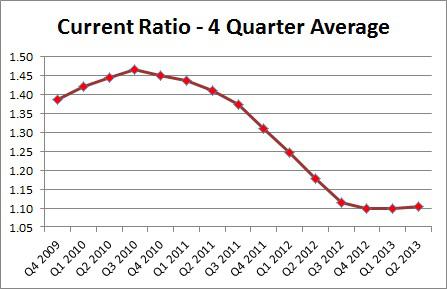 Just a couple of years ago, the rolling average for the current ratio was around 1.45, and now we are at 1.10. There has been a bit of a hit thanks to its $1.4 billion purchase for office space and property in Seattle, which won't be a recurring item. However, Amazon will probably find other ways to burn through cash, including the streaming wars I mentioned above.
The rolling working capital balance has declined in half over the past two years, from more than $3.3 billion to less than $1.6 billion. If the working capital balance continues to decline, Amazon might be forced to take out additional debt. This might not seem like a big deal, because Amazon got $3 billion in debt for an average rate of 1.60% last year. However, interest rates have gone up since then, and any debt adds interest expenses. When you are barely profitable, every $10 million or so in interest expenses makes it that much harder for them to achieve profitability. Interest expenses in last year's Q2 were $21 million, but $33 million in this year's period. That's a rise of 57%.
As Amazon has continued to spend, its liabilities have increased faster than its assets. The chart below shows the trailing twelve month average debt (liabilities to assets) ratio.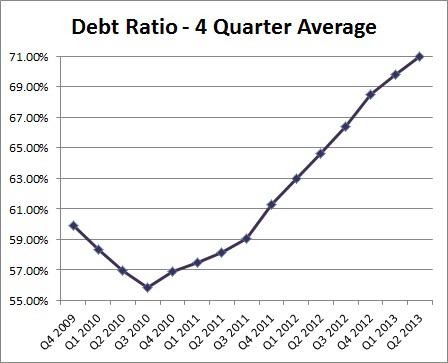 Amazon is not in any financial trouble currently, but its balance sheet is getting a bit weaker. You would like to see its cash flow improve a little, but with little to no profitability, or even quarterly losses, it might be some time before it happens.
My Thoughts On A Proper Valuation:
When it comes to Amazon, you really cannot use the price to earnings number for a proper valuation. With little to no profitability, the number just doesn't work. Because Amazon is considered a retailer, the price to sales metric is one metric that I've used for some time on Amazon. The question is, what is a proper number for it? Well, in the following table, I've given you a few comparisons. The table shows each name's current and next fiscal year revenue growth (as currently expected by analysts), along with the current price to sales value, as of Wednesday's close. In addition to Netflix and Apple, I've thrown in Best Buy (NYSE:BBY) and Wal-Mart (NYSE:WMT).

*Current year number adjusted for extra week in prior fiscal year.
There are a number of factors at play if you try to make a one to one comparison. For example, Netflix's "core" streaming business is growing much faster, as the DVD business decline hurts revenue growth figures. So if Netflix is growing the core business at a 30% clip, shouldn't it fetch a higher price to sales figure? You could also argue that because Apple is so profitable, has a large dividend and buyback, along with a massive cash pile, it deserves a premium as well.
So when it comes to Amazon overall, I don't think you really can compare it against just one name. In my Q1 earnings write-up, which I linked to above, I provided the following statement on Amazon's price to sales valuation:
After last quarter's report, Amazon was trading at just over 2 times trailing twelve month sales. Based on some historical numbers, and the fact that growth was slowing down, I argued that using even 1.8 times price to sales got you to $298 a share if Amazon produced $75 billion in revenues during 2013. After Friday's fall, Amazon is trading at 1.81 times trailing twelve month revenues. That 1.8 times sales figure is looking roughly in-line right now. However, if Amazon continues to disappoint on the revenue front, I think this valuation should be taken down to 1.7 times sales. If Amazon disappoints, $74 billion for revenues this year could be appropriate, as current estimates call for $75.42 billion. At 1.7 times sales and a $74 billion revenue clip, Amazon would be worth about $276.
Given that Amazon has disappointed, and revenue estimates are heading lower, the 1.7 times this year's expected sales figure seems appropriate. However, because of the QE program by the Fed that continues to push the stock market higher and higher, I am willing to give Amazon a little bump to that number, up to 1.75. Based on the current estimate for 2013 revenues of $74.39 billion, I believe that a fair valuation for Amazon today is $130.18 billion, or about $285 per share. At Wednesday's close of $301.22, Amazon seems overvalued.
Now you may ask me about the median price target for Amazon, which is currently $330 a share. I believe that analysts are currently overvaluing Amazon's growth, which isn't what it used to be and is getting taken down at every report. Also, if you compare Amazon to the four names listed above, the average price to sales figure for its current fiscal years is 1.63, which is a 13.76% premium to the 1.85 that Amazon trades for. I gave Amazon a fairly decent 1.75 value, which is a decent size premium as it is.
Conclusion:
While Amazon's stock continues to race higher, a bunch of its financial numbers are getting worse. Net profit margins, on a trailing twelve month basis, continue to go lower. Revenue and earnings estimates continue to be cut as Amazon disappoints each quarter. The balance sheet is getting worse as well. All of this for a stock that does trade at an overall premium to competitors in the space.
Until Amazon can prove that profitability is actually possible, this name remains a short candidate. While I would not recommend shorting this name for an extended period of time, I do believe that this stock is a little overvalued and that a pullback may be coming. Investors looking to short this name might want to wait for the next pop, one that brings us back to the 52-week high. Those looking to short this name should also have a set cover target in mind, as I would recommend taking profits if you can get them quickly. Amazon's numbers continue to worsen, and eventually, it just may catch up to this stock.
Disclosure: I have no positions in any stocks mentioned, and no plans to initiate any positions within the next 72 hours. I wrote this article myself, and it expresses my own opinions. I am not receiving compensation for it (other than from Seeking Alpha). I have no business relationship with any company whose stock is mentioned in this article.
Additional disclosure: Investors are always reminded that before making any investment, you should do your own proper due diligence on any name directly or indirectly mentioned in this article. Investors should also consider seeking advice from a broker or financial adviser before making any investment decisions. Any material in this article should be considered general information, and not relied on as a formal investment recommendation.