Introduction
Thanks to horizontal drilling and hydraulic fracturing, the U.S. and Canada have been the first to actively develop their shale gas resources over the last couple of years. In fact, it seems that both countries have overdeveloped these resources, creating a natural gas glut in North America. To alleviate the oversupply and commercialize these resources, several companies plan to export liquefied natural gas or LNG around the world. Several LNG projects have been announced in North America since 2011, but most of them are still at the early stages of their development.
International LNG Supply-Demand
Chevron's (NYSE:CVX) CEO John Watson said in a presentation to analysts in New York last March that demand for LNG will increase at an estimated average rate of 15 million tons a year (~2 Bcf/d) through 2025, led by growth in Asian nations such as China, Japan, South Korea and India. These countries are currently the primary recipients of LNG exports worldwide.
The global LNG capacity can be roughly assessed at 37 Bcf/d currently and will rise to 52 Bcf/d by 2018, thanks to the additions from Asia Pacific and the Atlantic Basin, according to the latest presentation from Cheniere Energy (NYSEMKT:LNG). The trio of approved Canadian projects will have the capacity to ship 4.66 Bcf/d, more than double the 2.2 Bcf/d of capacity that has been permitted in the U.S. thus far.
Meanwhile, the global demand is roughly at 31 Bcf/d currently, with 22 Bcf/d coming from Asia. Cheniere Energy estimates that the demand from Asia and Europe will rise to 25 Bcf/d and 11 Bcf/d respectively in 2015. This is why Cheniere invests heavily in growing its capacity. Construction on Trains 1 and 2 commenced last August and is approximately 30% complete. Construction on Trains 3 and 4 will start soon. First LNG is expected to be delivered by late 2015. Additionally, Cheniere expects to complete all of the required resource reports to file an application with the Federal Energy Regulatory Commission by September 2013 for Trains 5 and 6.
The question is whether the ongoing huge LNG investments worldwide will end up being analogous to the reckless dry bulk investments in the maritime industry that took place a few years ago, leading to a slump of the Baltic Index and several shipping companies into bankruptcy. This is a million dollar question which can't be answered based on the current data. I personally believe that the price differentials we see today are not going to persist and the spreads will narrow considerably.
The LNG supply-demand rate looks favorable currently but it is impossible to accurately calculate this rate on a long term basis. Only some rough estimates can be done now, and these estimates will most likely be retracted at a later time. This is because the LNG market is a constantly changing market with dynamic parameters that do not help an investor make safe bets on a long term basis.
One of the primary dynamic parameters is associated with the potential exporters and importers. The list with the LNG exporters will change when new members join it during the next few years. Shale oil and shale gas production has grown much in the U.S. to become 30% of oil and 40% of natural gas total production, but the shale industry gets out of its infancy and expands gradually in several other countries too. The LNG exporters, including the U.S., must bear in mind that:
1) China and India, their primary customers, are surrounded by countries with huge natural gas reserves. For instance, Turkmenistan's natural gas reserves are the fourth largest in the world and considered the region's gas giant, behind Russia, Iran and Qatar. The country is looking for investments to develop its gas resources and China has responded to this call. In 2009, the China Development Bank provided a $4 billion loan for a Central Asia-China gas pipeline project's first phase of development, and in 2011 pledged another $4.1 billion for the second phase.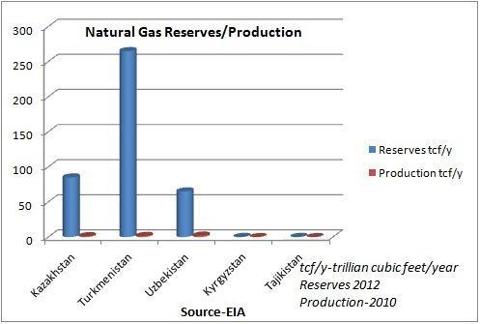 Click to enlarge
Kazakhstan and Uzbekistan also own a significant amount of proven natural gas reserves. Uzbekistan holds an estimated 1.84 trillion cubic meters of proven natural gas reserves. In June 2012, Uzbekistan signed an agreement to sell an annual 10 bcm of Uzbek natural gas to China. Uzbekistan is seeking to increase its cooperation with China and other countries looking to tap into its vast energy resources.
2) There are huge new natural gas discoveries and developments in Africa (i.e. Mozambique, Tanzania, Angola). Discoveries in Tanzania's and Mozambique's waters have led to predictions the region could become the world's third-largest exporter of natural gas. Tanzania alone estimates it has 41.7 trillion cubic feet of recoverable natural gas reserves.
The above may lead to lower natural gas prices in Europe and Asia, setting increased risks for those LNG exporters whose contract price is not indexed on oil. Meanwhile, costs in the Australian LNG plants are soaring and Chevron, one of the main investors there, really needs oil-linked prices to get a marginal return.
Shale Drilling International Update
The group of the primary LNG exporters consists of Qatar, Indonesia, Australia, Malaysia, Algeria and Nigeria as of today. A number of other countries have shale gas resources similar to the US, and more are being discovered all of the time. According to the latest report from the U.S. Energy Information Administration (EIA), the top 10 countries with technically recoverable shale gas resources are: China, Argentina, Algeria, U.S., Canada, Mexico, Australia, South Africa, Russia and Brazil.
However, an important distinction has to be made here. A technically recoverable resource is not necessarily an economically recoverable resource. Technically recoverable resources represent the volumes of oil and natural gas that could be produced with current technology, regardless of oil and natural gas prices and production costs. Economically recoverable resources are resources that can be profitably produced under current market conditions. Given the variation across the world's shale formations in both geology and above-the-ground conditions, the extent to which global technically recoverable shale resources will prove to be economically recoverable is not yet clear.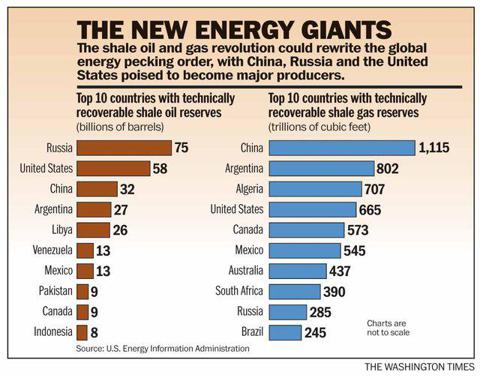 Click to enlarge
After all, a potential investor has to consistently update his information about the latest developments in the LNG sector. This could help him vaguely guess where things might be going. While a large part of LNG will continue to come from Australia and Qatar, the advent of new supply options from other countries could change the pricing dynamic. So let's check out the latest developments from the international shale gas front:
1) Israel is going to be the next major LNG exporter as it is blessed with vast reserves of natural gas. In June, Israel's government approved the export of 40% of the country's deep sea natural gas reserves, which it said could bring in $60 billion in government revenue over the next 20 years. Government officials believe that Israel can keep 60% of the nation's gas to meet domestic gas demand for at least the next 25 years.
In March 2013, Noble (NYSE:NBL) and Delek started pumping gas from the Tamar field, marking the first production from Israel's offshore gas reserves. Prime Minister Netanyahu hailed the development as "an important step toward energy independence" for Israel.
Noble Energy has greatly changed the Israeli economy during the last three years. In January 2009, Noble Energy discovered Tamar (36% WI) where the well encountered more than 600 feet of net pay in three high-quality reservoirs. Noble Energy discovered Leviathan (40% WI) in December 2010. Leviathan represented the largest deepwater natural gas discovery in the world over the past decade. It was Noble's third significant offshore natural gas discovery in the Levantine basin, following Tamar and Dalit.
Tamar, which came online in March 2013 with an estimated 10 tcf, can meet Israel's needs for decades. Leviathan, expected to begin production in 2016, is estimated to hold 19 tcf. In February 2012, Noble Energy discovered Tanin with estimated gross mean resources of 1.2 Tcf. Tanin is the fourth field over 1 Tcf that has been discovered in this Eastern Mediterranean basin.
2) The shale revolution is international and extends to Argentina too. In late 2012, YPF (NYSE:YPF) and Chevron signed a memorandum of understanding to explore conventional and unconventional shale gas and oil in Argentina. They agreed to develop the Vaca Muerta field in the Argentine province of Neuquen.
It seems that Chevron has high risk tolerance and appears ready to stomach the nationalization fear that looms over Argentina. In early 2012, Argentina nationalized YPF without coughing up a single penny. I discussed the nationalization fear and the "Dead Cow" (Vaca Muerta) appeal in my article about Argentina here.
A few weeks ago, Chevron signed the first agreement with Argentina's government to help develop shale oil and natural gas in the Vaca Muerta basin. The contract finalizes terms for Chevron's initial $1.24 billion investment, which may reach as much as $15 billion. The first phase of the venture between Chevron and YPF calls for drilling 100 wells in a 5,000-acre tract. Daily production is forecast to be 50,000 barrels of oil and 3 million cubic meters of gas by 2017.
From the oilfield service sector, Schlumberger (NYSE:SLB) is a first mover in Argentina where the company has solid activity and strong revenue growth on a year-over-year basis. Calfrac Well Services (CFWFF.PK) is the latest entrant in this emerging market. Calfrac completed the deployment of fracturing equipment into Argentina few months ago and it commenced fracturing operations in May 2013.
3) Russia is the world's second-largest producer of oil from conventional reservoirs. According to EIA, Russia has also huge shale oil and natural gas resources hidden deep within the underground bedrock in Siberia.
In late June 2013, Russia moved a step closer to becoming a rival LNG supplier to Qatar and Australia's key gas markets in North Asia. China's biggest oil company, China National Petroleum Corporation (CNPC), agreed to take a 20% stake in the huge Yamal LNG project in northwest Siberia. The price will be a little more than the $800 million paid by Total (NYSE:TOT) when it bought 20% of Yamal LNG in October 2011.
The Yamal LNG project is a very promising investment for both Total and CNPC. The Yamal LNG project involves the construction of a 16.5 mtpa processing plant, which would draw gas from the South Tambey field and then export it as LNG from a new port at Sabetta, northeast of the Yamal Peninsula, through Arctic waters to customers in Europe and Asia. The project will start at the end of 2016.
Gazprom has its own LNG ambitions for Asia, in a project known as "Power of Siberia." In late 2012, Gazprom said it would spend as much as $38 billion on developing gasfields in eastern Siberia, with an associated 3,200 km pipeline to a proposed 10 mtpa LNG plant at Vladivostok on the east coast. Gazprom has been talking to potential gas buyers in South Korea and China about the Vladivostok LNG project, with first exports in 2018. Last March, during the visit of Chinese President Xi Jinping to Russia, Gazprom and China National Petroleum Corporation signed a memorandum of understanding on a project covering the supply of pipeline gas to China.
Russia's only existing LNG plant is the 10 mtpa Sakhalin-II project on Sakhalin island, which has Royal Dutch Shell (NYSE:RDS.A) and Japanese customers Mitsui and Mitsubishi as co-investors with Gazprom.
Total's investment in Yamal heightens the prospects of using the Northern Sea Route which runs along the northern coastline of Siberia from Novaya Zemlya to the Bering Strait. This route is open only from June to December, and requires icebreakers to cut a path through the Arctic ice for specially strengthened oil and gas carriers. But the route cuts as much as three weeks from shipping times between Europe and Asia.
After an epic journey through more than 3,000 miles of the bleak, icy expanse of the Northern Sea Route, accompanied by two nuclear-powered Russian icebreakers, the Ob River, a 288-metre LNG tanker with a capacity of 84,682 dwt tonnes chartered by Russian energy giant Gazprom, arrived at the Japanese port of Tobata a few months ago. That was the first ever sea voyage of an LNG cargo through the frozen waters north of Siberia, cutting the distance traveled from Norway to Japan by more than 5,000 miles compared to the Suez Canal route. The ship belongs to Dynagas, a Greek shipping company that will be one of the major beneficiaries from the LNG global trade as presented in my recent article about the shipping industry here.
4) According to the latest news from the law firm Bowman Gilfillan, explorers for shale gas in South Africa are unlikely to get hold of shale gas permits this year because of potential legal appeals.
In late 2012, Chevron joined the hunt for natural gas in South Africa, whose untapped shale prospects have already attracted attention from Royal Dutch Shell. South Africa's deposits are estimated to hold the world's fifth-largest shale gas reserves. Chevron partnered with Toronto-listed Falcon Oil & Gas (OTCPK:FOLGF) which is one of only three firms with permission to conduct seismic studies of the local geology. Falcon was granted a technical cooperation permit in 2009 for 7.5 million acres and expects exploration to start in the second half of 2013.
Chevron's move came only three months after South Africa lifted a temporary ban on shale gas exploration, imposed early 2011 in response to concerns around the controversial hydraulic fracturing technique. Meanwhile, Shell has committed to the full disclosure of chemicals and will not compete for water in South Africa.
Conclusion
There is a second Part coming where I discuss all the latest international developments of the shale gas industry in several other countries of South America, Europe and Asia. So stay tuned!
Disclosure: I have no positions in any stocks mentioned, and no plans to initiate any positions within the next 72 hours. I wrote this article myself, and it expresses my own opinions. I am not receiving compensation for it (other than from Seeking Alpha). I have no business relationship with any company whose stock is mentioned in this article.