The Federal Reserve's May announcement that the tapering of its asset purchase program might be approaching caused interest rates to shoot up, and consequently REITs have taken a hard hit. Since May 22, Vanguard REIT ETF (NYSEARCA:VNQ) has declined 11.43%, Realty Income Corp (NYSE:O) has declined ~21%, and LTC Properties (NYSE:LTC) has declined ~21%. And, yes, I know an interesting group of REITs to represent the drop, but nevertheless those are the REITs I follow the closest.
Click to enlarge images.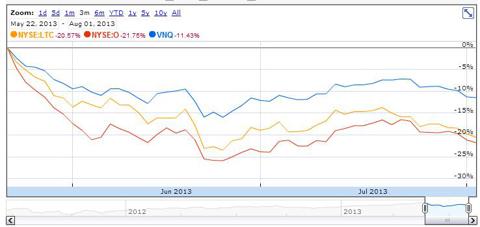 I recently entered positions in LTC Properties (see my reasoning here) and Realty Income Corp. because I have a feeling that the REIT bull market has overreacted. Although REITs are often seen as income investments, REITs are not bonds. The market has a natural process that will adjust annual dividend rates when Treasury rates move. I think of this as changing opportunity cost. As a "risk-free" bond yield increases, opportunity cost of an at-risk investment increases, investments naturally flow from riskier stocks and bonds into risk-free, and the at-risk investments decline in market value increasing their yield.
That makes complete sense to me and I would expect REITs to take a hit with rising interest rates, but not this large of a hit. There is another aspect of REITs, and that is the fact that they have major growth potential in their assets. And that is my primary concern here, that commercial property values continue to grow but the bull market is so full of fear that they don't take this into account.
Below is a chart from Green Street Advisors Commercial Property Price Index from July 5. As you can see, prices continue to rise in 2013 showing healthy growth in commercial real estate. According to GSA, property values were "unchanged" in June. That's right -- with a huge drop in REIT share prices, the actual underlying value of the assets didn't change.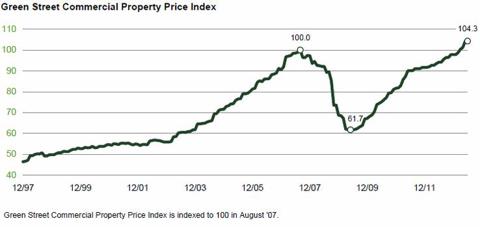 The bottom line is that REITs still have growing asset values. The stock market may have over reacted and had a "taper tantrum," but I really believe that in the longer term commercial real estate values will continue to increase, causing the recent REIT sell-off to be the perfect time to enter the market. My only remaining question: When will the bear market figure this out?
Disclosure: I am long LTC, O. I wrote this article myself, and it expresses my own opinions. I am not receiving compensation for it (other than from Seeking Alpha). I have no business relationship with any company whose stock is mentioned in this article.