I think the Publicis (OTCQX:PUBGY) and Omnicom (NYSE:OMC) announced merger-of-equal deal will change the global advertising industry. The chart below, sourced from the WPP (NASDAQ:WPPGY) 2012 AGM presentation, provides some interesting insights. Note in particular that the combination of Publicis and Omnicom as per the statistics below makes it the new number one 'new media' advertising sector player globally.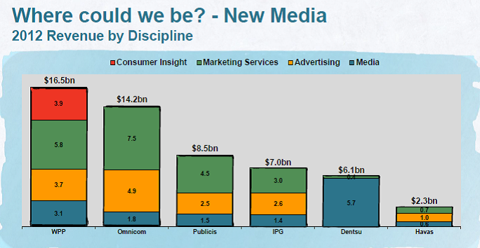 The advertising industry may be changing via technology but the leading players are at the forefront of buying anything interesting that emerges. Ultimately the big new competitors are going to be those behemoths of mobile information and insight Google (NASDAQ:GOOG) and Facebook (NASDAQ:FB). Any of the players named above want to remain the right side of the online/digital revolution. Hence you get this chart in the aforementioned WPP AGM presentation: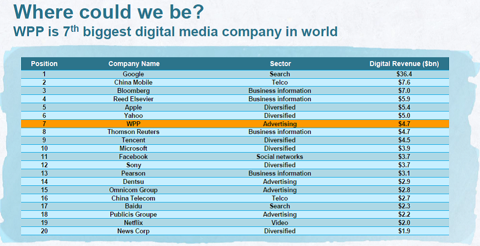 Now we are starting to understand why potentially the numbers 15 and 18 in the chart above wanted to come together. That pops them in nicely at number four on the list all things being equal (it is a fast-moving industry though).
Now, my gut instinct was to worry about anti-trust issues when the Publicis/Omnicom deal was announced, but when I started to think digitally then some of these concerns started to subside. That does not mean they have gone away though. Today's Financial Times has a useful statistic, which may aid us here:
Market share estimates are contested, but research group RECMA estimates the combined media buying concentration is greatest in the Americas, with a 41.6 per cent share, suggesting the merger is likely to face its toughest test there. By contrast, its presence in the top five national markets in the EU is 30.9 per cent, smaller than WPP/GroupM and below the rough 40 per cent benchmark that triggers intense antitrust scrutiny.
As soon as the Americas was mentioned I thought about the opportunities for WPP and Interpublic (NYSE:IPG) to augment their market positions. Forced divestment purchases can be amongst the most interesting purchases.
There is no doubt that WPP likes being the top dog in advertising. This aspect is pure speculation but I note that - from the perspective of the critical digital revenues - a combination with Interpublic would regain them that position (with the rider that this is a fast growing and changing industry and the below statistics from the WPP AGM report refer to 2012).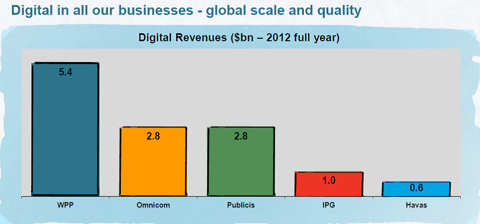 Interpublic is a solid company. The recent corporate update reiterated the 2-3% organic growth rate it is hoping for in 2013. It also saw confirmation of a continued share buy back.
Geographically, the company is also finding that business outside the U.S. and the emerging markets is not that easy for it, looking at the chart below from the Q2 2013 Interpublic presentation document. WPP is strong in Europe and may be able to help provide better focus: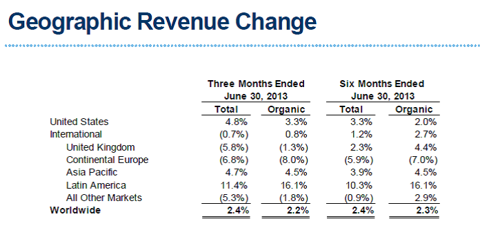 Would the management of Interpublic find a deal acceptable? That is hard to answer but I note this quote from the CEO, which does not completely shut the door:
Michael Roth, chairman and CEO of Interpublic, wrote in an internal memo to employees following the Publicis-Omnicom deal announcement that "as this weekend's surprising news shows, there's no telling what might take place, but we don't see the need for major M&A to keep delivering on our plan to move Interpublic forward."
Interpublic is currently trading at x11.4 EV/ebit FY13 and is offering a 7% free cash flow, most of which is going into its share buyback. The share is trading at recent highs, which has to be taken into account from a tactical basis, but I do not see this sustaining as an independent company. A takeover price should be $20+ given a solid valuation and the sector changes/opportunities. With this backdrop the share has good support and any weakness should be bought.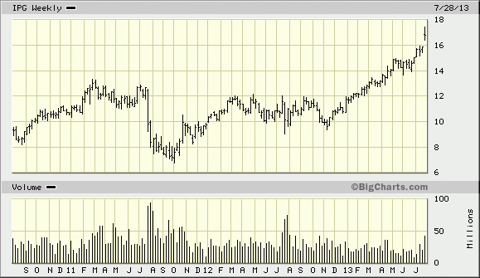 Of course, similar analysis could be applied to a WPP/Havas (OTCPK:HAVSF) or Havas/Interpublic deal, but this is the way I see it.
The big and most important takeaway though is that things are happening in the advertising space and investors have to pay attention.
Disclosure: I have no positions in any stocks mentioned, but may initiate a long position in IPG over the next 72 hours. I wrote this article myself, and it expresses my own opinions. I am not receiving compensation for it. I have no business relationship with any company whose stock is mentioned in this article.