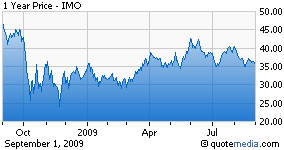 Buy-recommended Imperial Oil (NYSEMKT:IMO) offers unlevered appreciation potential of 21% to a McDep Ratio of 1.0 where stock price would equal Net Present Value (NPV) of $48 a share. Released today, second quarter results were less than our estimate for unlevered cash flow (Ebitda) from three months ago mainly because of thin margins in the downstream segment. Upstream results were more than our estimate because oil price was higher.
Ultimately refining should be more profitable again as it is the facilitator that makes Canada's rich oil sands resources marketable in a global economy that requires growing supplies of energy. Meanwhile, the proportion of NPV concentrated on downstream is modest at 16%. Eighty percent of NPV is sensitive mainly to crude oil price. Pointing to possible further gains, futures prices for the next six years for oil crossed the 40-week average into an uptrend at the end of May.
Originally published on July 30, 2009.