In an early sign of an improving outlook for some of our most out-of-favor stocks, the price for inland natural gas went up for the month of August while the price of coastal natural gas, the reference for futures trading, continued to erode. Captured in the ratio of San Juan Basin index price to Henry Hub index price, the relationship has been more volatile recently than at any time since the previous recession in 2001 (see chart below (San Juan Index/Henry Hub).
There probably is a recession connection with its interruption of normal consumption patterns. It also looks like hot summer weather in the West has helped the demand for inland natural gas. Moreover, completion in the past few weeks of the latest phase of the new Rocky Mountain Express pipeline to the western border of Ohio moved the competitive interface of inland and coastal gas.
As we understand it, the Rockies gas that was backing Midcontinent gas out of Chicago is now backing Louisiana gas out of Ohio. Inland natural gas producers like buy recommendations Cimarex (NYSE:XEC) and Dorchester Minerals (NASDAQ:DMLP) are in stock price uptrends with recent quotes above the 200-day average. At the other extreme, inland natural gas producers like San Juan Basin (NYSE:SJT), Mesa Royalty Trust (NYSE:MTR) and Permian Basin Royalty Trust (NYSE:PBT) remain most depressed at stock prices 0.69, 0.74 and 0.83 times the 200-day average, and at McDep Ratios of 0.67, 0.44 and 0.58 respectively.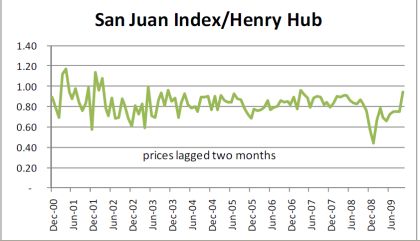 Originally published on August 7, 2009.