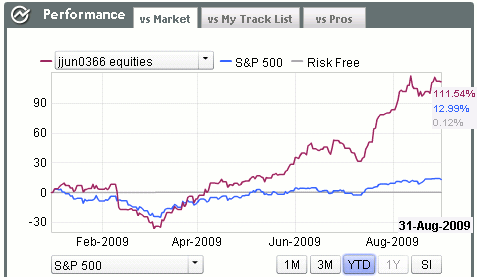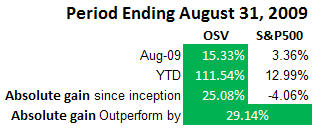 Portfolio Movers
Lots of companies in my portfolio announced earnings in August. Started off with good results from Gen Growth Prop (GGWPQ.PK) which appreciated nicely this month.
Professional Detailing (PDII), American Eagle Outfitters (NYSE:AEO) weren't bad, K-Tron International (KTII) was solid as a rock as usual, Mastech Holdings (NYSEMKT:MHH) was very good although no one picked up on it again and Atwood Oceanics (NYSE:ATW) had good results which the market expected.
Image Entertainment (OTC:DISK) was bad but I still hold because it's not worth selling my $300 stake. DISK could drop 10% and I'm only down $30 for the day.
Last, ValueVision Media (VVTV) results weren't that great and I'm still waiting for the quarterly report to be filed.
I've been watching all three home shopping channels a lot lately over the last 2 months and what I noticed is that VVTV seriously has to broaden their product mix away from watches and jewelry.
It's all I ever see when I turn on the TV while HSN (NASDAQ:HSNI) and QVC are offering some really neat stuff as well as the occasional "who would buy that" item.
VVTV has signed up a lot of new vendors so I'm hoping their price per household will improve from their disgraceful $6.50.
Portfolio Trades
Busy month in terms of activity for me.
1. Bought Radio One (NASDAQ:ROIAK), Salem Communications (NASDAQ:SALM), Entercom Communications (NYSE:ETM) at the beginning of August.
Started the month with purchases in 3 radio stocks.
Why radio stocks? It's an ugly, "dinosaur" and dying industry according to Wall Street. I think otherwise. Don't think terrestrial radio will ever go away and the business model is very easy to understand.
I would have bought 5 or more different radio stocks because they were all so very cheap but didn't want overdo it.
Extremely highly leveraged and beaten down to a pulp which is where the opportunity lies if you are convinced that they won't go bankrupt.
Working out perfectly so far as I am up 68%, 117% and 22% respectively in less than one month.
2. Sold Ceradyne (CRDN) at $17.90 for a 18.03% loss.
Mentioned in the July portfolio update that I would probably sell CRDN and I did. I hadn't been studying the company and didn't just want it to keep it on idle when I could be investing the capital into something better.
3. Sold 30% of my holding in ValueVision at $3.55 for a 787% gain.
Missed out on selling VVTV when it was above $4 and over 1150% with the 3 hr. time difference from where I am. By the time I got up, it was back down to the high $3.
However, my stake in VVTV grew to about 40% of my portfolio and although I still like the potential turnaround, the downside protection shrunk as the price rocketed up.
I didn't plan to sell, but I read a very good interview which made me change my mind and I locked in my profits.
4. Sold UnitedHealth (NYSE:UNH) at $28.10 for a 0.06% loss.
Originally bought UNH when everyone was uncertain of the future of healthcare but failed to average down when Obama got elected and healthcare overreaction sent the stock price down.
It would have been a good opportunity for some solid gains but I was too busy with other positions that I mostly forgot about UNH, which is why I sold for the same reason as CRDN. It was a passive position for close to a year and I hadn't even bothered to read the 10-Ks and 10-Qs.
5. Bought Zareba Systems (ZRBA) at $3.86.
A special situation stock where the company plans to reduce the number of shareholders and de-register itself from the NASDAQ index.
Company approved a 1-for-250 reverse split of our common stock, such that shareholders owning less than one whole share following the reverse split will receive cash in lieu of fractional interests in the amount equal to $5.20 per share for each pre-split share that becomes a fractional interest. As a result, shareholders owning fewer than 250 shares of our common stock on a pre-split basis at the close of business on the record date will no longer be shareholders of the Company.
While it's still early to predict the outcome and there are risks involved, after I looked at the financial statements, I concluded that their balance sheet and operations were strong enough to handle the costs associated with the delisting easily.
I don't usually invest in these situations so early but I don't see any red flags that will overturn the plan.
Cash has now grown substantially. I'm at about 22% in cash and it doesn't seem like I'll find something compelling to put it into at this rate.
One issue I'm encountering now that my portfolio has doubled this year is the size of my positions.
Previously I would normally invest, let's say, $1000 for a position but now I'm having to buy at least $2000 for the same makeup percentage. Being used to a small portfolio, I'll have to get over the mental barrier that I'm putting too much into one stock.

What Else?
I finished going through Bruce Greenwald's book
a second time, this time with a pen and highlighter and started to create a new addition to the stock valuation spreadsheet.
As I get more familiar with EPV, it will be a great addition to my valuation toolbox.
I also started reading another book, Quality of Earnings
, which so far is a fantastic book on how to interpret annual reports and determine the quality of the earnings rather than the stated earnings in the press release.
Not a thick book but it isn't so easy to read, with all the facts and numbers included. It's chock a block full of detailed info that you will definitely have to read second time.
Will do a book review once I'm done.
September is supposed to be the doom and gloom month on Wall Street every year so we'll see whether they throw out any bargains that I can pick up.
Disclosure: I hold all stocks mentioned except sold positions.