I'll admit that the rate of housing appreciation has completely taken me by surprise. About 18 months ago, I said the risk on the downside to housing was limited and that this had become a buyers market, but I expected flatlining prices -- not 12% year-over-year gains as we've seen in recent months. Anyway, it's helpful to put things in perspective and not go getting too carried away with talk about a new "housing bubble." I've added a few of the more speculative markets below to put things in perspective for you.
Las Vegas, probably the hottest market in the country during the bubble, is still well off its highs: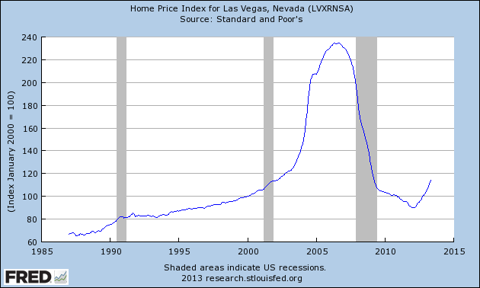 Phoenix, another very hot market, isstill well off the highs: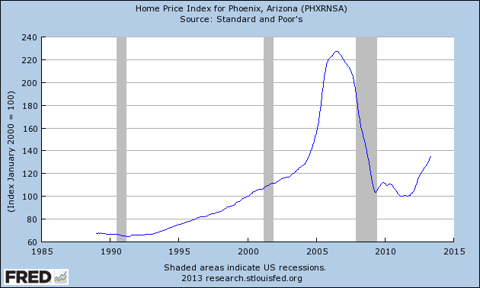 San Diego, my city of residence, is red hot right now. I'm on the coast, where the market feels as if it's near all-time highs already, though the inland real estate markets in California are very different from the coastal market. Overall, we're still well off the highs: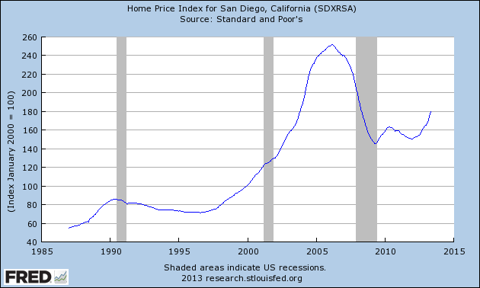 It's a similar story in San Francisco, where the tech boom has reportedly boosted prices. SFO is probably the hottest market in the country right now: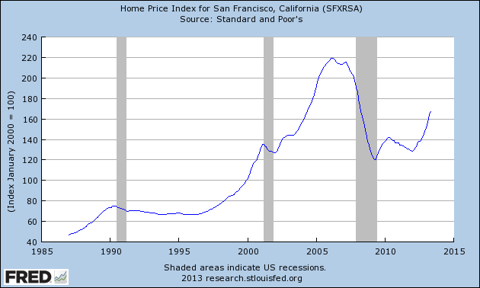 I think it's way too early to start talking about a new housing bubble, but I do think it's very important to remain mindful of the potential. The mentality in many areas is starting to get that bubble fever again, which has the potential to snowball as herd mentality takes control.