"Did you hear about the new BlackBerry phones?" is probably not something you hear these days. The recent years have not been good to BlackBerry (NASDAQ:BBRY), as iPhones and Samsung phones dominate the personal phone market. And, with Blackberry's recent quarterly report, investor sentiment is down. As a result, its share price is below $10 - the lowest in 8 months.
Critics say BlackBerry won't succeed because it can't compete with Google (NASDAQ:GOOG) and Apple (NASDAQ:AAPL). But BlackBerry doesn't need to be successful against the giants. Yes, BlackBerry lost its core business, but here are three reasons BlackBerry is a good investment today.
Recovering market share elsewhere
BlackBerry recently released two new phones (the Z10 and Q10). But, these phones won't do well in the US, as Apple and Samsung continue to grow. But, BlackBerry looks to Europe, the Middle East, Africa, Asia, and Latin America for sales. Indonesia proves especially successful. Demand is booming there, and the emerging market provides an opportunity for Blackberry to regain some ground.
BlackBerry primarily markets to high-end corporate users and middle-class consumers with newfound money to spend while providing prepaid options to less affluent consumers. In three years, BlackBerry has seen the number of devices across the Southeast Asian archipelago increase by over 4 million units.
Another personal phone company, Nokia (NYSE:NOK), sells older, lower priced phones in emerging markets. The cheaper range of its Lumia phones will help Nokia gain market share in emerging markets, notably China and India. Now available on China's largest cell phone provider, China Mobile, the Lumia 520 will help Nokia see higher revenue numbers. In fact, it already sold out twice.
Credit card companies step in where banks aren't
In many emerging markets, consumers don't have bank accounts because they just don't have access to banks. Both Visa (NYSE:V) and MasterCard (NYSE:MA) see the opportunity at hand and offer a solution for rising entrepreneurs to conduct business transactions electronically through one's phone.
Both Visa and MasterCard offer debit and prepaid services to consumers without bank accounts. By 2015, Visa plans to generate more than half the company's revenue from outside the U.S. (currently at 44%). It does not break down that number by segment, but you see below that the number of mobile transactions will soar. This year alone, both companies have seen double-digit increases in revenue growth from international markets - 13% for Visa and 14% for MasterCard.
Today, Asia, Africa, and Latin America represent roughly 25% of the cashless transactions (includes credit cards) worldwide. That number is expected to double in the next five years. In emerging markets, incidences of credit card fraud act as a deterrent for consumers, making mobile-based transactions more prevalent. For example, of the $19 billion in cashless transactions in Kenya, almost $12 billion were mobile-based.
Most of the business conducted for Visa and MasterCard is in prepaid services that allow customers to put money on cards for purchases. Here is the kicker for BlackBerry - both Visa and MasterCard enable transactions to be conducted through one's phone. For aspiring entrepreneurs in emerging markets, BlackBerry is the phone of choice. As Visa and MasterCard expand, expect BlackBerry to benefit from increased electronic transactions.
An acquisition that makes sense
If BlackBerry goes further south, a worst-case scenario is it would be acquired. This is a good reason for investors to stay on board because their investment remains safe. While Apple simply updates the iPhone and iOS each year, BlackBerry tries to reinvent itself with each new phone it offers - a massive undertaking. It needs a platform, and Microsoft (NASDAQ:MSFT) may prove to be the lifeline BlackBerry needs to remain afloat.
Both BlackBerry and Nokia are rumored targets for acquisition as Microsoft builds its mobile business. What does Apple do that Microsoft doesn't? It manufactures its own phones. Currently, Microsoft partners with Nokia to run Windows 8 on Lumia phones. With almost 50% of all the Lumia's sales coming from last year alone, the partnership seems to be working for Nokia.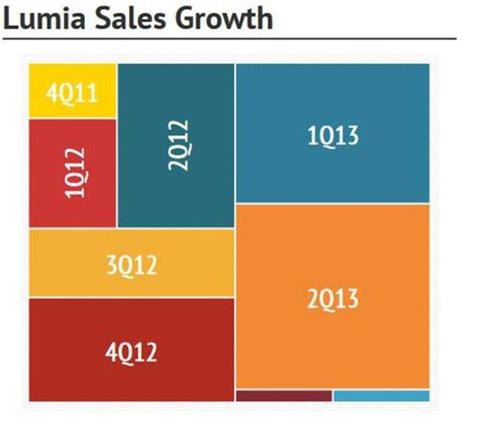 Though Nokia reported a 27% sales decline in overall phone shipments and deliveries, it edged BlackBerry in unit sales by 600,000 units.
The market currently values BlackBerry at roughly $4.8 billion. But, BlackBerry's book value is around $9.4 billion. Compared to Nokia's $15 billion market value and $2.6 billion book value, acquiring BlackBerry is the obvious deal for Microsoft.
Microsoft needs to partner with a firm that owns hardware so Microsoft can run its Windows 8 operating system. It doesn't have to be Nokia, and it shouldn't be. So, why BlackBerry then?
BlackBerry and Microsoft work closely with corporations to contractually sell products. BlackBerry's clientele was once 71% corporate contracts and has fallen to about 20%. While BlackBerry lost many of its contracts, Microsoft's business division, which produces Microsoft Office and other management software for companies, boasts good reports following the release of its new Microsoft Office 365. The recent quarter reports that business revenue is up 10% and multi-year licensing for Microsoft's business products is up 16%.
For example, last October, the Defense Department dropped BlackBerry as its exclusive mobile device provider. Then, in December, Microsoft and the Defense Department signed the most comprehensive licensing agreement in Microsoft's history. As for mobile phones, no exclusive contracts were awarded. Instead, the Defense Department opened its network to include Samsung and Apple phones. This is a trend many companies are facing, making Microsoft poised to benefit from pre-existing contracts.
It's a win-win for both companies. Microsoft obtains a hardware manufacturer, and BlackBerry no longer spends millions building a platform for its phones.
Don't count BlackBerry out yet
The only thing certain about BlackBerry is it cannot meet investor expectations. It fails to meet sales projections and slowly loses market share. But, there are reasons to stick it out with BlackBerry.
Its market share might be shrinking in the US, but it is growing elsewhere. It especially benefits in emerging markets as credit card companies sell prepaid account services to businessmen conducting electronic transactions through their (BlackBerry) phones. These reasons, and the fact that Microsoft is poised to acquire a phone manufacturer, make BlackBerry an investment worth holding.
Disclosure: I have no positions in any stocks mentioned, and no plans to initiate any positions within the next 72 hours. I wrote this article myself, and it expresses my own opinions. I am not receiving compensation for it (other than from Seeking Alpha). I have no business relationship with any company whose stock is mentioned in this article.
Additional disclosure: Article by Andrew Deckert.