As is often the case during the US growing season, soybean prices have been on somewhat of a seesaw through much of the American summer. During this time of year, market direction tends to change along with the weather report as speculators try to capitalize on rising or falling crop projections.
However, as we round the corner into September, harvest looms and the uncertainty tends to come out of the market. Supplies emerge from the fields and into supply channels. Weather premiums tend to fade. Prices can still bump higher as the market adjust to yield reports and weekly sales figures. But the chances of sweeping weather rallies are largely behind us by Labor Day - and more often, sooner than that.
Soybeans go through what is known as the "podding" stage in August - the critical period of crop development similar to the pollination period in the corn crop. If weather is anything less than disastrous, the crop is generally considered "made" upon completion of podding.
We are at that point now. Weather for podding in most of the key Midwestern growing regions in the US was ideal for soybean podding this year. While dryness concerns buoyed the market earlier in the season, the rains came in force by August. There will be no shortage of soybeans in September.
Call Selling Strategy
The good news for option sellers is this: The volatility from the summer "speculation" season is still in the market. As small speculators tend to favor the long side of markets as well as option buying strategies, the premiums in the calls remain plump.
As a seller of deep out of the money calls, you are simply "betting" (for lack of a better word) against a sweeping rally in soybeans. In other words, soybean prices don't necessarily have to move lower for you to realize your gains. Prices can move lower, remain stable, even experience a moderate rally. As long as a substantial rally does not occur over a relatively short period of time, your call options should expire worthless - making all premium collected your profit.
And there are good reasons why you may choose to believe this kind of rally is unlikely. Soybeans lend themselves well to fundamental analysis. In commodities, that means digging into the numbers of supply and demand. Fortunately, the USDA makes this a simple process through their monthly supply/demand report.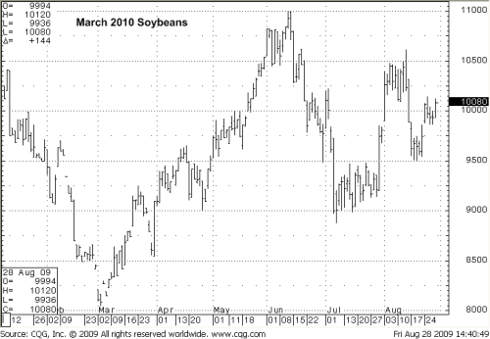 Soybean Fundamentals
As we have discussed in past articles, and we explain thoroughly in The Complete Guide to Option Selling (McGraw-Hill 2005), two of the most important figures for soybean fundamentalists are ending stocks and the stocks to usage ratio.
Ending stocks are the amount of soybeans "left over" at the end of the previous crop marketing year (September 1st) after all demand has been met. In other words, it's the amount of soybeans still left over in the barn when they start bringing in this year's soybean harvest.
Stocks to Usage Ratio is this ending stocks figure divided by the previous year's total consumption. Stocks to usage is expressed as a percentage and it is supposed to show how much total demand could be met if no soybeans were harvested this year. In other words, if stocks to usage ratio was 10% on September 1, 2009, the soybean stocks in the barn would be able to meet 10% of next year's demand before we ran out of beans.
The latest of these reports from August 12 reveals that US Soybean ending stocks are expected to total 210 bushels on September 1, 2010. While this is a 40 million bushel reduction from last month's estimate, it is still higher than the previous two years.
At 6.8%, stocks to usage ratio for the 2009/10 crop year is in the same basket. Better than the past two years but still somewhat low by historical standards.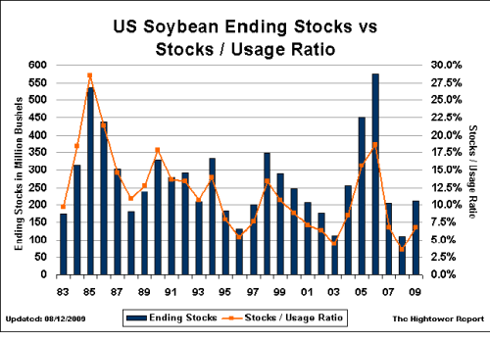 Position Justification
While these figures are important, they are not inherently bearish. Nor are they a great reason to sell calls on soybeans. However, there are three better reasons why selling soybean calls makes sense at this time:
The August USDA report was based on the crop conditions in July which were mildly stressed due to lower than normal rainfall through early summer. Yields were adjusted lower to reflect this less than ideal condition. However, as mentioned above, August has seen substantial rainfall - right at the critical time of crop development. It is almost a certainty that yields will be adjusted higher on the September report to reflect these late season rains. Some early estimates have yields increasing by 4% or more over the August report. This would result in the highest yield per acre ever and bring 2010 ending stocks up to their 3rd highest total in a decade - above 340 million bushels.
Prices move towards fair value the closer harvest comes - harvest and yield estimates become actuals rather than guesses. This takes much of the uncertainty out of the market. Production estimates begin before the crop is even planted. However, as harvest approaches, estimates grow ever closer to what the actual figures will be. Weather becomes less of a concern. Volatility and the chances for a big, unexpected rally begin to narrow.
As with any agricultural commodity, supply on hand tends to pressure prices. At no time during the year will supplies be higher than at harvest. Thus, barring some type of harvest problem or delay, soybean prices will often taper off into harvest.
While soybean prices have seen some late season support this week, it is our opinion that the market will appear overvalued if yields are raised by more than 2-3% in the September report. Harvest will begin in earnest after Labor Day. Expect the market to begin pricing a bearish USDA report at that time. If the report is less than bearish, prices could adjust higher. However, we do not see a significant adjustment as the overall pressure of harvest should keep prices contained.
Conclusion/Positioning Ideas
Look to take advantage of summer volatility in the calls while it is still available. Hefty premiums remain present at strikes more than 50% out of the money. At that far out of the money, you can most likely even ride out a late season rally in the soybean market - a possibility that appears remote.
We will be working closely with client portfolios over the next 7-10 days in the positioning of this trade.