Company: YuMe, Inc.
Exchange: New York Stock Exchange
Symbol: (NYSE:YUME)
Expected IPO date: August 7, 2013.
Industry: Digital video brand advertising solutions.
Data source: IPO prospectus.
The Offer:
YuMe, Inc. is offering 5,000,000 shares of its common stock. The anticipated initial public offering price per share will be between $12 and $14. Certain selling stockholders have granted the underwriters an option to purchase up to 750,000 additional shares of common stock.
The company is an "emerging growth company" as defined under federal securities laws, and, as such, will be subject to the reduced public company reporting requirements.
Valuations after current offering:
Shares to be outstanding after offering

31,677,355 shares

Offer price (mid range) per share

$13*

Valuations at $13* per share

$412 million

*The mid-point of the estimated range of the initial public offering price.
Term to know:
Brand advertising: "brand advertising refers to advertising that features a particular company, product or service in a way intended to establish long-term, positive attitudes towards that company, product or service." (Source: IPO prospectus page 76)
Summary:
The company is a leading independent provider of digital video brand advertising solutions. Its proprietary technology helps the brand advertisers to deliver their ads to target audiences across a wide range of Internet-connected devices and digital media properties. Its software is used by global digital media properties to monetize professionally-produced content and applications.
The company helps its advertising customers to overcome the complexities of delivering digital video advertising campaigns in a highly fragmented environment where dispersed audiences use a growing variety of Internet-connected devices to access thousands of online and mobile websites and applications. In 2012, it delivered over eight billion video advertising impressions. Its video ads run when users choose to view video content on their devices.
While delivering the ads the company also gathers the complex data related to the audience behavior, audience response to the advertisements etc. the company uses this data to increase the efficacy of its technology, software and advertising campaigns.
During May 2013, its technology enabled it to reach over 155 million monthly unique viewers in the United States and 257 million monthly unique viewers worldwide.
YuMe Audience Aware Software Development Kits (YuMe SDKs).
The company's technology/software, which allows it to deliver ads and gather related data, is referred as YuMe SDKs.
"The YuMe SDKs consist of software that is embedded by digital media property owners as part of websites and applications residing on personal computers, smartphones, tablets, Internet-connected TVs and other devices, along with a related set of implementation tools. Our YuMe SDKs solve the problem of addressing a fragmented audience as they are customized for each device type based on the specific hardware, software and viewing capabilities of the device." (Source: IPO prospectus page 83)
The YuMe Solution
The company delivers television-like advertisements, the majority of, which are prominently displayed before the chosen video content is displayed. The company delivers these ads to audiences across Internet-connected devices and platforms.
"We have developed our solutions on three pillars: embed, learn and deliver. We embed our YuMe SDKs as part of online and mobile websites and applications residing on millions of personal computers, smartphones, tablets, Internet-connected TVs and other devices, yielding valuable data; we learn from that data to build our audience and contextual targeting models; and using our platform we deliver ads to audiences that we expect to be receptive to specific brand messages." (Source: IPO prospectus page 79)
Its Customers:
Its customer base consists primarily of large brand advertisers and the advertising agencies that represent them.
In the twelve months ended March 31, 2013, the company had 500 customers, of which 439 were direct advertising customers.
In 2010, 2011 and 2012, the company had 242, 288 and 449 total customers, with average revenue of $213 thousand per customer, $237 thousand per customer and $257 thousand per customer, respectively.
Financials:
Source of revenue:
The company generates revenue by delivering digital video advertisements on the Internet-connected devices. Advertising customers submit ad insertion orders to it, and the company fulfills those orders by delivering their digital video advertisements to audiences available through digital media properties, a process the company refers to as an advertising campaign. From 2007 to 2012, the company ran over 21,000 advertising campaigns. The company is typically paid on a cost per thousand impressions, or CPM, basis, of which it generally pays digital media properties a negotiated percentage.
Its top 20 customers in 2012 accounted for approximately $58.6 million of its revenue. An agency within Omnicom Media Group Holdings Inc. accounted for more than 10% of its revenue in 2012.
Income statement analysis: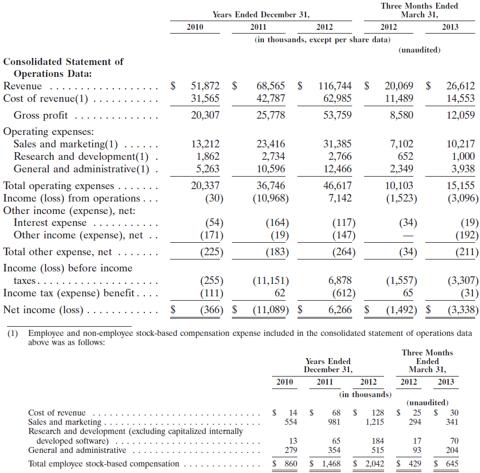 Key points from the income statement:
Its revenues grew at a compounded annual growth rate ("CAGR") of about 50%, from $51.8 million in FY 2010 to $116.7 million in FY 2012.
The company reported the operating income of about $7.1 million in FY 2012 as against operating loss of about $.03 million in FY 2010 and about $10.9 million in FY 2011.
The company reported the net income of about $6.3 million as against loss of about $.3 million in FY 2010 and about $11 million in FY 2011.
Its gross profit margins had shown an excellent improvement in FY 2012 to about 46% against below 40% in previous years.
In Q1, FY 13 its gross profit margins had shown an increase, from 42% in Q1, FY 12 to 45% in Q1, FY 13.

Balance sheet analysis: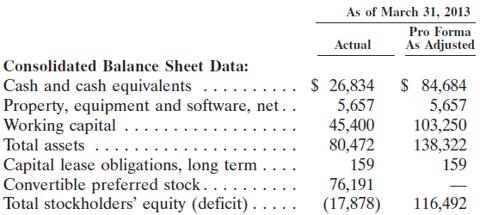 Key points from the balance sheet:
Its balance sheet is healthy.
Cash and cash equivalents are good enough to support the company during its current phase of growth.
Industry Outlook: (very positive) (Source: IPO prospectus page 76 - 77)
Brand advertising growth:
"As brand advertisers realize the promise of digital advertising, we expect them to allocate more of their budgets to digital brand advertising. Deloitte has forecasted a 50% year over year growth rate for online brand advertising in 2012, significantly outpacing the approximately 11% growth rate for online advertising overall forecasted by Magna Global. The global digital media market was approximately $100 billion in 2012, according to Magna Global. We believe that growing consumption of digital video will be a key driver of that brand advertising growth as advertisers follow viewers to digital video."
The company primarily serves brand advertisers. So, the expected high growth in online brand advertising is very positive for the company.
Digital video advertising market:
"Frost & Sullivan has reported that the worldwide digital video advertising market has increased from approximately $3 billion in annual spend in 2010 to approximately $5 billion in 2012, and estimated that the market will continue to grow to approximately $15 billion in 2016."
The table below shows the past and the expected growth in the digital video advertising market.

Key factors promoting the digital video advertising market:
Proliferation of video capable, Internet-connected devices.
Decline in television viewing share.
Diminishing returns of TV advertising, means advertisers less likely to get the desired/expected results.
Key positives:
1. Its product/services quality:
The company is in the business for the last eight years and holds significant insight into the video advertisement industry. Its technology has been developed according to the need of the industry and is being constantly updated to meet the industry's emerging needs. Its proprietary technology-based solutions answer almost all the concerns related to digital video marketing like:
Accessing dispersed audiences.
Adjusting according to the device screen size, operating software, etc.
Delivering the ads to the targeted audiences (brand-receptive audiences) and gives the desired efficacy of the advertisement campaigns.
2. Brand-specific advertising solutions:
Since its founding, it has been solely focused on solving digital video brand advertising problems. The growth rate of brand advertising is expected to be much higher than the other segments (explained above).
3. Large software installed base and data assets:
Its YuMe SDKs are distributed through online and mobile websites and applications residing on millions of devices. This gives it access to valuable viewership data that enhances its audience targeting capabilities (one of the key requirements for success in online advertisement industry).
4. Top-tier customers:
In the twelve months ended March 31, 2013, its customers included 64 of the AdAge 100, such as American Express, AT&T, GSK, Home Depot and McDonald's. In 2012, the AdAge 100 spent $104.5 billion on advertising in the United States alone, according to Advertising Age magazine. Its existing relationships and proven track record with these advertisers and their advertising agencies positions well for the company to capture a growing portion of their advertising spend.
5. Scalable business model with significant operating leverage:
The company's business model is readily scalable and offers a significant operating leverage; its margins are expected to increase as the revenues grow.
6. Profitable, while still in a growth phase.
Key negatives:
1. Seasonality:
Its revenue may fluctuate based on seasonal factors that affect the advertising industry. For example, many advertisers devote the largest portion of their budgets to the fourth quarter of the calendar year, to coincide with increased holiday purchasing. Historically, the fourth quarter of the year reflects the highest advertising activity, and the first quarter reflects the lowest level of such activity.
2. High dependence on single product/technology:
The company is highly dependent on the single product/technology for its business. Emergence of better technology/product, or if due to any reason, the company could not be able to upgrade its product/technology to meet emerging technological challenges, can affect the company negatively.
3. Intense competition:
The company competes with Hulu and Google (NASDAQ:GOOG) (YouTube and DoubleClick) as well as many privately-owned ad exchanges, demand side advertiser platforms and ad networks.
Future assumptions: (These are just assumptions and the company may perform totally different from these assumptions)
Financial & operational assumptions: (assuming that the company performs very well in the future)
Assuming that:
The company's revenues grow by 30% in FY13 & by 25% FY 14:
Its debt levels are considered as nil.
Applicable tax rate is considered as 35%.
Gross margins increase by two percentage points in FY 2013 and one percentage point in FY 2014 due to the higher scale (revenue increase).
Operating expenses at 39% in FY 13 and 38% in FY 14 (40% in FY 12) due to the higher scale (revenue increase).
The table below shows the basis of assumptions:

The table below shows the financial assumptions: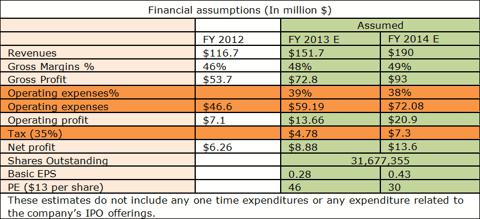 To meet above assumptions the company will have to show an excellent growth rate, which is a difficult task to perform, but the company may achieve this performance due to the reasons mentioned above (see key positives).
Peer comparison:
The only comparable peer of the company is Tremor Video (NYSE:TRMR). YuMe, Inc. is available at comparatively better valuations than Tremor Video.
Valuation: (barring any unforeseen facts, and circumstances.)
At $13 per share, the company is available at P/E of about 65 (FY 2012), which is expensive. These valuations only reflect the positive aspects (discussed above) of the company's business, and future growth potential of the industry without considering the fact that the company is small and competes with the companies like Hulu and Google).
Even if one assumes that the company performs very well (as assumed above) even then the company seems to be fully priced.
Conclusion:
The company and its peer Tremor Video are the only two listed companies that represent "Video advertising solutions/technology" industry. In my view at these valuations one should avoid entering the company or even the industry. The company does operate in the industry, which offers significant growth opportunities, but the valuations are high (for the company as well as for the industry) and holds considerable risks (discussed above).
Net proceeds:
The company estimates that the proceeds to it from this offering, after deducting estimated underwriting discounts and commissions and offering expenses payable by the company, will be approximately $57.9 million, assuming the shares offered by the company are sold for $13 per share, the midpoint of the price range.
Use of proceeds
The company intends to use the net proceeds to it from this offering primarily for general corporate purposes, including working capital. It may also use a portion of the net proceeds for the acquisition of, or investment in, complementary technologies, assets or businesses, although it has no present commitments or agreements to enter into any acquisitions or investments.
Disclaimer: Investments in stock markets carry significant risk, stock prices can rise or fall without any understandable or fundamental reasons. Enter only if one has the appetite to take risk and heart to withstand the volatile nature of the stock markets.
This article reflects the personal views of the author about the company and one must read offer prospectus and consult its financial adviser before making any decision.
Disclosure: I have no positions in any stocks mentioned, and no plans to initiate any positions within the next 72 hours. I wrote this article myself, and it expresses my own opinions. I am not receiving compensation for it (other than from Seeking Alpha). I have no business relationship with any company whose stock is mentioned in this article.