A comment from a reader: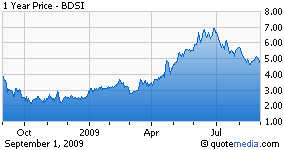 I am considering your pick of BioDelivery Sciences (BDSI) and have done my own Due Diligence. What in your opinion explains the 12.39% current short interest? Also, what are the potential sales projections to market?

VFC's Take: Quite simply - the short interest is there because the stock is being somewhat manipulated, in my opinion; a theory that holds more weight since Feuerstein got involved.

Also, I believe that shorts jumped on board when the FDA delayed the Onsolis decision earlier this year after deciding that the news could be perceived as negative.

In my opinion, the short interest is good news because it means that these guys will have to cover. If BDSI was a speculative stock without any future growth to look forward to, then that would be one thing; but the fact cannot be ignored that this company has an approved drug in a big market (cancer pain market is over $3 billion) and a pipeline for the future.

I'm buying BDSI at any price below five dollars and viewing it as a long term growth stock.

Tuesday's dip to $4.60 was buy time, in my opinion - and anything lower is a gift.

Also, here are some financial terms taken directly from a recent PR issued jointly by Meda and BioDelivery:

Under the terms of its commercialization agreement with Meda, BioDelivery Sciences will receive an aggregate of approximately $27 million in milestone payments. The first is based upon FDA approval of ONSOLIS which is in the amount of approximately $12 million. Meda had already advanced the company $3 million in January 2009 against the $15 million milestone payment. A second payment of $15 million will be received following the manufacture of launch stocks of ONSOLIS, a target the company has also achieved. In addition, BDSI will receive a double-digit royalty on net sales as well as the potential for up to another $30 million in milestone payments upon the achievement of certain sales thresholds.

Also of note, due to the recent milestone payments, BioDelivery is past the point of needing to raise money to fund its future pipeline.

Disclosure: VFC is long BDSI.