Market bulls will be sad to see July come to an end after the performance that stocks saw during the month. Below is a look at the July performance of various asset classes using our key ETF matrix.
As shown, the S&P 500 (NYSEARCA:SPY) was up 5.17% in July, which was better than the Dow (+4.23%) yet weaker than the Nasdaq 100 (+6.31%). Smallcaps (NYSEARCA:IJR) and midcaps (NYSEARCA:IJH) both outperformed largecaps with gains of more than 6.5% during the month.
Looking at sectors, Telecom (NYSEARCA:IYZ) and Health Care (NYSEARCA:XLV) saw the biggest gains in July, while Technology (NYSEARCA:XLK), Consumer Staples (NYSEARCA:XLP) and Utilities (NYSEARCA:XLU) gained the least. For the year, Health Care (XLV), Financials (NYSEARCA:XLF) and Consumer Discretionary (NYSEARCA:XLY) are up the most at more than 25%. The Materials (NYSEARCA:XLB) sector is up the least so far in 2013 with a gain of 7.83%. It's never a bad thing when the worst performing sector for the year is up 7.83%!
Stock performance outside of the US was very mixed in July. Europe did really well, while emerging markets like India (NYSEARCA:INP) and Brazil (NYSEARCA:EWZ) posted declines. With five months remaining in 2013, there are quite a few countries that have a lot of work to do to get into the green for the year.
On the commodities front, everything but the natural gas ETF (NYSEARCA:UNG) was up in July. Oil (NYSEARCA:USO) was up the most at +9.30%, but gold (NYSEARCA:GLD) was not far behind with a gain of 7.43%. Finally, long-term Treasuries declined in July, while the aggregate bond ETF (NYSEARCA:AGG) posted a small gain of 0.08%.
All in all, July was a great month for equities. If August is half as good, investors will still be happy.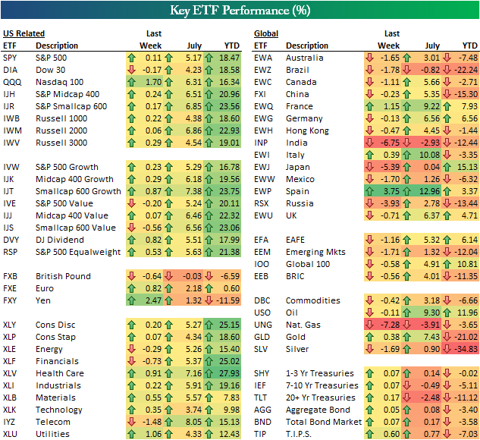 Click to enlarge