If you came into the office looking for a good jobless claims report this morning, you got it. In the latest week, seasonally adjusted claims dropped from 345K down to 326K. This is the lowest weekly reading since January 2008! Even though this morning's report is not factored in any way into tomorrow's employment report, it will certainly boost expectations on the part of investors.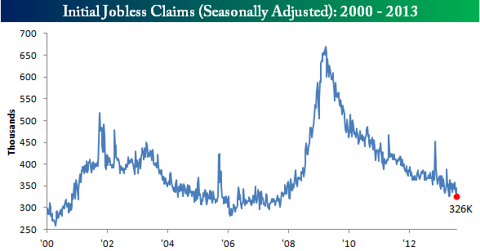 With this week's drop in claims, the four-week moving average dipped by 5.5K down to 341.3K. This is now less than 4K above the post-recession low of 338K from early May.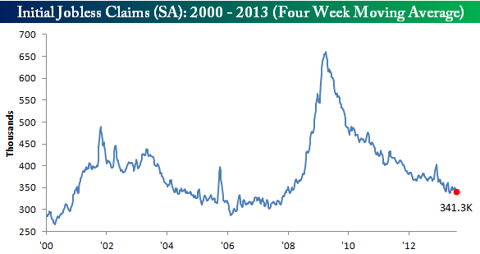 On a non-seasonally adjusted basis (NYSE:NSA), today's jobless claims report was even better. Over the last week, NSA claims dropped by 60.1K down to 279.9K. This is the lowest single week reading since September 2007, and also the lowest reading for the current week of the year since 2007. This week's NSA reading for jobless claims was also 55K below the historical average of the current week dating back to 2007.