Everything appears to be going right for The Gap, Inc. (NYSE:GPS) as it has become the darling retailer of Wall Street. Left for dead during the Great Recession, shares of this Zacks Rank No. 1 (Strong Buy) are at 10-year highs as monthly comps continue to come in stronger than expected.
Gap is a famous American retailer with three main brands: Gap, Old Navy, and Banana Republic. It also operates Athleta, the women's athletic and yoga retailer which is a big part of its strategy to expand into the lucrative athletic wear market. It has over 3,100 company-operated stores and 300 franchise stores. Each brand also has its own website.
Another Strong Month in June
Gap is one of the few retailers that still reports monthly sales results. On July 11, it reported June results that were better than analysts had expected, with same-store sales jumping 7% compared to flat sales the year before. Other retailers' results weren't as strong as many blamed the cooler-than-expected weather.
Old Navy, its largest segment, led the quarter as sales rose 13% due to summer promotions and strength in flip flops and dresses. Gap also showed strength as its sales rose 5% due to strong sales in denim and shorts. Only Banana Republic struggled, as global sales fell 1% due to softness in the women's side of the business. Athleta is not yet big enough to be broken out separately.
Earnings Estimates Revised Higher
But with strong June sales, the analysts moved to raise full-year fiscal 2013 estimates. Nine raised estimates in the last 30 days. The 2013 Zacks Consensus rose to $2.73 from $2.63 in the last 90 days. That is earnings growth of 17%. Estimates for fiscal 2014 also have risen in the last 30 days. Earnings are now expected to jump another 11.8%.
Perfect Earnings Record
Gap will report July sales on Aug. 8 and then will report quarterly results on Aug. 22. The company has an impressive earnings track record. It hasn't missed in five years.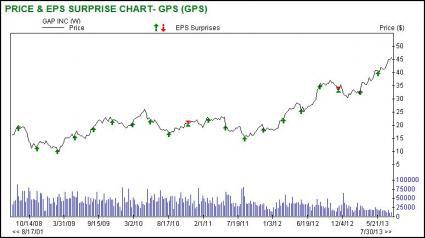 Shares at 10-Year High
Even though shares are at 10-year highs, the valuation isn't ridiculous. Gap is trading at 16.9x forward estimates. While this is above the average of the S&P 500 at 15.5x, it is under the company's 10-year average of 17.1x.
Fall fashions are now coming into the stores. On Aug. 8, Banana Republic will launch the limited edition Issa London collection. This collection is highly anticipated. Issa London is best known for designing the Duchess of Cambridge's engagement dress in 2010.
For retailers, there's a lot riding on getting the fashion right. Gap has managed to do just that over the last several quarters. If you're an investor looking for a retail play, Gap is a standout among its peers.
The Gap, Inc.: Free Stock Analysis Report (email registration required)