"Breaking Bad" is TV series about a chemistry teacher that is diagnosed with inoperable lung cancer at the beginning of the series. He turns to a life of crime, producing and selling methamphetamine with a former student. This series has managed to grow its audience every year for five seasons. The cliffhanger from last season had 2.8M viewers, an increase of 47% from the previous year's finale that was entitled "Face Off" -- a very appropriate name. For 2013, the series earned 13 Emmy Award Nominations.
But this is an investing article, not one trying to get people excited for the final season. So let's take a look a few stocks that can help your portfolio go high(er) -- in legal way. (Disclaimer: I will try to not be too much of a spoiler for all those who will later go on Netflix or some other streaming service to binge watch all the episodes at once.)
iRobot (NASDAQ:IRBT)
First, the tie-in to the show. Many will point to season four when the Roomba makes an appearance, but I am a little partial to Jessie's excitement over the potential to "make a robot" when a battery dies. iRobot Hardware is one of my favorite stocks and not just because of its connection to this great TV show. I like it for many reasons, but the biggest has to be the earnings growth potential it has.
I put together this chart of the Zacks Consensus Estimates for 2013 and 2014. The chart shows how earnings estimates for both years have been trending higher in nearly each month this year.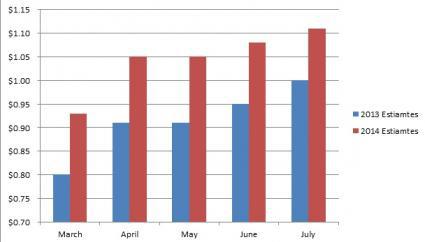 With those estimates moving higher and higher, you know that it is a Zacks Rank No. 1 (Strong Buy). The Rank loves stocks that see increases in the annual earnings estimates. This stock should be part of your portfolio, and when you do buy it, I am guessing you will clean up.
Winnebago (NYSE:WGO)
First, the tie-in to the show, and this one is pretty obvious. Even before I knew what the show was about, I knew that an RV had something to do with meth. Is the model that they use a Winnebago? I couldn't tell you that, but I do know WGO is a Zacks Rank No. 2 (Buy). Winnebago is on this list for obvious reasons, but I like it for a less than obvious reason. Yes, I am all about growth and this stock isn't really one that you would expect to see growth from. Instead, you see value. A whole lot of value.
In order to be a Zacks Rank No. 2 (Buy), the stock had to exhibit some growth in earnings estimates. WGO did that a few months ago when 2013 Zacks Consensus Estimates stood at $0.80. By March they had increased to $1.02 and have ticked a penny higher since. The 2014 Zacks Consensus Estimate experienced a similar move in March as the estimate jumped from $1.00 to $1.24. The implied earnings growth rate of 21% probably a good bit better than the gas mileage a newer model can get.
I see a few online resources have the P/E of WGO at a very reasonable 11x trailing earnings. That number is a whole lot closer the to the traditional MPG of an RV.
Smith & Wesson (NASDAQ:SWHC)
The tie-in to "Breaking Bad" is pretty obvious here, too. Most criminal operations require a gun, and I am going to guess that being in business for 150 years has exposed SWHC to many a gangster/dealer. Smith & Wesson is a maker of firearms and is a Zacks Rank No. 1 (Strong Buy). I like SWHC for a few reasons, but the thing that jumps out at me when I look at this stock is the revenue growth.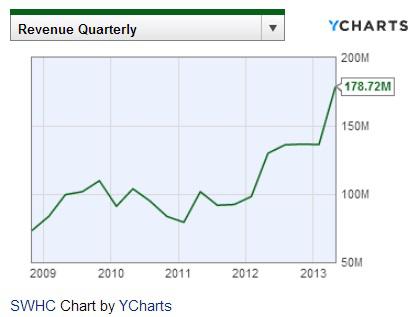 This chart tells me all I need to know about this story. A company that doesn't see revenue growth has a hard time growing earnings. SWHC does not have that problem at all. In fact, they are seeing hockey stick growth and I like to get in on that idea as early as possible. (The YCharts of quarterly revenues can be found on the Zacks homepage.) They tell me a good part of the story, but the earnings story is what drives stocks. The 2013 Zacks Consensus Estimate for SWHC recently moved from $1.04 in May to $1.32 at the end of July. That kind of growth is what I am gunning for.
Summary
"Breaking Bad" has had a wonderful run and entertained the masses. Watching it via Netflix seems to ensure that this series will live long after the final episodes air on AMC. Buying these stocks ensures that you will invest in "Breaking Bad" style and your portfolio could go high(er).
iRobot: Free Stock Analysis Report (email registration required)
Netflix: Free Stock Analysis Report (email registration required)
Smith & Wesson: Free Stock Analysis Report (email registration required)
Winnebago: Free Stock Analysis Report (email registration required)