There is never a dull day in this market. Just when you think you have seen it all, out of nowhere comes some stock that does a little better than the street figured and the stock goes ballistic.
The latest episode of bubble-vision has to do with Yelp (NYSE:YELP). Net revenue was $55.0 million in Q2 2013, reflecting 69% growth y-o-y for the same quarter past year.
Cumulative reviews grew 41% year-over-year to more than 42.5 million.

Average monthly unique visitors grew 38% year-over-year to approximately 108 million.

Active local business accounts grew 62% year over year to approximately 51,400.
All of this is great, but did the company make any money? No it didn't, the company lost $878,000 or $0.01 per share, compared to a net loss of $2 million, or $0.03 per share in Q2 of 2012. Adjusted EBITDA for Q2 of 2013 was approximately $7.8 million, compared to $1.6 million for Q2 of 2012.
For the six months ended June 30, 2013, revenue was $101.2 million, an increase of 68% compared to $60.0 million in the same period last year. The net loss during this period was $5.7 million, or $0.09 per share, compared to a net loss of $11.8 million, or $0.26 per share last year during the comparable period.
As of today (as I write this article), the company's market cap is 20 times over its shareholders equity (about $3.3 billion in market cap with about $160 million in equity).
And per management's guidance, the company for all of 2013 is expected to have revenue of about $224 million. If we do the math, the price/sales ratio comes out to about 14.7.
I had a hunch, but I nevertheless double-checked. Sure enough, short interest in the stock is at an all time high, and it might just be that much of today's buying is forced covering.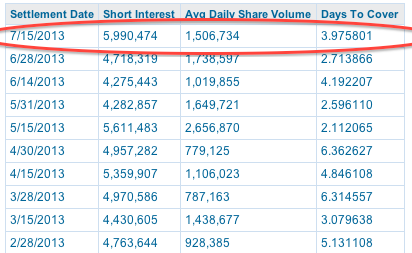 Please note I have nothing against the company or management. My beef is with the valuation of this stock (as with many others). What kind of returns do investors expect who buy Yelp at these levels in the long term? I have no idea, and I would love to see what valuation metrics are used by sell side analysts who cover and recommend this stock, even at much lower levels.
Next on the list is Trulia (TRLA). The company's Q2 results came in as follows:
Second quarter revenue of $29.7 million, up 77% year-over-year.

Second quarter total traffic of 34.9 million monthly unique visitors, up 49% year-over-year, and 13.0 million mobile monthly unique visitors, up 100% year-over-year.

New user-generated content contributions in the second quarter of approximately 1.1 million, up 44% year-over-year.
Did Trulia make money? No it didn't either. Net loss attributable to common stockholders for the quarter was $2.4 million, or $0.07 per share on a diluted basis, compared with $3.4 million, or $0.49 per share on a diluted basis, in Q2 of 2012. As per management's guidance, revenue for Q3 2013 is expected to be $30.5 to $31.5 million. This represents 65% to 70% year-over-year growth.
The question is what does one pay for this stock? The answer is more than one imagined until several years ago. The stock is trading on a 65 forward P/E basis and about 15 times its sales and about 6 times book value.
And just like the case of Yelp, Trulia's short interest is also at record levels, and I think a lot of forced covering is the culprit in today's move.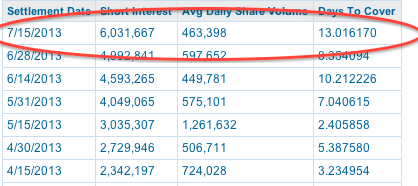 Both Trulia and Yelp are up about 25% today. And in sympathy to Trulia, another bubble-vision stock, Zillow (NASDAQ:Z) is up over 15%. By the way, both stocks are trading significantly higher than analyst consensus. Yelp is trading a $52 with the average 12 month forward price target of $33.74 and Trulia is currently trading at $46, with the average price target of 37.33. Zillow, in sympathy, is also trading at $85 with the average 12 month forward price target at $63.
Do I recommend shorting these stocks? Absolutely, but not before you get conformation of technical weakness on the charts (on a weekly time scale). Don't make the same mistake everyone else has made. Fundamentals are just fine, but you don't want to go against the trend.
Also note, as long as the Fed is pumping $85 billion a month in this market, it will not be an easy thing for many of these stocks to deflate. I have nothing against the Fed doing what's it doing, but the side effects in the future will be quite dramatic if you ask me.
Disclosure: I have no positions in any stocks mentioned, and no plans to initiate any positions within the next 72 hours. I wrote this article myself, and it expresses my own opinions. I am not receiving compensation for it (other than from Seeking Alpha). I have no business relationship with any company whose stock is mentioned in this article.