Bovie Medical Corporation (NYSEMKT:BVX) has experienced several instances of disputes and other turbulence within management. The course and outcome of these has been unusual, in that they have not followed the patterns one would usually expect to see. In particular, they have been consistent with a shared belief by both parties to the dispute that Bovie Medical shares are substantially undervalued. Meanwhile, Bovie's largest shareholder has been building his position in spite of management squabbling. Another key figure has licensed Bovie technology for non-medical applications and is pursuing its commercialization.
This article examines the behavior of Bovie insiders and others who are especially knowledgeable about the company and shows their actions are best understood in the context of a common expectation of much future success.
Typical Characteristics and Outcomes of Management Disputes
When serious disputes occur within the leadership of a company and someone ends up walking away or getting kicked out, hurt feelings and bitterness are typical. The person leaving usually prefers to wash his or her hands of the situation and move on to something else. If resources are owed, given as an inducement to leave, or extracted somehow (e.g., via legal action), the person leaving normally wants hard cash rather than stock in a company with which they are severing their connections and emotional bonds. In other words, they want to take the money and run.
When a long-standing team that had hitherto worked together without any obvious difficulty is hit by an outbreak of squabbling and disputes, it usually indicates one of several possible events is going on in the background. Human nature being what it is, one of these possibilities is that distant, long sought after success is suddenly becoming very non-distant and looking like it could be even more successful than expected. In other words, people start to smell the money. As the occasional faint whiff becomes stronger and more frequent and the prize less theoretical, they start to think more and more about how much they may end up with, how much others will receive and how it compares to what they will get, and what they can do to direct more money their way. Disputes can easily break out, especially if some people conclude they are being short-changed compared to others and as people jockey to be in the best possible position when the expected payday arrives.
Disputes Arise As The Prize Comes Into View
For Bovie Medical Corporation, the years of plodding through development work on breakthrough surgical technologies are beginning to bear fruit.
Bovie's J-Plasma® is now regularly used in human surgery, producing excellent results. Previous articles by this author have discussed Bovie's situation and progress, with a recent article identifying the probable date of the upcoming full launch of the J-Plasma® product line and commenting on the implication of recent events on the potential future valuation of the company. (Although J-Plasma systems are nominally for sale, Bovie is apparently holding back from a full-scale J-Plasma sales drive until very positive clinical results are reported at an upcoming large and prestigious medical conference.)
Nor is J-Plasma the only exciting Bovie technology now transitioning into a commercialization phase. A recent Bovie press release confirmed the conclusion drawn in an earlier article that Bovie remains in discussions with a large medical device company concerning an anticipated development and manufacturing agreement. In an even more recent press release, the language switched to the plural: "Currently, the Company is involved in discussions with several companies relating to possible design, development and manufacturing projects that could result in one or more OEM agreements." Bovie Investor Relations confirmed to this author that the products and technologies referred to in this statement are not J-Plasma, indicating other Bovie product lines may soon reach the market. Seal and Cut™ is one possibility. Bovie also has an opportunity for a new OEM contract manufacturing agreement with Salient Surgical / Medtronic (NYSE:MDT); this could be one of the items under discussion.
Simultaneously with this rapid progress towards commercialization of new products and anticipated rapid sales growth, formerly peaceful Bovie has been hit by a series of disputes involving high-level management figures with large stakes in the company. These disputes have erupted as commercialization of Bovie's innovative, large market size surgical products has come into view and have continued as the first of this series of products has begun a limited, initial entry into the market. In the process of litigating and negotiating disputes, the parties (both Bovie management and disaffected former management figures) have sought outcomes that are somewhat surprising and are best explained by a shared belief that Bovie is substantially undervalued.
In this article we will examine some of these disputes, looking at what was sought by whom and what this implies about the company's value and prospects. We will also look at events involving a couple of other important Bovie figures and why their actions are also consistent with - and indeed suggestive of - the idea that Bovie's potential is not adequately reflected in its share price.
Leonard Keen: Give Me Back My Options, Dang It!
Leonard Keen originally become involved in Bovie Medical as an outside counsel in November 2005 and was hired as Vice President and General Counsel on March 2, 2010. (After four and a half years of working together, one would expect any tendency towards personality conflicts or other disputes between Mr. Keen and Bovie management would have long since been recognized.) After a year in this position, disputes began to arise between Mr. Keen and other Bovie management figures, eventually leading to his termination from employment on December 9, 2011. Mr. Keen maintains he was improperly terminated and was not given all of the benefits to which he was contractually entitled. Accordingly he filed a lawsuit against Bovie Medical. Bovie has its own set of complaints, such as Mr. Keen wiping clean the hard drive of a laptop computer belonging to Bovie using a program to write binary zeroes to every single sector on the drive. Naturally, Bovie believes this was done to destroy evidence that would be unfavorable to Mr. Keen's case. The case is still in litigation.
As part of his lawsuit, Mr. Keen is attempting to recover Bovie Medical stock options he lost upon his termination. When originally hired, Mr. Keen was granted 100,000 stock options at an exercise price of $7.45/share with the options vesting in equal amounts over a period of seven years. The options were set to expire in 2020, ten years after the initial vesting began. At the time of his termination, Mr. Keen had 85,714 unvested options that he is now attempting to recover as part of his lawsuit on the grounds of being improperly terminated.

With Bovie Medical recently trading around $3/share (and having been at or below $3/share most of the time since mid-2010), the share price is far beneath the exercise price of the options. If the share price were to rise at an average rate of around 14% per year (far outperforming historic market averages in the process) between now and 2020, the options will only reach the breakeven point for exercising them (i.e. they will still expire worthless). On the other hand, if Bovie's share price rises much faster than that - a possibility discussed in this author's previous articles - the options could become very valuable. Mr. Keen's determination to obtain the 85,714 options - especially in the face of his estrangement from Bovie management - militates that he believes the company has a good possibility of being very successful in the future.
Steve Livneh: I Want Shares! Lots and Lots of Shares!
Steve Livneh joined Bovie Medical in 2006 when Bovie purchased the assets of Lican Developments LTD, Mr. Livneh's company, including the Tip-On-Tube, Modullion, and Seal-N-Cut technologies, all of which were in the development process at the time. Like Mr. Keen, Mr. Livneh worked apparently very successfully with the rest of the Bovie staff until 2010, when their relationship began to break down, leading to Mr. Livneh being removed from the Board for cause at a Special Board meeting held on July 16, 2010. Like Keen, this has resulted in legal action, although the Livneh situation is decidedly more complex with multiple lawsuits flying back and forth.
As with Mr. Keen, Mr. Livneh has been anxious to increase his ownership in Bovie Medical, initially seeking some 280,000 shares.


…Although I Won't Refuse A Technology License And Cash
The parties reached a settlement in which Mr. Livneh received around $700,000, licenses (with attached royalties payable to Bovie Medical) to produce and sell certain technologies in China, ownership of some intellectual property (e.g. the Modullion, which Mr. Livneh and Lican Developments originally brought to Bovie), and a right to royalties on sales of some other products under development (e.g. Seal and Cut™, which also originated with Mr. Livneh and Lican).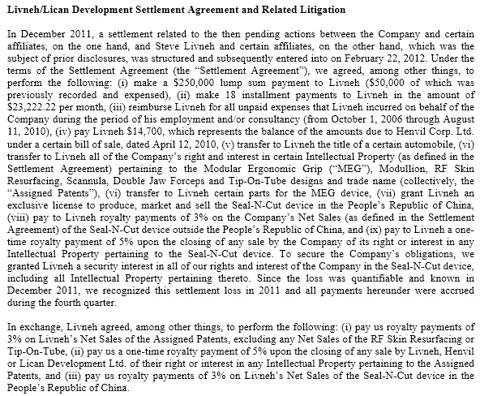 One wonders why Bovie did not simply grant Mr. Livneh shares, rather than paying cash. On the effective date of the settlement, February 22, 2012, Bovie Medical closed at $2.79. The $700,000 paid under the settlement would have purchased more than 250,000 shares at that price. Of course, Bovie could have issued the 280,000 shares Mr. Livneh was seeking; this would have represented only a very modest dilution of ownership in a company with 17.6 million shares outstanding and helped preserve capital for future sales and marketing efforts for new product introduction, for example.
A possible explanation is that Bovie management has been expecting the "discussions with several companies relating to possible design, development and manufacturing projects that could result in one or more OEM agreements" to come to fruition and has not known when this will occur. In the Livneh settlement, the terms were agreed upon several months in advance of the actual transfer of money and intellectual property. If Bovie management felt there was a reasonable chance of an agreement with a larger partner being reached during the intervening time and the share price would jump upon news of such an agreement, then a strategic decision to pay in cash rather than in shares makes sense.
Like the Keen case, litigation revolving around Mr. Livneh and Bovie Medical is still ongoing. A Justia search on Livneh shows five cases, four involving Bovie (either Mr. Livneh suing Bovie or Bovie suing Mr. Livneh) and one in which Mr. Livneh is being sued by Cohen, Lerner & Rabinovitz, P.C., formerly Mr. Livneh's legal counsel. A sixth lawsuit is also apparently in progress in which Mr. Livneh in turn is suing Cohen, Lerner, & Rabinovitz, P.C.
We won't know exactly how everything will fall out until the dust settles on the lawsuits. However, we do know that the J-Plasma technology, for example, has not become wrapped up in any of the lawsuits, while the effect on Seal and Cut is moderate - a matter of Bovie paying a 3% royalty to Mr. Livneh on Net Sales of Seal and Cut outside China and Mr. Livneh being granted an exclusive license to Seal and Cut within China subject to paying a 3% royalty to Bovie.
Prior to the falling out between Mr. Livneh and Bovie, Mr. Livneh owned 200,000 shares (restricted) and 100,000 options with an exercise price of $3.26 and an expiration date of 1/1/2016. (They are actually held indirectly through two companies of which he is the sole owner.) Had he received the 280,000 shares he sought, he would have become the second largest owner among management and ex-management, exceeded only by Andrew Makrides. Although Mr. Livneh is no longer required to report the extent of his ownership, all indications are that he has held onto his stake in the company. He has a strong economic incentive to see Bovie Medical succeed and his legal actions seem aimed at increasing the value of his personal position rather than trying to undermine that of Bovie's. Mr. Livneh's demands in the lawsuits only confirm his apparent belief that Bovie likely has a bright future ahead of it.
Russell Cleveland Just Can't Keep His Hands Off Bovie
Russell Cleveland's RENN Capital Group is the largest Bovie Medical shareholder. Bovie has been featured several times (in 2007, 2008, and 2009) at an Annual Conference RENN formerly held. If anyone ought to be very knowledgeable about Bovie, it should be Mr. Cleveland and his staff. Mr. Cleveland has had very positive comments to make about Bovie:
"Bovie has launched the new J-Plasma system and the results have been very good," Cleveland says. "It is new technology which cauterises tissue to stop bleeding. Surgeons like it as in most surgery there is a need to control bleeding, so it is of major importance. We have got quite a bit in Bovie and we are adding to it. It will be an acquisition candidate at some point."
Mr. Cleveland has certainly been putting his money where his mouth is. The chart below shows how RENN Capital Group's Bovie holdings have grown steadily over time, from just over 1.7 million shares in early 2011 to over 2.3 million in early 2013. Mr. Cleveland clearly has confidence in the company's prospects.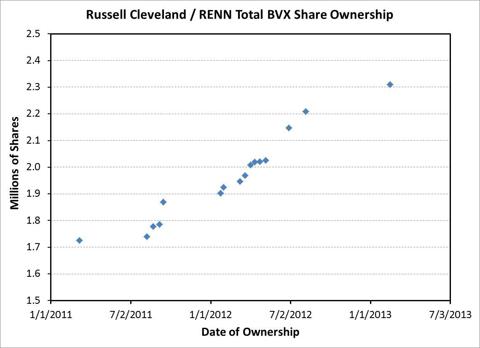 All Your Option Are Belong To Us! (Moshe's Been Naughty)
Moshe Citronowicz, a Bovie employee since 1993, was discovered to have falsely claimed to possess an electrical engineering degree from the University of Be'er Sheva, Israel, leading to his share options vanishing faster than a cancer cell in a J-Plasma beam. Along with being stripped of his 75,000 share options, Mr. Citronowicz was also demoted from COO to Director of Strategic Development and given an 11% pay cut. The details of these options, including exercise price and expiration date, are shown below.

On November 29, 2011 when Bovie released the announcement concerning Mr. Citronowicz, the Bovie share price closed at $2.08 (up two cents from the day before). All of the options were at strike prices above this and did not have long durations (comparatively speaking) before expiring. (The first set of options was set to expire a little more than one-and-a-half years later.) Since Mr. Citronowicz had already earned these options during the course of his employment (albeit under circumstances of having provided false information to the company), a case could be made that his change in employment circumstances going forward was more appropriate as a disciplinary method and the presumably low value of the options made their revocation not very effective as a method of retroactive discipline. It could also be argued that stripping Mr. Citronowicz of the options had negative value to the company by virtue of reducing Mr. Citronowicz's incentive to see the company prosper and its share price rise. On the other hand, if the company's prospects going forward were already regarded by management (including Mr. Citronowicz) as very positive and likely to start their upturn prior to the expiration of Mr. Citronowicz's forfeited options, then stripping Mr. Citronowicz of the options would be an effective disciplinary method and he would still have a strong incentive to see the company achieve its potential by virtue of his pre-existing ownership of over 400,000 shares.
Greg Konesky: I (Heart) J-Plasma
Greg Konesky, formerly a member of Bovie's Board of Directors and its Lead Scientist for the J-Plasma technology, is an inventor of many of Bovie's key patents and patent applications related to the J-Plasma technology. Although he began working with Bovie in 1997, he has not managed to accumulate nearly as many shares as some other key Bovie figures.
Like his colleagues, Mr. Konesky has been quite excited over J-Plasma's potential. However, he has followed a different strategy for capitalizing on future market success. Rather than becoming involved in management squabbles and maneuvering to increase his share ownership, Mr. Konesky licensed J-Plasma for non-medical applications. In March 2012, he resigned from Bovie's Board of Directors, although he remained a member of the company's Scientific Advisory Board. He is now working on commercializing the J-Plasma technology for other applications under the name K-Plasma through his company K-Plasma Ltd.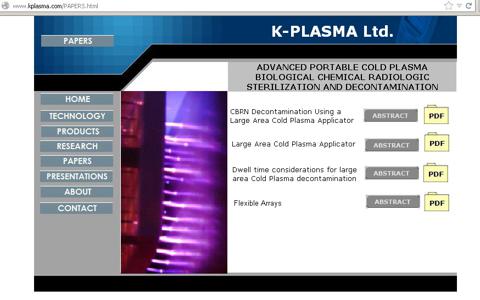 Some of the documents from the K-Plasma website are available here.
Why Not More Insider Buys?
Russell Cleveland's RENN Capital Group has been aggressively accumulating Bovie shares. However, in 2011, 2012, and so far in 2013, we have not seen a single Bovie management figure purchase shares, whereas both George Kromer and Greg Konesky have sold shares. If Bovie insiders really do believe the company is undervalued and its shares will be worth much more in the future, why haven't they been buying more shares? What gives?
As discussed in an earlier Seeking Alpha article by Mike Bolser, Bovie Investor Relations has stated that the company's officers have 95% of their net worth in Bovie shares. In other words, they've already invested all their savings in company shares and don't have the money to buy any more. Under normal circumstances, not many people invest 95% of their savings in the same company that employs them; this goes against every rule in the world of investment advisors and most would consider it a form of Russian roulette. Whatever else one may say about them, Bovie management isn't stupid and this kind of concentration of their savings indicates an extreme level of confidence in the company's future.
A second consideration is that Bovie management hasn't been selling shares to any real degree either. Between 2011 and the present, only George Kromer and Greg Konesky have actually sold any shares. Mr. Kromer sold 5000 shares on 6/28/2011 and Mr. Konesky sold 1550 shares in two lots during 2011. Mr. Kromer still owns over 250,000 shares, so his sale of 5000 shares is essentially irrelevant in context. It would not at all be surprising if the purpose of the sale was to pay some extra bills that had come in. Mr. Konesky could easily have been raising some money to fund K-Plasma development work, for example. In 2012, Mr. Kromer gave a total of 10,000 shares as gifts to immediate family members, effectively a vote of confidence in the company's future. Meanwhile, a number of Bovie management figures received stock option grants during 2011 and 2012.
In some ways it is actually surprising that we haven't seen more sales of Bovie shares by management, especially given the extreme concentration of their savings in company stock. This is simply because life happens - a daughter gets married and a wedding must be paid for; a car bites the dust and must be replaced; a storm damages a house and a new roof must be put on. The fact that we haven't seen more sales suggests Bovie management is trying to hold onto its shares as tightly as it can.
Hasta La Vista, Baby (Final Thoughts)
Previous articles in this author's series on Bovie Medical at Seeking Alpha have shown that Bovie has excellent potential for rewarding shareholders in the event that J-Plasma product commercialization proves to be as successful as the company thinks it may be. For example, the article "J-Plasma Progress And Near-Term Prospects" explains why $58/share is within the range of future possibility. Other forthcoming products such as Seal and Cut may add to this value, as may new J-Plasma applications outside the scope of those considered in these articles. Further, as shown in this article, the actions of Bovie insiders suggest they are confident the company will do very well in the future. With a share price hovering just above $3, Bovie Medical is worthy of further investigation by investors looking for speculative small cap stocks with high potential returns.
The same cautions from one of the author's previous articles should be reiterated: Bovie Medical has experienced high share price volatility at certain times in the past, especially between 2006 and 2010 (it has been steadier since then). Any would-be investor should be mentally prepared for the possibility of large share price swings. As a small company with a comparatively narrow product range, Bovie has a higher than average risk of being overtaken by competitors or events such as sudden product obsolescence in the face of new technology. Exercise care.
Disclosure: I am long BVX. I wrote this article myself, and it expresses my own opinions. I am not receiving compensation for it. I have no business relationship with any company whose stock is mentioned in this article.