Kinder Morgan Energy Partners (NYSE:KMP), is a pipeline transportation and energy storage company in North America.

Kinder Morgan operates in five segments: Products Pipelines, Natural Gas Pipelines, a CO2 business, Terminals and Kinder Morgan Canada. It owns about 75,000 miles of pipelines and 180 terminals.
There are a few ways to own Kinder Morgan. First is the parent corporation, (NYSE:KMI), which pays a lower yield but grows its dividend faster. Another way is the partnership (NYSE:KMR). KMR does not pay cash distribution but instead issues additional shares in lieu of cash. Then there is (EBP), El Paso Pipeline Partners, which was acquired by Kinder Morgan. Finally we have the partnership shares which do pay cash distributions, KMP. This article focuses on KMP shares.
Think of Kinder Morgan as a giant toll road. It receives fees for transportation services and generally avoid commodity risk. The customer base is diversified: including major oil companies, producers, shippers, local distribution companies and businesses across many industries. The total enterprise value is about $123.1 billion.
There haven't been too many opportunities to buy Kinder Morgan lately, but I believe that now is one of those times. Kinder Morgan is a favorite of income-minded investors. Because it is an MLP, the company's income is not taxed at the corporate level, allowing for high distribution yields. Furthermore, Kinder Morgan's fixed asset, pipeline infrastructure business model allows for extremely predictable cash flows. In this article I'm going to look at KMP stock from a couple different perspectives. As of now, all of them point to KMP as a buy.
Historical Valuations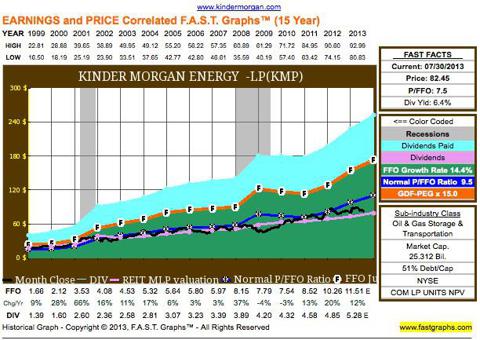 FAST Graphs pulls up valuations based on the last 15 years. The black line is the stock price and pink represents distributions. Those are the two most important metrics here: GAAP earnings have not been a good way to value KMP. We can see that the stock price is tightly correlated with distributions. Only in 2008 and 2009 did we see price deviate from this line. Since then, it has acted as a sort of fundamental support. It is now right about at that line.
Note that distributions are steadily growing. Over the last ten years, distributions have grown at a compounded rate of 13%.
Distribution Yield

Here is another way to look at it, by distribution yield. For the last couple years, KMP's yield has generally oscillated above and below 6%, but there have been a few opportunities to buy in with considerably more. Now is one of those times.
Personally, I have been invested in Kinder Morgan since February '09. Since late 2011 I've followed this simple rule of thumb and it has worked well: Buy KMP when the yield gets above 6.4%. Sometimes I am a little early, and sometimes it gets up higher. During the May 2010 "Flash Crash" it got to 7% for a blip. Those have been great times to buy. This, I believe, is a good time.
Promises Made, Promises Kept
Here's the classic rebuttal to investing based on yield: "It's foolish to invest based only on yield. If the yield isn't safe, you'll get a nasty surprise." Very true. While Kinder Morgan's relevant payout ratio is very close to 100%, the contracts they sign are also very long in duration. This makes cash flow very predictable. In the last 13 years, KMP has achieved its distribution budget in 12 of those years. Income investors can rest easy knowing Kinder Morgan will sustain and continue to grow its distribution. This year, for example, management is expecting to grow distributions by 7%.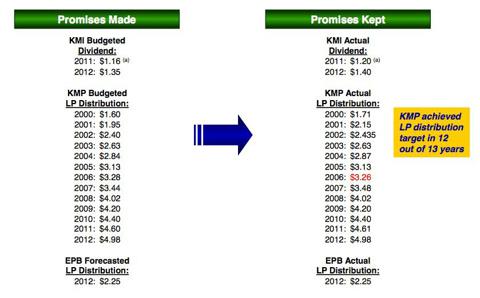 Conclusion

Let's close this out by looking at the price. KMP hasn't quite hit its low from late last month. And as I mentioned before, it could certainly drop lower, bringing the yield up to the high 6s. It's happened before. But look at the price over the last year. Notice that buying opportunities for KMP don't stay long. This is a chart of fjords.
Kinder Morgan is a solid pipeline business. Its high distribution yield and consistent growth makes it a favorite of income investors for a good reason. For those who would like to add to their KMP positions, now is a fine time to do so.
Additional Sources:
"Promises Made, Promises Kept" graphic and financial information from June 4th Kinder Morgan Investor Presentation.
Disclosure: I am long KMP. I wrote this article myself, and it expresses my own opinions. I am not receiving compensation for it (other than from Seeking Alpha). I have no business relationship with any company whose stock is mentioned in this article.
Additional disclosure: I own KMP for my family's account