As in last week's article, we've found another blue chip dividend stock with several attractive attributes: major dividend growth, strong recent and projected earnings growth, and, in addition, this stock looks undervalued. Although it's not a high dividend stock, you can goose the dividend yield via selling covered calls and cash secured puts - we've listed 2 trades further below.
London-based Ensco plc, (NYSE:ESV), provides offshore contract drilling services to the oil and gas industry worldwide, and operates a drilling rig fleet of approximately 74 rigs, including 9 drill ships, 13 dynamically positioned semisubmersible rigs, 6 moored semisubmersible rigs, and 46 jackup rigs. ESV currently has the world's second largest offshore rig fleet, behind only Transocean, which has 95 rigs, and just ahead of Noble, (NYSE:NE), which has 73 rigs. Ensco has the newest fleet of Ultradeepwater rigs, with 3, and, has 4 more on order, which are already contracted.
Recent Earnings: ESV continues to ride the trend of new deepwater oil discoveries, and has had strong revenue and EPS growth in the past 4 quarters, (with the exception of Q4 2012, which had a discontinued operations $.10/share EPS markdown):

Undervalued Future Earnings Growth: ESV's 10.95 P/E is a bit above its 5-year 9.54 P/E average, but is still around 28% below its P/E high of 15.18. Couple this modest 10.95 P/E with growth rates of over 28% and 17% for 2013 and 2014, and ESV looks very undervalued on a 2013 and 2014 PEG basis:

More Valuations: ESV also looks undervalued on a P/Sales, P/Tangible Book, and a P/E basis, vs. its industry:

Dividends: ESV raised its quarterly dividend to $.50 from $.375 in Q1 2013, and has grown its dividend by an astounding 1900% since 2009. Here's a yearly track record of strong dividend growth: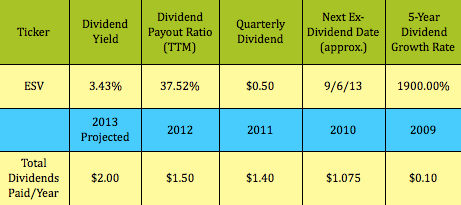 Using Options To Boost Your Yield: Here's a December trade, from our free Covered Calls Table, with a $60 strike price that's $1.63 above ESV's share price. This call pays $2.40, vs. ESV's $1.00 in dividends over the next 2 quarters, (Sept. 6 and Dec. 6 approximate ex-dividend dates.)

Here are the incomes from the 3 main scenarios for this 5-month trade. The least you'd receive is $3.40 in a static scenario, and the most you'd receive would be $5.03, in assigned scenario C:

Put Options: This Dec. put sale has a $57.50 strike, below ESV's share price, and pays $3.50, which gives you a $54.00 breakeven, about $3.00 above ESV's 52-week low.
You can find more info about this and over 30 other trades in our Cash Secured Puts Table.

Performance: Given all of its strong attributes, you'd think that ESV would have shot the moon over the past year, but, it hasn't. Like many other Basic Materials stocks, it hasn't gotten much support from the market, and is only up around 7% over the past year, vs. a 24% gain for the S&P. Technically speaking, it's close to being oversold, and it is closest to the bottom band of its Bollinger Bands.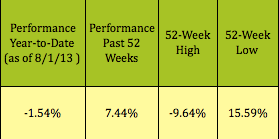 Financials: ESV is basically "in the pack" with most of these metrics, except that it sports a much higher Operating Margin and has a lower debt load:

Disclaimer: This article was written for informational purposes only.
Disclosure: I am long ESV. I wrote this article myself, and it expresses my own opinions. I am not receiving compensation for it (other than from Seeking Alpha). I have no business relationship with any company whose stock is mentioned in this article.
Additional disclosure: I'm long ESV, being short ESV put options.