Income and dividend stocks have taken a hit in recent months as interest rates have moved sharply higher. The 10-year Treasury yield went up from 1.6% to 2.7%, though it has eased back in recent days to about 2.6%. Importantly, short-rates have remained at their rock-bottom levels and Bill Gross believes the Fed Funds rate may not change until 2016 (the first two 25-bp. hikes according to Fed Funds futures indicators say late-2104 and early-2015). Short rates are more important for retail investors via money market rates, CDs, and Treasury bills/notes. Unless the 10-year breaks out above 3%, income vehicles like retail closed-end funds and dividend payers should maintain their bids.
Earlier this year I wrote an analysis for 5 dividend growers including Plains All American (NYSE:PAA), Philip Morris (NYSE:PM), Royal Dutch Shell (NYSE:RDS.B), Lockheed Martin (NYSE:LMT), and Bell Canada (NYSE:BCE). Since the article, those 5 stocks have returned on a simple compounded equal-weighted basis just under 6%, compared to about 9% for the S&P 500. You would expect dividend growers to underperform a strong stock market, especially in the short term. As I expect a more turbulent market in the next few months after the relatively quiet ride up since last November, I believe those income-payers are set to outperform the S&P 500 as volatility heats up.
Dividends have accounted for over 40% of the total return of the S&P 500 over long periods of time. While high-income dividend payers like closed-end funds, Mortgage REITs, and MLPs can provide high-income in the near term, stretching for yield is not the best total return strategy over longer periods of time. A balance between yield and growth in the dividend is important. Not only can a stagnant dividend lag over time against a lower-yielding growing income stream, but it may also be indicative of a pending dividend cut or troubles at the company affecting the share price.
Here are 5 new dividend-growers that have excellent balance sheets, great dividend coverage, good growth prospects, and institutional investor appeal. Oh yeah, they average an impressive 4.7% dividend yield and have multiple catalysts for stock appreciation:
Intel (NASDAQ:INTC): The technology sector has long had sterling balance sheets, prodigious cash generation -- and low or non-existent dividends. This changed in the last decade and has accelerated in recent years as shareholders have become more vocal about sharing the wealth, notably with Apple. Intel has steadily been increasing her dividend on an annual basis, and with the stock price not doing much, the yield has steadily crept up. At the height of the technology and Internet boom, Intel yielded 0.1%. Intel now yields 3.9% and has been increasing the dividend at a 15-20% CAGR the last decade.
The rate of dividend boosts has slowed since 2010, but INTC is the dominant microprocessor with an 85% market share of the PC market. While the company has lower market share and fewer design wins in smartphones and tablets, Intel is increasing her R&D into this segment. As shown by the company's continued muscle with PC-competitor AMD, Intel's vast resources should not be underestimated. The costs of fabs, R&D, and infrastructure are tremendous and barriers to entry are extremely high. Only Intel, Taiwan Semiconductor, and Samsung have the financial and global size to compete with such high financial barriers to entry.
Intel has huge 'moats' to protect her intellectual patents, something that the company started in the 1980's when it left the memory market after an onslaught of cheap Japanese competition. The company's balance sheet is among the best in the semiconductor business, net-cash positive.
Intel is beginning to roll out its next-generation low-power chip code-named Silvermont. It is the first new Atom microarchitecture since Atom's debut in 2008 and is Intel's first specially-designed CPU for the smartphone and tablet market. Appearing in tablets in H2 2013 and in smartphones in Q1 2014, the chip also has the distinction of being the first to benefit from tri-gate transistors, in this case via Intel's 22nm process. Silvermont is a quad-core chip compared to the Atom's dual-core and should provide Intel with a leapfrog of ARM's current and future lineup. Airmont (14nm) is on deck, and the combination of performance and low-power (leading to improved battery life) is a killer combination. While smartphones and tablets will not move the needle much on a company with $60 billion in revenues, it is a start and growth in the 2 market segments plus market share gains should help Intel offset stagnant PC sales.
The threat of Windows on ARM chips should have a relatively small impact on Intel's notebook PC microprocessor business. The high capital spending of the last two years will not disrupt processor pricing, and will have only small impact on profitability in line with normal business cycles. Extending leadership in process technology continues to insulate high-end microprocessor pricing from competition. This had led to a revival of the "Intel Inside" premium pricing of years ago through the marketing for the i3/i5/i7 CPU lineup (this author has an i7-2600K and the performance over an older PC is a quantum leap forward).
In the last few years, Intel's core market has become weakened by obvious technology trends, as spending at the margin shifts away from client PCs and to tablets (iPad) and smartphones (iPhone and Galaxy S4). Intel was still able to drive earnings growth, as they drove PC ASP prices higher: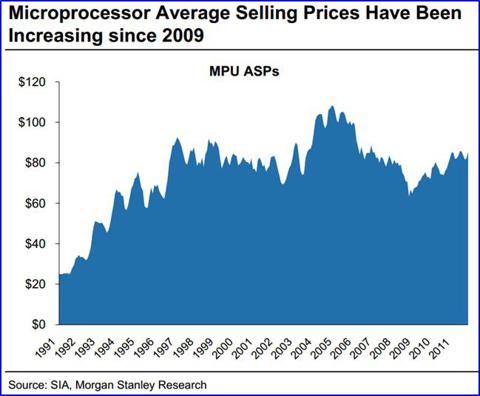 And the more lucrative server market, which uses state-of-the-art, super-powerful chips, has also helped as unit volume stagnated: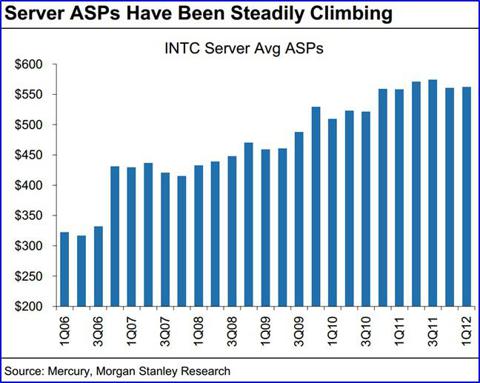 The structural duopoly between Intel and AMD has shifted, to where AMD is strictly a niche player without aspirations of taking on Intel in manufacturing process (no price wars) thus boosting profits for both companies. Substantial growth in the data center has led to both price increases for microprocessors and accelerating replacement cycles driving growth. Intel might enter the foundry business, though it is wary of the competition from Asian fabs and the commoditization that might result, something Intel remembers from the DRAM foray in the 1980's. But this could allow it to make inroads with large potential clients currently utilizing ARM architecture like Apple. At 65% gross margins, a 3% increase in costs is offset by a 1% increase in ASPs. If Intel can keep raising prices at the rate that it did in 2010-11, costs of incremental CAPX will be irrelevant, as they were in 2012. But if ASPs flatten or decline, cost increases will result in some margin pressure. Fortunately, the stock's valuation is not demanding and expectations are for some margin deterioration going forward so the bar has been set low.
Citibank sees Intel's dividend going up 10% a year for the next 2 years, which would put the yield at just under 5% if the stock price is flat. The company has a super-strong balance sheet, with half of the debt floated last December for purposes of a $10 billion stock buyback. The debt is rated A+ by S&P. Net-net, a 50% current payout ratio might climb to the low-60's if the dividend is increased at a 6-7% rate the next few years.
INTC yields 3.9% right now which is almost double that of the S&P 500. The dividend has been steadily increased in recent years at a double-digit rate, though the most recent increase was 7%. With a strong balance sheet, dominant market share position, and growth prospects, Intel should be able to augment that current 4% dividend yield for plenty of years to come.
The stock buyback should help boost total returns with stock price appreciation. At 12x current and forward EPS, the stock is not dirt-cheap but it is nowhere near the P/E level of the past decade (17-20x), let alone back in 2000 when it had a 40x P/E. On a relative basis, INTC cost 50-100% more than the S&P 500 in the past, but today you can buy it at a discount with better growth prospects and a higher dividend yield. That's a nice bullet to have in your portfolio.
Altria Group (NYSE:MO): Since we mentioned the international side of the old Phillip Morris (namely, Philip Morris International - PM) in our previous Dividend Growers article, it seems only fair that we focus on the domestic sibling. Altria Group does not have anywhere near the sex appeal or sizzle that PM has, confined strictly to the shrinking U.S. cigarette market. Altria Group is the parent company of Philip Morris USA (cigarettes), U.S. Tobacco (smokeless), John Middleton (cigars), Ste. Michelle Wine Estates, and Philip Morris Capital (the latter two divisions are of minor importance and are likely being prepped for sale and wound down, respectively).
MO enjoys a near 50% share of the U.S. cigarette market, led by its top cigarette brand Marlboro. MO also owns 430 million shares (27%) of SABMiller, the world's 2nd largest brewer. While the tobacco litigation environment has improved, consumption trends continue to decline: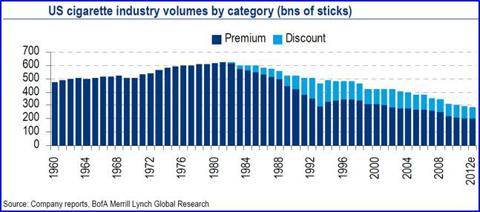 Comparing Altria to Philip Morris International: while a rising dollar has impacted PM, Altria Group has no such worries. MO lacks the growth prospects of PM but on the positive side the plain packaging debate taking place overseas and of concern to PM is largely nonexistent for MO. Greater advertising and freedom of speech protections exist in the United States. Copyright and theft of trademark protections are also stronger so this should be a non-issue going forward. On the litigation front, approximately 7,600 cases were pending against MO in the U.S., 16 in Canada, and 1 in Israel but none are material to earnings or existential threats to MO's business.
In addition to dividend growth, the shares will benefit from continued line extensions of existing products, as well as e-cigarettes and Snus products. Snus and new products can move the needle, especially if non-smokers are brought into the fold in addition to slowing the departures of traditional smokers. SABMiller remains a part of the Altria conglomerate - for now - but the company said it is open to creative, tax-efficient ways to monetize the asset if it would boost the stock price. These pluses for Altria have not gone unnoticed by the market as tobacco stocks have closed the valuation gap with peers: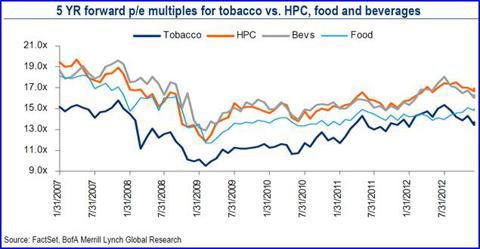 MO's recent Investor Day largely reiterated the key tenets of the strategy that has developed over the last several years: attempting to grow income, maintaining or growing its share in Smokable and Smokeless tobacco, and balancing these initiatives with moderate net pricing. MO is the pricing leader in the U.S. cigarette market and the couponing that it had been emphasizing in 2011-12 seems to be winding down.
MO's market share strategy is starting to pay dividends for Copenhagen but Skoal still needs some work: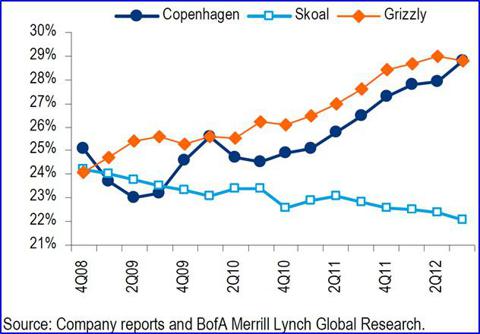 MO recently reiterated its 2013 adjusted EPS guidance of about $2.40 a share. With a dividend of $1.76 MO is looking at an elevated payout ratio of 73%, but given the prodigious cash flow, dominant market share, and immunity to cost/commodity pressures, Altria Group has long been comfortable with that elevated payout ratio. Recent dividend boosts have been 6-8% and should continue unless the payout ratio presses upwards of 80%. Share buybacks have suffered in recent years as excess cash flow has gone to service or reduce debt since the 2008 purchase of U.S. Tobacco (smokeless division).
Altria unveiled its e-cigarette brand, Mark Ten, launching in Indiana as a test market later this summer. E-cigarettes have had rapid growth but are coming off a tiny market share base. It is unclear if the ultimate market is closer to 3% of the U.S. cigarette market or 10% or even larger if non-smokers decide to try e-cigarettes.
Unless the secular rate of US cigarette industry volume decline slows, it will be tough for Altria to accelerate earnings growth and increase financial flexibility. The downward trend in smoking appears to have accelerated due to declines in youth smoking, the growth of moist smokeless tobacco, increased health concerns, a weaker economy, and cannibalization from e-cigarettes. However, even the FDA's recent pronouncements on menthol, if it led to a phasing out or outright ban (both unlikely), would probably benefit industry leader and financially-strongest MO instead of more-challenged competitors Reynolds and Lorillard. These developments bear watching but are not any near-term threat to Altria's dominance or cash generation. With less menthol reliance and greater overall revenue diversity, MO sits well relative to RAI and LO: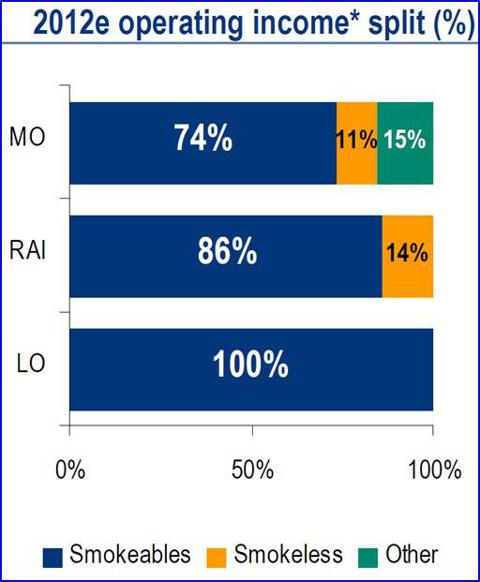 Recent market share performance was unambiguously stronger despite accelerating pricing. As a result, recent Q2 2013 earnings were largely in-line with consensus at $0.63 for the quarter, handily covering the $0.44 dividend. In Q2 Altria Group repurchased 3.7 million shares at a total cost of approximately $135 million. MO's new $300 million repurchase was authorized in April 2013 and is scheduled to be completed by the end of the current year. MO's $4 billion in free cash flow easily covers the annual dividend, but things are tighter for share buybacks that reduce the share count (like PM) or significant debt paydown. But mid-to-high single digit EPS growth combined with a dividend yield that is 4.9% should allow for steady-but-unexciting low-teens total returns going forward through 2020. There does not appear to be any disruptive excise taxes, regulatory, or litigation matters pending that can upset the MO applecart.
Merck (NYSE:MRK): Merck has done nothing for years, and a good part of that included no boosts to the once regularly-increased dividend. But things are changing for Merck, though not at the pace some investors want. The company throws off $13 billion a year in cash flow and with minimal CAPX requirements (under $2 billion a year), the company has plenty of discretion as to where that money will go: dividends, share buybacks, R&D, or acquisitions.
Merck has key franchises in the cardiovascular, diabetes, infectious diseases, and women's health markets. Merck will generate about $45 billion in sales for 2013, with ~85% coming from human pharmaceuticals ($38 billion) and the remaining 15% ($7 billion) from animal health and consumer care.
Key drugs include Januvia (diabetes), Zetia and Vytorin (cholesterol), and Isentress (AIDs). Merck's pipeline is impressive with odanacatib (osteoporosis), Lambrolizumab (cancer/melanoma), anacetrapib (cardiovascular), and a BACE inhibitor (Alzheimer's Disease). A number of drugs have been delayed or required additional FDA testing and this has added to the cloudiness surrounding Merck's inability to provide long-term earnings guidance (as well as the sacking of the R&D director earlier this year). But that has led to a cheap stock which is the opportunity for investors.

Near-term drug approvals include Suvorexant for insomnia (dosage is being worked out between Merck and the FDA) and Odanacatib (osteoporosis) is awaiting a 2014 study on its effectiveness and safety profile. The potential blockbuster Lambrolizumab (also known as MK-3475) is targeting melanomas specifically and other cancers more generally. There are competing drugs in development by other companies, but the drug could have final sales of $5-$7 billion, larger if competitors encounter stumbles or new usages are warranted. Unfortunately, the excitement surrounding the drug has prevented Merck stock from getting even cheaper as a recent cancer conference highlighted the promising results.
Merck's anti-viral division - Claritin, Nasonex, Gardasil, Crixivan, Isentress - have shown good growth though it will soon flatten due to market saturation and patent expirations: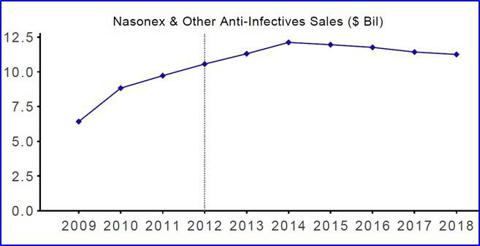 The needle-buster could be the potential cholesterol blockbuster anacetracib. The potential successor to Zocor and Lipitor continues to skate below investor consciousness, not a bad thing given how Merck has had more high-profile failures than successes in recent years (a far cry from the 1980's and 1990's). The next trial data release is not scheduled until late-2014 (see table below). Anacetrapib is supposed to lower 'bad' LDL cholesterol and raise 'good' HDL cholesterol. Pfizer's torcetrapib and Roche's dalcetrapib got KO'd in Phase III; the former on safety concerns, the latter on lack of efficacy. It could be late-2015 before the final Phase III tests are completed and could take until 2017 before Merck's compound gets final marketing and commercial approval. The FDA is being ultra-cautious on any new drugs in the cardiovascular realm that are already being met by existing (safe) drugs. But if anacetrapib crosses the finish line where the other CETP drugs did not it could be a $5 billion drug right out of the gate within a few years. Such a blockbuster would be worth $1 or more in EPS to Merck, and probably add $15-$20 a share to the stock price. If the foreign sales are material, you could be looking at a near doubling of Merck's current stock price from this one drug alone.
Here are some key dates for Merck's near and longer-term pipeline drugs: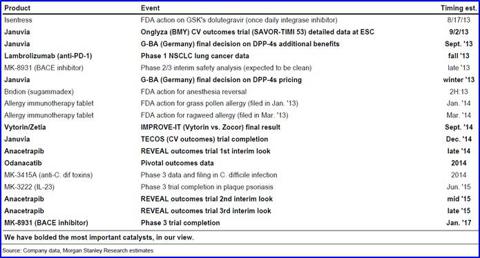 Merck boasts gross margins in the mid-70's and net margins in the low-20's. It has a sterling balance sheet with cash and investments basically equal to debt; in addition, the company has a AA-credit rating. Merck's long-term bonds trade at about 3.4%, which is less than the stock is yielding at 3.50%. When an investment-grade company's stock yields more than the company's bonds, that's a sign of financial strength and dividend-boosting capacity. The dividend is at the historical payout ratio level since 1990 of about 50% of earnings/cash flow, and it could be boosted from further cost-cutting or any product upside.
In the meantime, a mega-buyback of $15 billion (1/2 of which should hit this year) was announced in May (the impact got lost amid the R&D director change and the lack of EPS visibility). The drug sector has been exhibiting its defensive tendencies in recent quarters. Sentiment on Merck, however, has lagged the group though the stock would probably be lower without the excitement surrounding Lambrolizumab . There aren't that many unexplored contrarian plays but Merck is definitely one, selling at a fraction of previous P/E multiples and still less than half its 2000 all-time high stock price.
After 6 years of holding the dividend steady, MRK began modestly increasing the dividend in late-2011. Dividend boosts will likely be modest in the near future, but MRK has a pristine balance sheet. Revenue and EPS growth combined with modest cost-cutting can aid that balance sheet in accelerating the rate of growth. The current yield is 3.5% and represents about a 50% payout ratio EPS and even less of free cash flow.
MarkWest Energy Partners (NYSE:MWE): MWE is a $9 billion market cap MLP with natural gas gathering and processing (G&P) operations in the Southwest, Northeast, and Gulf Coast regions. Southwest operations consist primarily of G&P assets in the Granite Wash, Woodford, Haynesville and Cotton Valley formations. In the Northeast, MWE's operations consist of a rapidly growing G&P and NGL fractionation asset base through its Liberty segment in the huge Marcellus Shale as well as assets in mature Appalachia gas producing regions. On the Gulf Coast, MarkWest operates a refinery off-gas processing and fractionation facility. MWE is an MLP that does not have an IDR or General Partner so cash flows accrue entirely to the unitholders.
MWE has among the most attractive asset positions in the rapidly-ramping Marcellus (the largest shale resource in the U.S.) as well as the fast-growing Utica Shale. MWE has exceptional relationships with customers and an inventory of growth projects that are likely to continue to grow as these twin shale plays are developed over the next 5 to 10 years. This makes MWE a great long-term holding despite the strong rise in the shares year-to-date. MWE has demonstrated very attractive rates of returns in the Marcellus of about 15% -- despite depressed natural gas and NGL pricing -- augmented by the company's strong balance sheet, high distribution coverage ratio, no general partnership interest, and sufficient liquidity.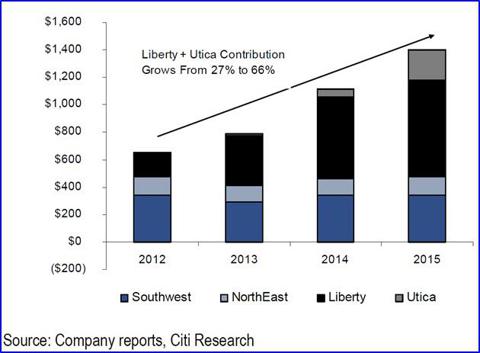 MarkWest is the MLP most levered to the burgeoning Marcellus Shale's wet production. MWE was early to the Marcellus and now has first mover advantage in the region's premier midstream footprint. MarkWest also possesses a leading position in the Woodford and other key resource plays. While acknowledging that MWE possesses more commodity price exposure than other midstream MLPs, MarkWest's deep portfolio of Marcellus expansion projects will drive attractive double-digit distribution growth and outperformance in coming years. The Marcellus region (44%) has overtaken the Southwest (40%) in terms of operating income and fee-based income is 63% in 2013, 70% forecast for 2014, and higher in 2015 and beyond.
MWE brought over 1 Bcf/d of processing capacity in 2012 in the Marcellus and is on track to add another 1 Bcf/d in 2013. Plants are filling up faster than expected, with the NGL-rich Granite Wash play in the Mid-Continent another bonus beyond the Marcellus/Utica. MWE has 18 processing plants and fractionators under construction and expected to be placed into service over the 2013-2014 time period. By 2014, MWE expects to operate 48 plants, representing approximately 6 Bcf/d of processing capacity. Once completed, this will mark a nearly three-fold increase in processing capacity over a 3-year period (versus ~1.9 Bcf/d of capacity in 2011) and a two-fold increase in the number of operated processing plants (versus 22 plants in 2011). Nearly all of this growth is expected to be driven by opportunities in the Marcellus and Utica Shales.
MWE predicts that for 2014 the company will generate 70% of its net operating margins from fee-based contracts. This is up from less than 50% in 2012 and under 40% in 2011. This increased fee-based income should lead to an increased multiple revaluation over time and a higher stock price with reduced commodity volatility. MWE is also reducing the percentage of proceeds (POP) arrangements it has utilized in the past. In these arrangements, the processor gathers and processes the natural gas and then sells the residue gas and produced NGLs at market prices. The processor receives a percentage of the resulting dry gas and/or NGLs. Under percent of liquids (POL) contracts, the processor receives a percentage of the NGLs only. Holders of POP or POL contracts are effectively long on natural gas or NGL prices. This has been a losing proposition the last few years, though the bias might be to a recovery the next few years while MWE makes the transition.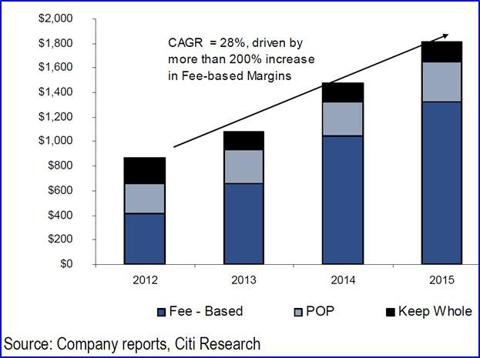 MWE's leverage ratio increased to 5.2x due to a $1 billion 10-yr senior note offering in January issued to pre-fund 2013 CAPX (priced to yield 4.5%). In retrospect, this was good timing as rates have moved up substantially since MWE floated the debt offering. MWE may be able to grow the distribution close to 10% over the next 5-7 years, well above the MLP peer group average of 7%. The units currently yield 5.0% and approximately 70% of the partnership's cash distributions will be tax deferred.
Eni (NYSE:E): Eni is an integrated oil and gas company with a focus on international upstream and European natural gas, downstream, power generation and chemicals businesses. Eni produces about 1.8 mm/boe with major areas of production in Italy, North & West Africa, Kazakhstan, North Sea, and the U.S. Growth areas are Russia, Iraq, Kazkhstan, Australia, Mozambique, and Venezuela. Eni owns a 16% stake in GALP Energia, a 43% position in Saipem, and a 17% stake in Snam Rete Gas. Eni is an active gas importer/distributor from Russia, North Africa, and the North Sea to the Eurozone.
With a 30% stake controlled by the Italian government, we are traditionally hesitant to get involved with integrated oil companies with heavy state involvement (Petrobras, Total SA, etc.). But Eni is a compelling investment. Value creation comes through publicly-traded subsidiaries like Saipem and GALP as well as monetization of the mega-natural gas field off Mozambique. The mega-fields in Kashagan (Kazakhstan) are finally set to come online and will be ramping up later this year for the next 18 months; this world-class elephant field will produce 30% of the production growth that Eni should experience over the next few years. Eni has other legacy low-cost, high-value upstream assets based in North Africa, the UK, Italy and West Africa.
Despite all this, the stock is selling at dirt-cheap levels for a company that has already done the heavy-lifting and now has several tailwinds at her back: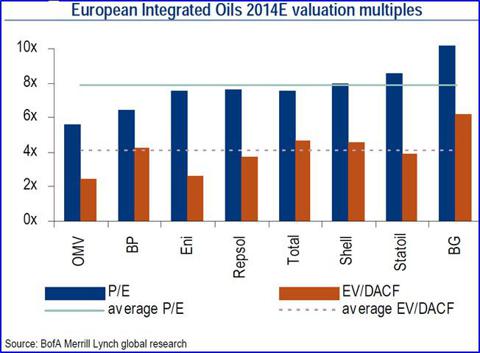 ENI has made extraordinary progress in reducing debt the last 2 years. Asset sales of acreage, sell-downs of publicly-listed subsidiaries, exploration success, and better-than-expected volume growth (and a recovery in Europe) have allowed Eni to slash debt in amazing time. Net debt went from 47% of capital at year-end 2011 to 26% by year-end 2012. As a result, the company is set to generate $30 billion of free cash flow from 2013-16 while still having a well-capitalized balance sheet. Eni should be able to maintain CAPX and dividends at $80 Brent oil pricing, which is far more leeway than either Total SA or Petrobras. Merrill Lynch believes that only at $70 Brent oil would net-debt rise at current CAPX and dividend levels; at $110 Brent Eni could be net-cash positive by 2016.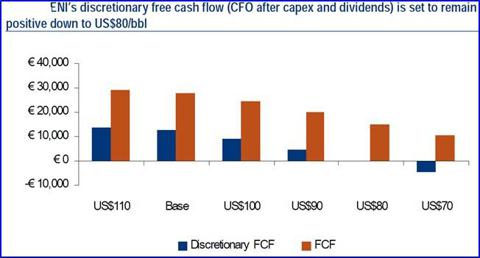 Like Royal Dutch Shell which went through a baptism-of-fire with a major reserve accounting snafu last decade, Eni has been caught in the oft-delayed, hugely over-budget Kashagan Field in Kazakhstan. Also like Royal Dutch Shell, Eni has already done much of the heavy-lifting and is now set to enjoy 3-4% production growth out to 2015 and 3% growth beyond: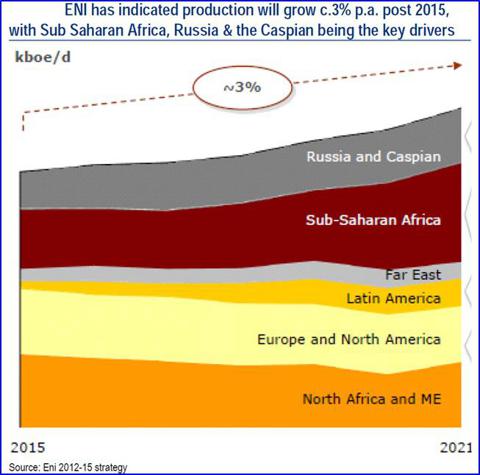 Eni's portfolio is set to deliver more oil-biased growth from higher margin areas. Strong contributions from production sharing contracts (PSCs) and with Kashagan finally coming on-line in a few months , margin expansion should be significant. Kashagan has been a big financial and sentiment overhang, with the mega-project some 5-7 years behind schedule and $50 billion over budget (Eni has a 17% share). Management has indicated that at flat oil prices, margins are expected to grow by about 12% (2015 vs. 2011), indicating the new projects will be >30% more cash generative than the existing asset base.
Catalysts going forward include Eni's top quartile volumes growth (2012-14E); a FCF yield of 9% in 2013 and 12% in 2014 (the highest among major integrated oil companies); potential for a significant buyback program to be launched from additional asset sales; further cost cutting; additional E&P volume growth; and strong exploration potential (Mozambique, West Africa, Barents Sea and SE Asia).
Free cash flow is largely baked in for the 2013-16 period. A combination of volume growth, upstream margin expansion, renegotiations on gas supply agreements and cost savings and efficiencies would contribute another €6 billion increase in annual FCF generation (34% CAGR) under constant oil prices. Asset disposals are the safety net from both publicly-listed and other sources.
Eni's crown jewel is its 50% stake in Area 4 Mozambique with an estimated 70 TcF (12 billion BOE). In March, Eni sold 20% for $4.2 billion to China National Petroleum Corporation. Further monetization or accelerated development of this asset will either lead to upside in production growth out to 2020 or lead to further debt paydowns, share buybacks, or dividend boosts. The 2016-20 growth target of 3% per year could be increased if existing E&P projects are accelerated.
Despite the dirt-cheap valuation, Eni's past status as an 'also ran' among the large integrated oil companies, the Italian government's stake, and better operators to choose from (i.e., Exxon Mobil, Chevron, Royal Dutch) have all led to Eni being ignored by non-European investors. The semi-annual dividend is an anachronism relative to quarterly payments by U.S. and U.K. investors but the 27% Italian tax on dividends is reduced to 15% for U.S. investors.
But it is a sterling 6.2% dividend yield that is well-covered by current and future cash flows that investors should focus upon. The potential for sizeable dividend boosts and/or equity shrinkage from the surplus cash generation the next few years is an added plus. In addition, the Italian government is still looking to get its financial books in order so a sale of the government's stake cannot be ruled out. And without the government, don't discount the possibility of a strategic buyer replacing the Italian government or maybe even looking to buy the entire company - a market cap of only $80 billion -- which is certainly digestible for a U.S., European, Russian, or Asian mega-energy giant.
So there you have it: 5 dividend growers representing diverse sectors of the U.S. and global equity arena. As in my previous articles, I love the diversification benefits of 'the basket approach' rather than trying to pick-and-choose what appears to be the best or highest-yielding stock. That said, I believe each of these stocks has enough tailwinds at their backs and future catalysts, plus strong financials, that they should each be winners in their sectors. If they are, then your portfolio should be a winner, too.
Disclosure: I am long MO, MRK, MWE. I wrote this article myself, and it expresses my own opinions. I am not receiving compensation for it (other than from Seeking Alpha). I have no business relationship with any company whose stock is mentioned in this article.
Additional disclosure: Online and personally-managed accounts controlled by the author are long the indicated stocks at the present time.