I hate shorting good companies. While good companies often see their stocks rise to unsustainable levels, sometimes it is very difficult to explain why I want to profit from a falling stock even though I believe in the business that I am shorting. Such is the case with my call today to short Athenahealth Inc. (NASDAQ:ATHN).
Athenahealth operates in the high profile business of medical record keeping. Specifically, the company specializes in systems for billing, collections and medical record management for physician practices. The products essentially allow the physician staff to spend more time with patients by establishing what the company calls a "virtual back office." The solutions are especially attractive to physicians because they require no hardware and no lengthy setup process. The systems are completely web based so the office can efficiently manage the entire business from a laptop with an Internet connection.
Benefits to physicians are twofold. First of all, the software allows for better care with more safeguards in place. Issues like drug interaction and historical lab work are all available immediately. Physicians can avoid making unhealthy or even potentially life threatening mistakes by using the system to screen for conflicts or dangerous interactions.
On the business side, the software is equally helpful. One of the most appealing functions is the interaction with major health insurance plans to bill, and collect reimbursements for procedures. Since Athenahealth is growing a wide base of physicians (20,323 active medical providers according to the quarterly press release) it has a vast collection of reimbursement programs and transaction history to draw from. When there is an issue with a particular procedure or reimbursement, Athenahealth is able to not only research and find a remedy to the situation, but they are also able to use the data for every one of its additional physicians who perform the same procedure for the same health insurance plan. So as the network of physicians grow, the quality of service just gets better.
You may be thinking, with so many positive things to say about the company, why would you recommend shorting the stock? The answer is that the positive story about the quality company has been fully and even overly considered by the market. Investors have been clamoring to get exposure to the medical records market because the current administration made it clear that this would be a significant area of growth over the next few years. Since ATHN is one of the leaders in this field, it attracted quite a few buyers who didn't care about the price, they just wanted to own the company.
As we experience markets that are just now beginning to care about prices instead of just buying, Athena is vulnerable to a sharp drop in its stock price. Currently, ATHN is trading near $39 per share and is expected to earn $0.61 per share this year. That's a multiple of 64 times this year's earnings. The company is obviously growing at a very healthy rate, so a generous multiple would be expected, but 64 is excessive! Even using the expectations of $0.94 for next year, the stock is over 40 times earnings and there is no guarantee that the $0.94 will really stand. Changes in government regulations or stimulus programs could have a significant effect on the company's profits (positive or negative) and the market appears to be pricing in only the potential positive outcome.
Looking at the fundamentals of the company and the strong potential for growth, I would be very interested in owning this stock at about 25 times next year's expected earnings. Unfortunately, that would price the stock at $23.50. Even as an investment manager who leans toward growth names, I could never justify paying the current price for this over-loved stock. As the market now appears to be taking a "buy the rumor (of recovery) sell the news" approach, investors in ATHN are likely harboring more risk than they realize. There is certainly a potential for large gains shorting this stock, and if it is part of your current portfolio I would suggest selling or at the very least hedging your position.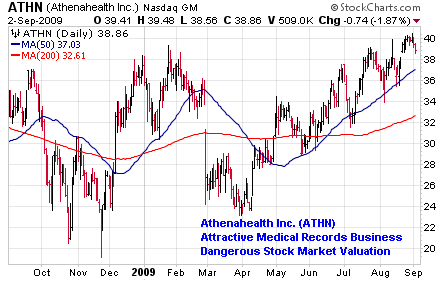 Disclosure: Author does not have a position in ATHN