Much was made of the fact China overtook South Africa as the world's No.1 gold-mining producer in 2008. But that came due to South African output halving from its late-90s' peak.
More still was made of the surge reported this spring in China's official gold reserves, up 75% by weight in six years to 1,054 tonnes. Worth $32 billion, however, that lump of metal badly lagged growth in the People's Bank's total reserves. Thanks to Asia's "savings glut" – obverse of the West's "galloping consumption" – the PBoC's hoard of foreign currencies swelled by more than 300% to over $1.7 trillion.
More critically still, official Chinese gold holdings actually lagged jewelry and investment buying by private Chinese consumers...now totaling $42bn since 1998. And the real news, for Western analysts at least, is that as a proportion of China's massive household savings, gold buying has also risen sharply – up from a little over 1% to more than 1.8% in 2008.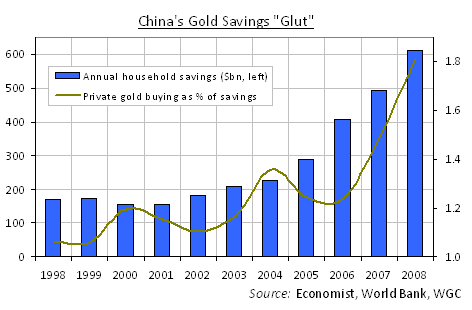 According to World Bank estimates, annual household savings in China have risen three times over in the last 10 years. That's a four-fold rise in US Dollar terms.
Annual private gold buying meantime doubled in tonnage (according to data from incumbent analysts GFMS Ltd in London; mainland China figures), rising five-fold in Chinese Yuan and rising six times over in US-Dollar terms. So as a percentage of annual household savings, according to new analysis by us here at BullionVault, private gold purchases rose sharply...hitting more than 18 Yuan in every CNY1,000 squirreled away last year...and defying Western-analyst forecasts for "consumer substitution" as disposable income and thus savings grew.
Put another way, growth in the value of private gold purchases has consistently outstripped China's GDP growth every year since 2001, when retail-price controls were abolished. Come the first-half of 2009, private gold buying in China overtook India to become the world's No.1 market. It grew 8.1% in tonnage from the same period in 2008, rose 6.4% in Yuan value, and grew more than 8% in Dollar terms.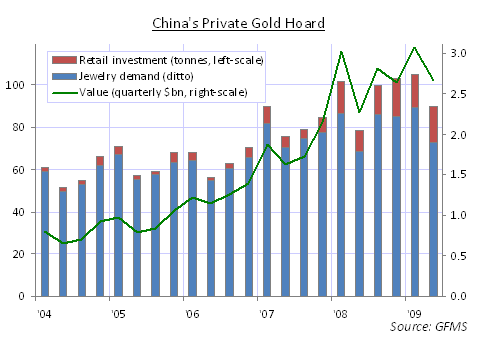 China's galloping gold buying wasn't merely a function of the global turnaround in gold's fortunes at the start of this decade, either. As a proportion of all retail buying worldwide (covering what GFMS separates into "jewelry" and "retail investment", although we're not sure the motives are so distinct), Chinese demand more than doubled from 7.5% in 2004 to almost 16% in 2008. It reached 31% between Jan. and end-June this year.
To recap: The world's No.1 gold producer, China stands at No.5 for official reserves and No.1 in private buying. If you're buying China, you'd better buy gold as well.
Disclosure: Long physical bullion