Synopsis - Content is king. An incomplete mobile operating system that lacks useful applications, particularly for a local consumer base, will not ascend to the throne, let alone be allowed across the drawbridge to mindshare castle. With Microsoft remaining apathetic towards their partner Nokia, I continue to suggest Nokia as a trading vehicle for the time being.
Since first investing in Nokia (NYSE:NOK) on 18th June 2012, I have claimed that - no matter how well designed and technologically advanced Nokia's Lumia devices are - it is the operating system and applications that will be the determining factor behind capturing consumers' interestshare, eventually evolving into mindshare, eventually translating into sales growth and, ultimately, into profits for Nokia and its shareholders. With a slipshod partner like Microsoft (NASDAQ:MSFT), Nokia's struggle for success is one of epic proportions.
With Apple's (NASDAQ:AAPL) brand pull remaining by and large intact, and Google's (NASDAQ:GOOG) strategy - to portray itself as the most innovative Lord Keeper of the Privy Seal of the free internet for mankind - working as well as ever, Windows Phone adoption will remain piecemeal or even decline, as this week's Kantar ComTech OS market share report shows:
3 m/e Dec 2013

3 m/e Jan 2013

3 m/e Feb 2013

3 m/e March 2013

3 m/e April 2013

3 m/e May 2013

3 m/e

June

2013

Germany

2.6

5.1

6.8

6.1

6.4

6.1

5.9

GB

5.9

6.2

6.7

7.0

8.4

7.8

8.6

France

4.1

5.7

7.2

6.2

7.4

9.0

Italy

13.9

14.0

13.1

10.9

10.5

9.7

7.8

Spain

1.8

1.3

1.5

1.9

1.4

USA

2.6

3.2

4.1

5.6

5.6

4.6

4.0

China

0.9

1.2

1.4

2.0

2.4

2.9

4.9

Australia

2.8

3.4

3.4

4.1

5.1

5.6

5.3

EU5

5.4

6.5

6.7

6.8

6.9
(Source and previous monthly reports)
The increase in China is a good case in point for Nokia's problem: adoption increased by 2% while Nokia's net sales declined -9% on +700k devices sold, showing the trend to low-end low-margin Lumias. With Mobile Phones/Asha fading away, the HERE division remaining a loss-maker and the NSN division showing only $10.6m and $4m operating profit this year - with Ericsson (NASDAQ:ERIC), Huawei and Alcatel-Lucent (ALU) breathing down its neck - Nokia must excel with its Smart Devices, but can it survive financially riding on the popularity of mostly low-end devices as the chart indicates?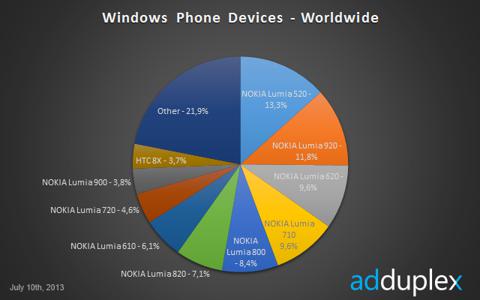 Click to enlarge
(Source)
1. Content is king… and the customer is always right
The smartphone is the Swiss army knife for people's communication needs. It is by far the preferred terminal to their life online. As such, it has to be functional, practical and compelling in the context of work and leisure, the membrane between both becoming increasingly porous for many. Utility value in both contexts is determined 1st by the operating system (OS) on which the smartphone is running and 2nd by the applications (apps) running on top of the OS. The OS enables a smartphone's feature set, and the apps put the latter to work for the user. As long as Microsoft's OS is deficient, Nokia's Swiss army knives will lack tools and many of its blades will be dull.
What many retail investors in Nokia should understand is that their individual mobile preferences and habits in leisure and work provide no clue as to the success of the business they are investing in. While it is perfectly acceptable to not use third party apps or being satisfied having found the ones needed for one's individual well-rounded mobile experience, it is a cognitive bias to project one's contentment on the extremely diverse global consumer base.
The OS
Microsoft and Nokia signed a five-year partnership contract in April 2011. For quarterly platform support payments of $250m, Nokia agreed to adopt Microsoft's Windows Phone OS (WP hereafter) to drive their entire smartphone range. Just one year later, in April 2012, it transpired that Microsoft nipped Nokia's just launched Lumia 800 and 900 devices in the bud - by offering no upgrade path from WP7 to WP8, the latter built on the NT kernel instead of Windows CE. Consumers, who had always had great confidence in Nokia's quality products and the Nokia brand in particular were frustrated as well as the developer community that was just starting coming to terms with the new OS. While the GUI of WP OS is clean, glanceable, innovative and polarising (in the positive sense of being refreshingly different to old-style static icon-based OSs), it is its lack of functionality, which is beginning to rub off.
In short, Microsoft became a brand repellent for Nokia.
Nokia had to restart, once again, launching their new Lumia range from 5th September 2012 onwards. All too soon, the fundamental deficiencies of WP8 became apparent, irking many seasoned smartphone users and developers until this day. The list of core functionality issues with WP is simply too long - with WP8 users' pleas running into the tens of thousands - so I will rather leave it to the reader to evaluate the situation on Microsoft's official site and from review sites in their respective home countries.
With its GDR 2 update, Microsoft will enable FM radio, a smoother "Me" tile and other features on the fringe of users' needs. The GDR 3 update that may or may not arrive at the end of 2013 could bring further bug fixes and screen rotation lock, but most of the missing core features will probably not arrive well into 2014 with the rumoured WP8.1 "Blue" update - if then. The enterprise feature pack, bringing VPN support, e-mail encryption and nothing much else, is earmarked for release in the first half of 2014, but with its distribution to users left to the discretion of national carriers.
With a partner like this, Nokia needs no enemies.
The apps
Tourists visiting Switzerland are fairly keen on buying the Victorinox/Wenger "original"/"genuine" Swiss army knife instead of shopping for street vendor fakes that often jam and fall apart, probably already before departure. Similarly, many potential and existing WP smartphone users regard third party apps as sub-par, because they often lack functions, are not updated regularly and are often poorly designed.
Peer pressure at school, in university or at the workplace is an important driver of ecosystem adoption and user retention. While friends or colleagues use iOS and Android and enjoy a rich and compelling smartphone experience for leisure and work, WP users are ostracised for not being able to explore the latest must-haves or engage in joint activities. A student wanting to keep track of university lectures, schedule and room changes or browse the library: no app for that. A health conscious middle-aged Weight Watchers member wanting to scan food bar-codes when shopping: no app for that. A businesswoman wanting to book a room with Accor Hotels using a loyalty scheme coupon: no app for that. WP adopters could eventually end up being regarded as the Billy-no-mates and Johnny-come-latelies of the smartphone community, while Microsoft probably continues to see WP as a low-priority endeavour.
Nokia and Microsoft investors are concentrating on the wrong issue: it is not the sheer quantity of apps that matters, but localisation and design quality. Spotify is a typical case in point; not only does the official forum not have a dedicated WP sub-forum, WP never shows up in the tag cloud and the disappointment with Spotify's WP app runs high, to put it mildly.
In the media, the app situation has been looked at mainly through the U.S. American lens; but what about the rest of the world, where the overwhelming quota of Nokia's net sales in Smart Devices is generated (see Nokia's Q2 interim report, p. 7)? What about French, German, Mexican or Brazilian apps for shopping, food delivery, air travel, cinema ticket booking?
Very shallow or missing local categories:
Banking apps (highly country specific)
Travel apps (plane, train, bus, petrol stations)
Shopping apps (supermarket-, clothing-, fast food-chains)
Entertainment apps (newspapers, magazines, cinemas, theatres)
Municipal/e-government apps (parking, events, monitoring use)
Loyalty scheme apps (services)
Game apps (most popular)
Niche apps (most popular)
Some examples of missing or dysfunctional apps:
U.S./international: Instagram, Snapchat, Chrome, Hangouts and Gmail (a must have for Android switchers), Dropbox, Pinterest, SoundCloud, Mint, Citrix Receiver, Cisco AnyConnect
UK: Lloyds TSB (banking and brokerage), Ticketmaster (entertainment booking), ASDA (groceries, etc.)
Sweden: IKEA (retail), SJ railway (public transport), Swedbank (banking and brokerage), Spotify (music streaming)
Germany: ING DiBa (banking and brokerage), Immobilienscout24 (real estate for rent and sale), mobile.de (buy and sell cars), MVG (Munich public transport)
The time when iOS and Android users will muster and complain to demand a WP app to be ported to their favourite OS is far away, if it ever arrives.
In May, Vesa Jutila, Nokia's Global Head of Smartphone Marketing conceded
"[…] the biggest complaint is that customers are missing the apps they want.",
followed by the plea Nokia's Vice President and General Manager of App development Byran Biniak dished out to Microsoft in a rare moment of urgency last week:
"People rely on applications for their day-to-day life and if you don't have something which I use in my day-to-day life I'm not going to switch [operating systems] because I don't want to compromise the way I live my life just to switch to a phone […] It's not just about the hardware, it's about the tools that are on the hardware. You can't sell a phone without the apps, you just can't."
This week, Jo Harlow, Nokia's Vice President of Smart Devices chimed in, albeit in much attenuated corporate-speak:
"[…] this is a partnership and as partners, we both need to pursue growth […] We need more awareness of Windows phones and Lumia, we need a broader ecosystem of applications […] We will work very closely together in the future on the products that we're doing and the innovations within those products. That's a two-way street."
These quotes, I think, speak for themselves.
2. Developers, developers, developers... you can't buy love
While Nokia and Microsoft provide some apps themselves, it is the international community of app developers small and large that provide the content that entices consumers to an ecosystem and then retains them within. Apart from smartphone novices, who often use their devices as glorified feature phone, making calls, send text messages and use mapping/navigation, consumers have by and large become accustomed to the ecosystem duopoly of Android and iOS, especially the latter being linked to the most successful online marketplace for data monetisation: the Apple iTunes/Appstore.
The motivation
App developers are motivated by two factors that are mutually dependent: reach and income.
It is a matter of professional pride for any independent developer to achieve widest reach, and, in turn, earning respect from the developer community, attracting new clients and being able to generate income. It is often individuals and small teams, starting out in an experimental fashion, then grow, and sometimes attract larger players or venture capitalists that need a constant influx of innovative concepts on the one hand and the unlocking of novel monetisation potential on the other.
The chicken and egg situation
The vast majority of developers recognise the need to offer multi-app and multi-OS development. Most apps are conceived and developed for iOS first and Android second - the former still offering highest monetisation potential, especially in the booming enterprise iOS app sector, the latter beginning to suffer from OS fragmentation but being the preferred option for novices, due to much lower barriers of entry. While the network effect of Android is larger simply by way of device market share, monetisation becomes more difficult, having to cater to OS fragmentation and the culture of "free" that Google has so successfully implanted in consumers' minds.
Microsoft's WP is also on developers' agendas, but interest does not necessarily translate into action, especially when enterprises are not requesting WP apps as a necessity for consumer engagement and consumers, in turn, do not adopt the OS in sufficient quantities so as to offer easy and sustained monetisation for enterprises. Why, for example, should Germany's largest and most successful online rental and real estate service Immobilienscout24 commission a WP app, when 91.7% of its potential and existing users use Android and iOS devices? An enterprise app is no small feat, it has to work with complex ERP and backend databases, social engagement and much more. At this late state of the game, it is simply not necessary for further monetisation to offer a WP app.
One can see that developers that do develop for WP do not put their eggs in one basket, but rather look elsewhere, too, whereas, as explained above, Android and iOS developers look towards their rival platform, but hardly anywhere else.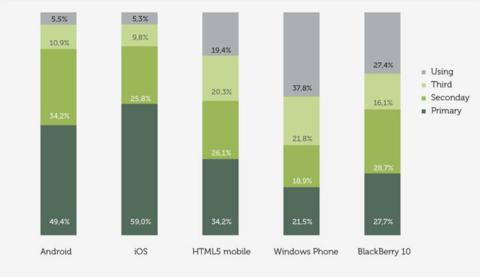 Click to enlarge
(Source)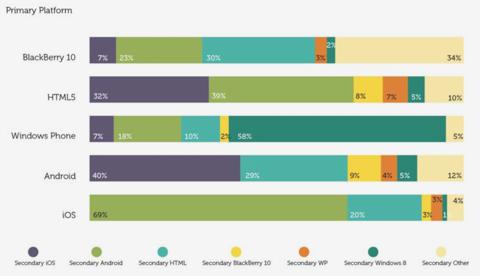 Click to enlarge
(Source)
To quote from the latest VisionMobile Q2 2013 developer report:
"Asking a developer to switch to a different platform is like asking someone to learn a foreign language - it's a task that takes months if not years of disciplined effort to master. And it's not just about the language (Objective C, Java, HTML or JavaScript) itself. It's the set of APIs, development environment, publishing process, and the 3rd party tools ecosystem that supports the platform."
The tools
An estimated 500k developers are fighting for attention, the funnel's pipe is narrowing drastically, not taking into account in-house enterprise app development. Gone are the days when a clever app was easily developed, marketed, sold and maintained. In recent years, a whole SDK economy has emerged, providing a plethora of complex tools, cutting across the entire app development stratum, from concept to maintenance. Without a competent SDK economy and, even more importantly, developer community, the chances of monetisation are very slim. Looking at currently most popular developer tools and the on-going mergers and acquisitions in that market, Microsoft excels with absenteeism. Apart from consumer oriented and in-house enterprise apps, the developer economy is now a market in itself, with platforms and communities upping the threshold at an ever-increasing pace.
Being a WP developer is a brave undertaking, requiring patience and perseverance. And then, Microsoft steamrollered many willing developers when abandoning WP7 for WP8 in April 2012 - and then even only releasing WP8's SDK almost two months after (!) Nokia launched the Lumia 920, whilst also putting specific demands on the developer's hard- and software set-up.
When WP developers make an effort to provide third party solutions for lack of an official app, but then having their app pulled from the marketplace to their chagrin, it is hard to remain motivated and attached to the platform.
3. One more thing…
One should realise in the ecosystem debate that Microsoft is the largest benefactor from Google's Android via license fees incurred from Samsung, HTC, LG, Acer, ViewSonic, Nikon, etc. as well as contract manufacturers like Hon Hai, Compal, Wistron and others. With only half of all Android devices shipped in 2017 incurring royalties, Microsoft will collect another whopping $5.9bn in additional revenue - Hon y soit qui mal y pense…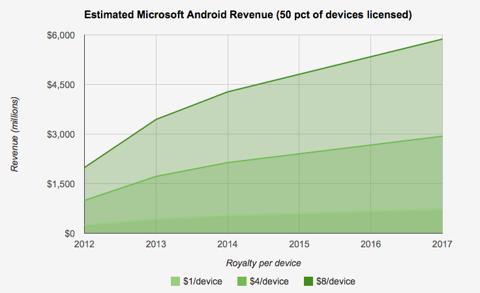 Click to enlarge
(Source)
Conclusion
It seems that Microsoft has become an 800 pound amoeba. With its recent string of misadventures - Windows 8 and Surface tablets coming to mind - Microsoft is fast acquiring a brand persona akin to the oddball uncle nobody wants to have around at family functions. WP neither can succeed with localised apps nor can it attract the developer community. Nokia has been cornered by uncle Microsoft, unable to talk its way out until 2016. Its stock will probably drift range bound between $3.20 and $4.20 with downside potential after events and remains a speculative investment for traders for the time being.
Disclaimer: This is no recommendation to buy or sell securities as that carries with it very high risks. The information contained in this article is for informational purposes only and subject to change at any time. Do your own due diligence and consult with a licensed professional before making any investment decision.
Disclosure: I am long ALU, NOK, HPQ, AMD. I wrote this article myself, and it expresses my own opinions. I am not receiving compensation for it (other than from Seeking Alpha). I have no business relationship with any company whose stock is mentioned in this article.
Additional disclosure: I might continue to occasionally purchase and sell NOK for short-term trading purposes.