(Contributor's note: This article covers a micro-cap stock, which sometimes moves without rhyme or reason and carries significantly more risk than large-cap stocks. Please be aware of the risks associated with these stocks. Don't be a fool, stay in school.)
Perspective on Celsion of Late
It's all a matter of perspective with Celsion (NASDAQ:CLSN). Shareholders that have been long for the past year have been rocked with an astounding loss of about 85% after Celsion's failed HEAT trial in January.
On the other side of the coin, the "new" (post-crash) Celsion - which consists of cost cutting, new corporate strategy, and some good post hoc data from the HEAT trial - has been up over 40% in the last three months - and there's a couple catalysts coming down the road for the company.
So, the time in which you've invested likely effects how you're currently feeling about the company. I was mostly bullish pre-trial data and remain bullish on the company, their drug delivery system, and their experienced management.
Here's how Celsion has been trading lately, looking like it's found support for the time being around the $1.20 area. Celsion spiked as high as $2.10 at one point towards the end of May, yielding close to 300% to investors who bought at the company's 52 week low.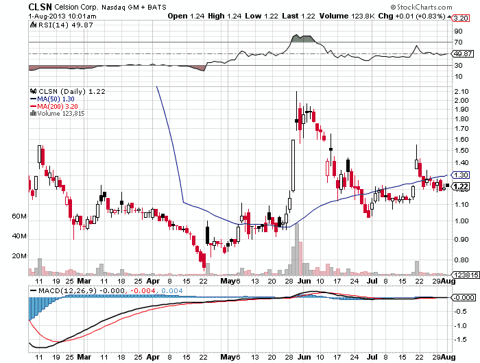 I've been covering Celsion since the beginning of January 2013, when it was anticipating its Phase III results for ThermoDox with RFA (radio frequency ablation). ThermoDox, Celsion's main focus, is a unique liposomal delivery method of getting doxorubicin to the site of cancer tumors being treated. Preliminary trials looked great and the idea behind ThermoDox was one that made sense: delivering a concentration of an often-used cancer drug to the site of the tumor by its liposomal transport system, and using heat to activate it en masse. (Again, it's the delivery). Their Phase III results were hardly what the company expected, as they didn't meet their primary endpoint, and the stock subsequently tanked in January 2013.
I've previously argued that the post-ThermoDox Phase III trials Celsion could be worth $4/share, and I'm sticking with that analysis. With a conference call coming down the pipe next week, and a few things to look forward to, it's all up to Celsion to start to deliver.
With Celsion failing to reach their primary endpoint in the HEAT trial, and now trading significantly lower, the bears have been in full effect, launching campaigns of misinformation (all debunked here) and half truths to try and hold the "new" Celsion back from moving forward. This upcoming Thursday, Celsion will get their chance to take a swing back, as they report Q2 earnings on an 11AM conference call - announced by Celsion this morning in this press release.
Earlier this year, the company reported that it had found success with certain subgroups of ThermoDox when RFA had been applied for certain amounts of time. The company has since stuck with its sentiments that ThermoDox is showing some hope. The company has disclosed that it intends to fly through animal testing this summer and be ready to meet with the FDA in late-summer/early-fall to try and get ThermoDox back on track for a retrial.
It was announced just a couple of weeks ago that Zhejiang Hisun pharmaceuticals reaffirmed their backing of ThermoDox for use in China, and it's clear that Hisun wants full control of the delivery method in China.
What I'm Expecting From Q2 Earnings Call
This is a unique call, as the focus isn't going to so much be on Q2's actual results, but what supplemental information the company is going to offer up about where they're heading in the future.
From this call, I'm expecting updated post hoc HEAT results. As the company has had more and more time to analyze the data and how RFA times effected patients in the HEAT study, I'll be keeping a keen ear to hear how the company plans to readdress ThermoDox for HCC in the future. It's been stated the company was hoping to meet with the FDA before the end of the year, and I'd love to hear guidance on this.
I'm going to be expecting to hear news on acquisitions. CFO Jeff Church has alluded several times that the company is working on acquiring other companies. As per their last disclosure, the company had about 10 candidates that they were working with. I'd expect to hear more on this, and would be extremely interested to know if the companies involved are either profitable or have pipelines of their own; both would make a material impact on Celsion's future.
I'll also be interested to hear how much their recent cost cutting has roped in their cash burn, an extremely important number now that we know financing might not be as easy as if the HEAT trial passed. However, their recent agreement with Hisun says that the pharmaceutical company will provide them with "non-dilutive" financing.
Finally, I'll be interested to hear about corporate strategy going forward. I'd like to know the status of their DIGNITY trial, which showed major promise in preliminary testing. I'd also like to hear about the thought process behind using the company's liposomal transport system for other uses, and "other legs to stand on" that the company has sought out aside from ThermoDox.
Celsion's Upcoming Catalysts
August 8th, 11am EDT - Conference Call
September 13-15 - HEAT Study Presentation in Washington DC
2014 : DIGNITY Phase II Results
Disclosure: I am long CLSN. I wrote this article myself, and it expresses my own opinions. I am not receiving compensation for it (other than from Seeking Alpha). I have no business relationship with any company whose stock is mentioned in this article.