Over 30 retailers reported monthly sales results for August over the past two days. While many areas of the economy have been showing relative improvement over the past few months, there have been few bright spots in retail. However, August results provide some hope that things are finally starting to turn around.
Overall sales at the 33 retailers we track decreased 0.4% to $30.054 Billion in August, while same-store sales declined 2.5%. Retailers have now seen same-store sales declines for 12 consecutive months. However, this was the least negative comp sales decline since April.
The month included sales tax holidays in 15 states and a heavy dose of back-to-school promotions, but it was not enough to significantly boost top-line results at many of the retailers who reported. With Labor Day falling a week later in September than last year, much of the last minute back-to-school shopping will be pushed to September from August. In addition, September 2008 was the first month retail sales began to tumble, so retailers will be up against much easier comps beginning in September.
We will be sifting through the reports and updating individual company pages all day, and the complete monthly report will be available by the weekend.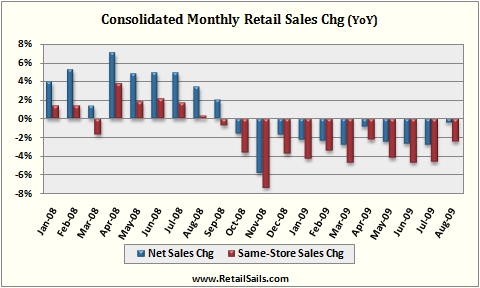 Apparel & Accessories Stores:
Department Stores:
| Company | Net Sales | Net Sales Chg | Same-Store Sales Chg |
| --- | --- | --- | --- |
| Bon-Ton | $197.0 Million | -4.8% | -5.1% |
| Dillards | $431.1 Million | -14.0% | -12.0% |
| JC Penney | $1.428 Billion | -5.6% | -7.9% |
| Kohl's | $1.315 Billion | 4.8% | 0.2% |
| Macy's | $1.543 Billion | -8.5% | -8.1% |
| Neiman Marcus | $241.0 Million | -15.3% | -16.6% |
| Nordstrom | $541.0 Million | -3.0% | -7.6% |
| Saks | $160.8 Million | -18.2% | -19.6% |
Discount & Variety Stores:
Drug Stores:
| Company | Net Sales | Net Sales Chg | Same-Store Sales Chg |
| --- | --- | --- | --- |
| Rite Aid | $2.395 Billion | -3.2% | -1.9% |
| Walgreen | $5.228 Billion | 6.8% | 1.9% |

Disclosure: No Positions