It's been a lost two years for shares of Entropic Communications (NASDAQ:ENTR), which again fell below $4 per share Thursday after disappointing guidance in conjunction with the release of second quarter earnings. ENTR closed at $4.14 on August 4, 2011; almost two years later, the stock closed at $3.96 on August 1, 2013, a 4.4 percent decline: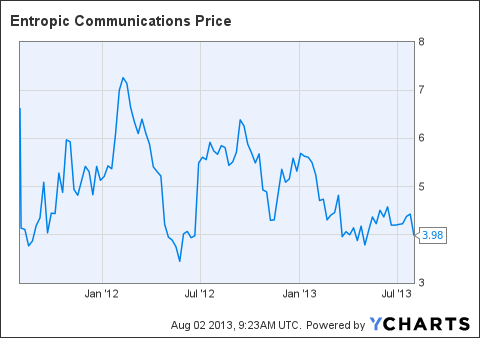 Of course, it's evident from the chart above that the shares have hardly been flat; Entropic's modest decline has come amidst a long run of volatility. It actually begins on the left side of the chart, with a 38% fall in August 2011 after a disastrous earnings report, beginning an unfortunate trend for the stock:
| | | |
| --- | --- | --- |
| Quarter | Date* | Gain (Loss) |
| Q2FY11 | 8/4/11 | (38.0%) |
| Q3FY11 | 11/3/11 | (6.2%) |
| Q4FY11 | 2/2/12 | 15.7% |
| Q1FY12 | 4/25/12 | (12.4%) |
| Q2FY12 | 6/27/12** | 28.4% |
| Q3FY12 | 10/25/12 | (19.6%) |
| Q4FY12 | 2/6/13 | (6.6%) |
| Q1FY13 | 5/1/13*** | (12.3%) |
| Q2FY13 | 8/1/13**** | (10.2%) |
* -- first trading day after earnings release
** -- movement in response to raised Q2 guidance; stock fell 3 percent after actual release
*** -- stock also fell 8.2% 3/18/13 after revising guidance downward ahead of quarterly report
**** -- stock also fell 4.2% 7/3/13 after revising guidance downward ahead of quarterly report
All told, over the last nine quarters, Entropic has posted seven significant post-earnings drops, with five of them reaching the double-digits on a percentage basis. It should go without saying that it's rather difficult for the shares of any stock to rise over the long term when facing those kinds of headwinds.
In addition, it's not as if the market has overreacted (with perhaps one exception) in response to the earnings reports. Certainly, that was not the case on Thursday. Q2 earnings were solid -- coming in ahead of estimates and the company's updated guidance -- but guidance for the third quarter was disappointing, to say the least. On the company's post-earnings conference call, Entropic projected revenues of $55-57 million, and a non-GAAP loss of $0.07 per share. Those figures represent a huge shortfall from both Wall Street estimates and the company's numbers from the third quarter of 2012.
Still, as I argued a month ago, Entropic is a long-term play. In early 2012, the company radically changed its business model with the purchase of the assets of bankrupt Trident Microsystems. The tie-up allowed Entropic to combine its dominant market share in MoCA (multimedia over coax) chips for home networking devices with Trident's SoC (system-on-a-chip) products for set-top boxes for cable and satellite providers.
The idea was that the merger would both expand Entropic's market and allow it to provide a complete system for the next generation of devices offered by companies like Comcast (NASDAQ:CMCSA), Verizon (NYSE:VZ), and DIRECTV (DTV). According to the Q1 conference call held two months after the acquisition was announced (no transcript is available), Trident had generated $120 million in revenue in 2011. The same year, Entropic created some $240 million in sales; the combination of the two looked appealing for a company whose enterprise value at the time was roughly $300 million.
But the company also warned shareholders and analysts that the integration of Trident would take time. Entropic did not forecast Trident to become accretive to earnings until late this year -- 18 months after closing -- and said it would take nearly three years to "return to its long-term operating model."
The decision to buy Trident set up two distinct possibilities for Entropic's long-term fate. If the company could integrate Trident's assets, hold on to a substantial amount of Trident's legacy customers, and use Trident technology to increase Entropic's value to and revenue from existing customers, the company could create significant market share in what is set to be a growing market. There is still room for HD STB penetration in the US; more importantly, new designs are consistently being rolled out, such as Comcast's cloud-based X2 platform that removes the hard drive limitations now associated with digital video recorders (DVRs).
Of course, if Entropic stumbled in the merger, and allowed the Trident integration to distract itself from its traditional strengths -- and traditional customers -- the company could be left behind by larger competitors. The two most notable are Broadcom (BRCM) and STMicroelectronics (NYSE:STM), both diversified chip makers whose trailing twelve-month sales are roughly 25 times that of Entropic. In this scenario, Entropic's niche focus would become a massive liability, and the company could very well go the way of Trident: left behind by better-financed competitors with larger operating leverage, more focused products, and cheaper prices.
Thus, every quarterly report brings a series of questions well beyond the basic revenue and earnings figures. Is Entropic losing market share? Can it maintain gross margins above 50 percent for the long haul? Most of all: is the strategy behind, and the execution of, the Trident acquisition working? To be fair to the company, it's still too early to tell. But, based on the information we have so far, it's worth looking at the evidence for each scenario:
Scenario #1: Entropic is on the right path, even if it is not as far down that path as the company, shareholders, and analysts would like.
This was the company line in the Q2 conference call. CEO Patrick Henry opened by discussing the "short-term" setbacks facing the company, but later emphasized that "we believe revenues will initially ramp in Q1 of next year and, more significantly, throughout 2014, [and] we should also see a resumption in HD-DTA [HD television adapter] in early 2014." Henry admitted in the conclusion of his prepared remarks that "this turnaround is taking longer than any of us had anticipated," then added that "we still believe in our strategy":
[W]e are winning significant new designs with both our bundled and discrete solutions. We are also executing well on our next-generation integrated products and we expect to get them to market cost effectively with initial integrated solutions sampling later this year. We continue to get excellent reception to our new product roadmap from both cable and satellite pay-TV service providers in the U.S. and globally, and we continue to win significant new business with this product portfolio. As I mentioned earlier, we have already won a number of new major programs, and we believe more than half of these design wins will begin to deploy by Q1 2014.
In the Q&A session of the call, Henry also told analysts that:
he did not feel the company's design wins would be lost amid what Entropic cited as multiple delays at customers (believed to include Comcast and Time Warner Cable (TWC)).
felt that the near-term issues were not caused by competitive pressures, but solely by decisions made by those customers (which included better inventory management at DIRECTV and lower near-term demand for HD adapters and new STB products)
Entropic has "an equal share" of the market with Broadcom, with STMicroelectronics having "a little bit," though their products were "somewhat limited." "There's other guys trying to enter the market," he added, "but we don't really see any volume from them."
the company had maintained its position among cable operators, in terms of market share and design wins.
Henry's thesis was simple: while the timetable for full integration might be pushed back (from an original target of mid-2014), the company's strategy was still effective, and it remained one of two major players in a business that was going to see significant growth, albeit later than hoped.
Scenario #2: Entropic is falling behind in its industry; its problems are more company-specific than management either believes or is letting on, and its competitive position is eroding.
Even the most bullish ENTR shareholder would have to admit that this scenario has become a concern. While Henry and other Entropic executives remained optimistic on the long-term positioning of the company, there are a number of indicators that bring that positioning into question.
The most basic worry comes from the company's revenue. Based on the first half of 2013, plus the midpoint of Q3 guidance, and Q4 analyst estimates, Entropic is set to generate about $280 million in revenue. (That figure is likely somewhat inflated, as Q4 estimates have not yet been brought down in response to Wednesday evening's report.) That is down from $321 million in 2012, and down from $364 million from Trident and Entropic combined in 2011. To be fair, Trident saw immediate revenue losses in the wake of its bankruptcy (as most bankrupt companies do); but what now appears to be a fairly substantial two-year decline should concern investors.
Market share concerns also exist. Broadcom saw its broadband business rise 6 percent in Q2 over Q1 (h/t SA Market Currents). Yet Entropic's sequential revenue fell by 5 percent. More worrisome, Broadcom guided for revenue in the segment to be flat Q/Q in the third quarter, while Entropic guided for a 20 percent decline in revenue. To be fair, Broadcom has a much larger and more diversified business (its group sales are about 9 times that of Entropic and it has several product lines beyond HDTV and home networking) but the vast difference in results is another red flag for Entropic.
It's also worth pointing out that Comcast -- a key customer and one of six major service providers listed in Entropic's 10-K as generating demand for "a substantial percentage of our net revenues" -- is not showing the delays cited by Entropic. On its Q2 conference call, CFO Michael Angelakis detailed a significant expansion in capital expenditures:
Cable Communications, second quarter capital expenditures increased $160 million or 10.4% to $1.2 billion, equal to 11.9% of cable revenue versus 11.4% in the second quarter of 2012.

The increase primarily reflects higher spending on CPE [customer-premised equipment] such as advanced digital box's including X1 in wireless gateways, our continued investments in network infrastructure to ensure our leadership in video and high-speed internet, as well as the expansion of new services that will generate attractive returns such as business services and XFINITY Home. Year-to-date cable communications capital expenditures have increased 7.1% to $2.3 billion representing 11.3% of cable revenue. We continue to expect that for the full-year of 2013 cable capital expenditures will increase by approximately 10% compared to 2012.
So Comcast is actually spending more money, predominantly on the types of set-top boxes in which Entropic places its products. To be fair, Entropic's complaint about delays at Comcast appears to be related to HD-DTA adapters, not the set-top boxes. But with Entropic having a number of design wins at Comcast, it's difficult to see why Comcast's increased spending hasn't boosted Entropic, or at least mitigated the sequential revenue declines in the second and third quarters.
All told, it's difficult to take at face value Entropic's assertion that its substandard guidance is purely a short-term effect of a customer delay here and an inventory change there. There appear to be significant reasons to question whether Entropic is simply lagging behind competitors -- notably Broadcom -- or not creating the projected revenue on a per-box basis.
Still, Entropic's long-term story is far from shattered. There will be massive changes in home networking, as cable and satellite operators look to capitalize on the convergence between mobile and home devices. Both Comcast and Time Warner -- among others -- are aggressively promoting cloud-based DVRs and the ability to stream content across devices throughout the home. And Entropic still has a major foothold in this growing market. The company also retains a fortress balance sheet; cash and investments are guided to be $1.78 per share at the end of Q3, representing over 40 percent of the company's market capitalization.
But it seems likely that, until a decision is finally rendered on the success or failure of its recent strategy, Entropic shares will show a similar trading pattern to that of the past two years. There is likely to be stomach-churning volatility, and some large post-earnings moves over the next few quarters. (Looking ahead to Q3, much of the bad news may be already baked in.) ENTR remains a speculative buy for investors who can keep the focus on the long term, and ignore double-digit moves in either direction until more clarity on the company's future develops. Selling puts (the stock's beta of 2.47) can reduce volatility and create short-term profits; indeed, that strategy would likely have worked well over the past two years, depending on the specific timing of option sales. Overall, Entropic is likely to remain volatile until its strategy plays out; but its cash balance and potential upside means the risk is still worth the potential rewards. Investors should be aware, however, just how significant that risk is.
Disclosure: I have no positions in any stocks mentioned, and no plans to initiate any positions within the next 72 hours. I wrote this article myself, and it expresses my own opinions. I am not receiving compensation for it (other than from Seeking Alpha). I have no business relationship with any company whose stock is mentioned in this article.