Upon first examination Air Products And Chemicals (NYSE:APD) looks boring. Even so, I think this could be one of the most lucrative investment opportunities investors will see in quite a while.
But then that got me thinking. What if Bill Ackman is right? What if he has a solid investment thesis that could make this a deeply undervalued stock that every other major institution ignored? Bill Ackman is notorious for having some pretty unique investment ideas, plus he's extremely selective.
Details, details, details
Air Products & Chemicals markets and sells gas. In a sense, this sounds like a joke, but it sells gasses with unique chemical properties that have uses across many industries like agriculture, energy, electronics, metals, solar and aerospace.
The company's product position is mid-stream, meaning that it's smack dab middle of the supply chain. The company isn't as exposed to the price of commodities because it's not an energy developer. Likewise, the company's product offerings aren't going to be negatively impacted by changes in consumer preference. After all, people would have to run out of demand for gas & chemicals across all of the aforementioned industries.
The biggest risk factor to this business, therefore, is its exposure to economic uncertainty. But with the Federal Reserve stating that interest rates will remain low for the next two years, I doubt there's going to be some super cyclical economic recession that Bill Ackman hasn't factored into this assumption.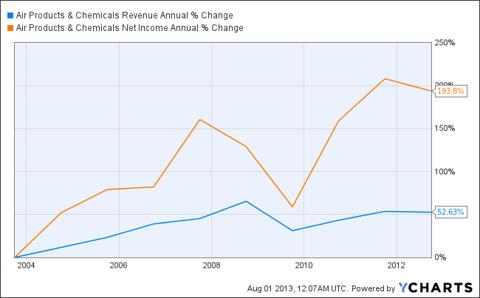 Source: Ycharts
Over the past 10 years, the company has grown its net income and revenue. The only time net income and revenue declined was during the market crash of 2007 to 2009. Economic uncertainty can have a negative impact on earnings, but all the other factors (commodity prices and changes in consumer preference) will not.

Source: Air Products & Chemicals
Air Products & Chemicals has $17 billion in total assets, and approximately $5.1 billion in total long-term debt. The company has written off around $10 billion in accumulated depreciation. My guess is that Bill Ackman believes that the value of those depreciated assets is significantly larger at market value.

Source: Air Products & Chemicals
My first assumption
The company has around $5.1 billion in long-term debt. The company operates a stable and well-run business. There's nothing that would indicate that if the company were to incur added debt that the business would not be able to pay back that debt.
I think that Bill Ackman will sell all of the long-term assets at market. I think that the value of those assets could be higher than the depreciated amount. Because of this, I am willing to estimate that the company could earn $18 billion. The company could then sign a long-term 20-year lease commitment to the company it sells its assets to. The lease commitment could be at 5% of the value of the assets on an annual basis. The price paid would be $900 million a year on the lease.
Currently analysts anticipate that the company will earn $1.268 billion in net income in the following calendar year. Under that assumption, the company could easily, afford a $900 million/year lease commitment and come away with $368 million in net income.
The $18 billion could be used to buy back 168 million shares at $106.89 per share (current market value). The total share outstanding is 209.6 million. So the total shares left after buying back the shares would be 41.6 million shares. When you divide the estimate of net income of $368 million into 41.6 million shares, the net income per share will equal $8.84. The company currently has earnings per share of $4.67, so if this method were used the company could potentially grow its earnings per share by 81.5% from current levels.
Second assumption
The other alternative is that Air Products and Chemicals borrows $12 billion in cash and initiates a share buyback program. I arrive at the $12 billion figure because I assume that a lender will lend based on the collateral of the business. When I subtract the total assets ($17 billion) from the total long-term debt of $5 billion, the company may be able to borrow $12 billion in cash.
If Air Products and Chemicals pays a 5% interest rate on the $12 billion in debt, then interest expenses will go up by $600 million. Analysts currently anticipate the company to earn $1.268 billion in net income in the next calendar year. So if we subtract the $600 million from the estimated net income, we can find out the amount of net income the company would make after incurring the added debt load.
The business would make $668 million in net income even after incurring an added $12 billion in debt. Because of this, I think Air Products & Chemicals will be able to buy back 112 million shares (based on today's stock price of $106.69). Currently the company has 209 million shares outstanding. So after retiring the shares, the company will have 97 million shares left.
Divide the estimated $600 million by the 97 million shares and we can find the projected earnings per share in the next calendar year. I estimate that the earnings per share will be $6.18 per share. This is 32% higher than the current earnings per share of $4.67.
Long-term to debt strategy
However, the upside to this strategy is that it's easier to implement, and by not exposing assets to long-term leases. It's possible that by using this strategy, Air Products & Chemicals can amortize its debt (pay down debt), and accelerate earnings per share growth.
For example, 10 years into the future, we can make the assumption that the company can grow net income by 5% per year. The company could use all of its remaining cash to pay down the size of its debt. The company does have $668 million in cash left over (remember paying down the size of debt does not have a negative impact on your income statement). Assuming the company increases its net income by 5% per year over the next 10 years. The net income should grow back to $1.08 billion.
So assuming the company generates at least $668 million in net income per year over the next 10 years. The company can reduce the size of its debt by $6.68 billion. That would reduce the net interest expense from $600 million to below $300 million.
After 10 years, I assume that the net income will be $1.08 billion. Add back in the reduction of net interest expense, and the total net income by year 10 could be $1.4 billion. Since the total share outstanding in this scenario is 97 million the company could grow its net income per share to $14.43 per share. The company currently generates $4.67 per share, and trades at a 23.3 price-to-earnings multiple. If the company trades at a 20 price-to-earnings multiple 10 years in the future, the stock could trade at $288.60 per share.
Conclusion
Bill Ackman has a lot of options for what he can do over both the long and short-term. I don't think there's some mysterious product innovation at work in this deal. Nor is the company small enough to be a buy-out target.
Bill Ackman will most likely initiate a large scale buy-back that can amortize the debt, and result in above-average rates of net income growth.
Disclosure: I have no positions in any stocks mentioned, and no plans to initiate any positions within the next 72 hours. I wrote this article myself, and it expresses my own opinions. I am not receiving compensation for it. I have no business relationship with any company whose stock is mentioned in this article.