As stated in New England Realty Associates' (NYSEMKT:NEN) 2012 annual report:
New England Realty Associates Limited Partnership ... is engaged in the business of acquiring, developing, holding for investment, operating and selling residential and commercial real estate in the New England region.
As of the last quarterly report, the company and its subsidiaries own 16 residential apartment buildings, four mixed use residential, retail, and office buildings, three commercial buildings, and individual condominium units at one condominium complex." The properties total 2251 apartment units, 19 condominium units, and 110,949 square feet of commercial space. In addition, the partnership owns a 40%-50% interest in nine residential and mixed use properties, which are consolidated using the equity method on the company's financial statements.
New England Realty Associates Is Undervalued, Yet There Is Much More to the Story
At a current price of around $42.5 per depositary unit, I believe that New England Realty is trading at a 35% discount to the fair market value of its underlying net assets. As such, a price move to fair value would leave current investors with a +50% gain from recent price levels.
Yet to think of New England Realty as simply a "value" or "net asset" story is to completely miss what a unique and valuable company New England Realty Associates really is. New England Realty Associates has successfully compounded investor wealth at an above-average rate over time and through multiple real estate cycles.
Click to enlarge images.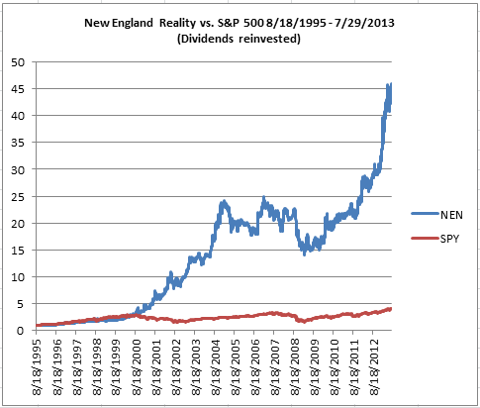 This winning track record did not come about by accident. I believe it is the natural outcome of a great strategy, local market expertise in a solid market, and disciplined operational performance. Fortunately, for investors, I believe this favorable situation is just as strong today as it ever has been. Consequently, New England Realty Associates deserves to trade at a premium above net asset value, not at a discount to net asset value.
Opportunity Obscured by Faulty Data
Why do great investments stay hidden? The truth is, it is different in every case. Yet with New England Realty Associates, I think faulty data is partly to blame. For example, Yahoo Finance (Which gets its data from one of the largest institutional data providers) has the market cap for this company at around $5.5 million see image below). A $5.5 million market capitalization is so small that upon seeing it, the vast majority of investors will simply lose interest. This error occurs because the financial data vendors are counting units outstanding, not depository receipts outstanding, which are what actually trade on the NYSE. (One unit is equal to 30 depository receipts). In reality, New England Realty's current market cap is about $165 million. Google Finance, which gets its data from another source, actually lists the company as having a negative $10 trillion market cap -- I have no idea how they come to that figure.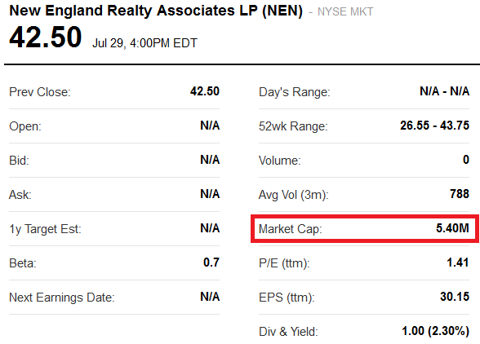 History
New England Realty was formed in 1977, when legendary Boston real estate investor Harold Brown and his business partner (and brother) Ronald Brown successfully bid on the controlling interest in a failed limited partnership that had been in bankruptcy court since 1974. The Browns immediately went to work "righting the ship," and since that time have been extremely successful in creating value for depository receipt holders.
A Winning Formula
How has New England Realty been able to achieve such outstanding results? It comes down to three things: a winning strategy, a good market, and diligent execution.
Strategy -- New England Realty Associates
Maintains conservative levels of leverage relative to assets and a healthy cash cushion. This helps the company to manage risk through the real estate cycle and has given it the ability to seize opportunities when other operators are stretched thin.
Focuses on properties with steady incomes that can increase over time.
Focuses on "bread and butter" middle income properties, not speculative plays or those with small natural markets (such as high-end properties).
Charges just below market rents. This reduces tenant turnover and keeps vacancy levels low relative to the competition. I believe it also generates substantial goodwill with its tenant base.
Capitalizes on local market expertise -- New England Realty benefits from a deep bench of managerial and operational talent at Hamilton

Realty, the firm that manages its assets.

Benefits from local network effects -- New England

Realty Associates has the ability to source potential investments just as they are coming on the market.

Agility -- A streamlined decision making process plus the reputation for rapidly closing on deals gives the company a uniquely advantaged framework for investing in the Boston area real estate.
A Strong Market
The Boston market is unique in many ways. The greater Boston area is one of the nation's premier intellectual capital hubs where large numbers of medical, technology, and government workers find stable employment. This substantial population of students and middle to upper income professionals live within a relatively constrained space. This dynamic plus strict zoning regulation makes for a tight (and expensive) real estate market. New England Realty's niche is to provide "bread and butter" affordable, quality housing to the middle income segment of the population.
Running a Tight Ship
The fruits of New England Realty's operational efficiency can clearly be seen on the expense side of the income statement.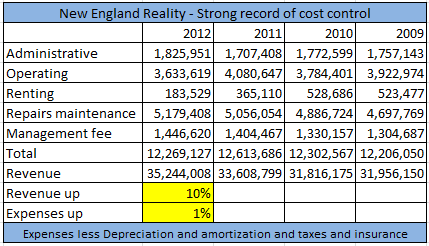 New England Realty benefits from the economies of scale created by its manager, Hamilton Realty. As can be seen in the above table, since 2009 revenue is up 10%, while controllable operating expenses were up about 1%. (I removed depreciation because it does not reflect an accurate operating expense, taxes and insurance because they are mandatory and not influenced by managerial efficiency, as well as the management fee of 4% because it is a fee that was contractually set by the original bankruptcy court at 4% of revenue. Today, this 4% fee is a below-market rate.)
Locking In Low Interest Rates for the Longer Term
The partnership has recently been able to refinance a number of its mortgages at very favorable long-term interest rates. Let me provide just one example. On March 11, 2013, New England Realty refinanced the mortgage on its School Street property (a 184-unit building) for 10 years at an interest rate of 3.7%. The interest rate on the maturing mortgage was 5.47%, which means that the new mortgage has created a very substantial 177 basis point reduction in interest expense. The partnership plans to finance an additional 47 million in mortgage debt in 2013 - If they are able to do this on terms that are close to what they achieved with the School Street property, this refinancing should prove to be extremely advantageous.
Investment Acumen
Let's review two of New England Realty's recent investments to better understand how this unique firm is able to capitalize on its competitive advantages.
Dexter Park
In 2009, New England Realty co-invested (40% ownership) with Harold Brown's holding company to purchase Dexter Park, a 409-unit apartment complex in Brookline, Massachusetts for $129,500,000. New England Realty invested $15,925,000, $8,757,000 of which was equity. Brookline, Massachusetts, is one of the greater Boston area's premier neighborhoods, and Dexter Park's location within Brookline is considered to be extremely desirable. At the time of the purchase the building was 93% occupied and offering multi-month concessions to tenants. By the time the 2009 annual report was released, the building was 97% occupied and had created a leveraged return in excess of 7%.
In today's market, I believe an extremely desirable building in a terrific location such as Dexter Park would be trading at a near 4% cap rate. This would put the Dexter Park properties market value at something close to $200,000,000. This substantial increase in value (Due to its 40% economic interest in Dexter Park) is in no way reflected in New England Realty Associates' financial statements. In fact, in spite of the substantial cash flow and market price appreciation created by this investment, the impact on the income statement is to add to the loss from non-consolidated investments, which in turn reduces book value equity. This is a clear demonstration of how accounting convention can at times be at odds with economic reality. In all, the Dexter Park Investment has proven to be a major coup for Hamilton and New England reality Associates. In fact, its winning bid was chosen over such substantial competition as Equity Residential (NYSE:EQR) the 20B market cap REIT.
Windsor Green Apartments
Windsor Green Apartments is a 193 unit apartment complex located in Andover, Massachusetts and is New England Realty's most recent acquisition (I learned of it in an 8-K filing that occurred on June 20, 2013). I spoke with Management about this property to better understand how this purchase fit in with the company's long-standing investment strategy. The key points were (paraphrasing and based upon my notes):
The partnership was referred to the property through Hamilton's (the management company's) extensive broker network.
The property is in an extremely desirable location in a high income area (Wikipedia states that the median family income for Andover, Mass is $138,000).
A "40B" property -- A program that eases zoning requirements if certain affordable housing conditions are met.
Under-rented -- On touring and analyzing the property, the team saw ways to immediately increase the property's income and create value.
I think the above illustrates the advantage of investing in real estate through New England Realty Associates. They are not simply buying buildings because real estate is a "hot asset class" or because they have just sold a great number of shares to the public (which is what can occur at larger, well known REITs). Rather, they are in essence value investors, looking for strong properties where their insights and operating model can create a unique advantage.
I used Google maps to locate the Windsor Green property and to survey the area. I noted that it is just a few miles south of the intersection of Interstate 93 and Route 495, which makes it an extremely convenient location for commuters. I also noted that it is right across the street from a major federal government office complex, and across an intersection from a massive office complex that houses a major federal government contractor. Though my observations are just a cursory view of the area, it does seem to confirm that the Windsor Green apartment complex is in a highly desirable location.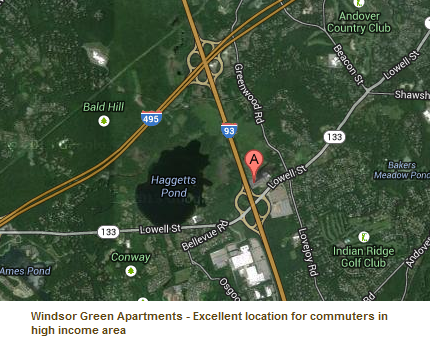 Valuation
Properties of similar quality to New England Realty's portfolio are currently trading at a cap rate of around 5%. As such, I believe that by using a .055% cap rate my valuation will contain a margin of safety. I will also be using net operating income from 2012, even though I believe 2013 net operating income (NOI) will be slightly higher. Please study the following table: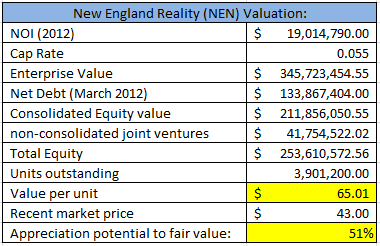 As can be seen above, my estimate of net asset value per depository receipt is $65, over 50% above the recent trading price. The "non-consolidated joint-ventures" line requires explanation. For those who are interested, the details of why this figure is included and the valuation data table can be found by clicking here.
Share Buybacks
Between Aug. 20, 2007, and Dec. 31, 2012, New England reality repurchased 1,219,927 depository receipts, which reduced the share count by 24%. These repurchases were made at a highly accretive average price and have had a substantial impact on intrinsic value. The following table demonstrates (all else equal) how these buybacks have added value for continuing shareholders.
Risks
New England

Realty is subject to the regular real estate cycles that affect all real estate businesses.

Related party transactions -- New England Realty is managed by Hamilton

Realty, a management firm owned by Harold Brown. The firm also manages Harold's other (directly or indirectly controlled) properties. The partnership at times also co-invests with Harold's other partnerships. As a general rule, related party transactions can create conflicts of interest that investors must be aware of.

The stock is thinly traded. Investors who want to buy should use limit orders and the same cautions as when trading any other thinly traded stock.
Taxes are owed in Massachusetts if the investor's income from New England

Realty Associates exceeds a threshold level. Consult Massachusetts law or a tax professional for clarification.
I believe that the second risk is the one that requires the most study. After reviewing the company's financial statements and deal history, I have come to the conclusion that the related party transactions have created substantial benefits for the New England Realty Partnership. On the cost side, the company is able to benefit from the economies of scale of the larger Hamilton organization.
On the deal side, the company has been able to co-invest in deals that have proven extremely advantageous (Such as the Dexter Park property). The joint investments have substantially expanded New England Realty Associates' buying power and expanded its scope of opportunity. So while conventional wisdom says that related party transactions are a risk, in this case they have created very substantial value for the partnership.
In terms of alignment of interests, the most recent quarterly report states that Harold Brown, his brother Ronald Brown and Carl Valeri, collectively own approximately 40% of the depositary receipts representing the Partnership Class A Units (including Depositary Receipts held by trusts for the benefit of such persons' family members). This entire investment stake is the result of actual investment over time -- the company has never issued any form of share-based compensation.
While it is easy to view New England Realty Associates through the lens of real estate legend Harold Brown's nearly 60-year real estate career, the truth is that New England Realty has a deep bench of talent that will continue to move the company forward far into the future. One example is Carl Valeri, the president and chief operating officer at Hamilton (the management company) who is responsible for day-to-day operations. Valeri currently oversees acquisitions, development and dispositions as well as major corporate financings. In fact, Valeri proved Instrumental in the Dexter Park purchase, which as outlined above has created a tremendously favorable result for New England Realty Associates. Valeri's substantial personal stake in the Class A units means that he has a substantial interest in the partnership's long-term performance.
Conclusion
Over the extended time period that I have followed and studied New England Realty Associates, the more I have learned, the more I have felt that it is a unique opportunity. While many investors (upon seeing the discount to net asset value) would suggest that a sale to a larger company (such as a REIT) would be a quick way to realize shareholder value, I personally hope that this never happens. The truth is, the short-term gain from a sale would not make up for the lost benefit that can accrue to investors through the long-term compounding of fundamental values.
My current strategy is to selectively add to my New England Realty Associates' position, with a current fair value reference point of $65 per share.
Sources:
Disclosure: I am long NEN. I wrote this article myself, and it expresses my own opinions. I am not receiving compensation for it. I have no business relationship with any company whose stock is mentioned in this article.