The 3M Company (NYSE:MMM) is one of those steady dividend paying aristocrats that consistently rewards investors over the long-term. This diverse company operates the following segments: Industrial and Transportation; Healthcare; Consumer and Office; Safety, Security, and Protection Services; Display and Graphics; and Electronics and Energy. 3M's stock performance over the past three decades can be attributed to consistent revenue and earnings increases over the long-haul. The company generated significant operating cash flow to the tune of $5.76 billion over the past 12 months. Investors are rewarded with this cash flow in the form of dividends and stock buybacks. Its strong fundamental performance allows for steady stock appreciation as well.
Reason 1: Consistent Earnings
3M reported positive results in its second quarter earnings report. Revenue and earnings both increased 3% year-over-year. This was largely driven by the Healthcare segment which had a sales increase of 6%, where the company's health offerings experienced solid growth. The gains were also attributed to the Industrial and Consumer sectors which each increased 3%, and Safety and Graphics which increased 2%. The company was right on target in meeting its earnings per share estimate of $1.71. The company has a knack for meeting its earnings estimates. It matched its earnings estimates for three out of the last four quarters. Looking over the longer term, 3M achieves consistent year-over-year increases for revenue and earnings. This drives its consistent stock appreciation over the long-term.
Reason 2: Creates Shareholder Value
Back in February, 3M authorized an ongoing $7.5 billion stock buyback program. In the first six months of the year, the company purchased nearly $2 billion worth of stock. There is over $5 billion remaining on this buyback authorization. Stock buybacks create value for shareholders as they reduce the amount of outstanding shares, which increases earnings per share. Increases in earnings per share drives stock appreciation over time. Investors also benefit from buybacks as they increase the market value of the shares. As the supply of shares is reduced, the stock price tends to increase. With 3M's steady year-over-year cash flow growth and history of share repurchases, I would expect the buyback program to continue. 3M generates enough cash flow to grow the business with plenty left over for buybacks.
The company pays a modest dividend of $2.54 per share for a yield of 2.2%. Although this is just an average dividend yield, it is a highly consistent one. 3M increased its annual dividend every year for 55 years. It has paid 386 consecutive quarterly dividend payments. Consistency like this is something that investors can rely on.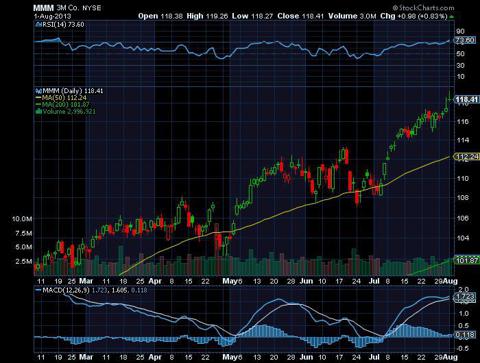 Reason 3: Experts in Innovation
One important factor that drives the company's growth is its ability to consistently innovate. By producing improved products that simplify and improve people's lives, 3M achieves increased sales. The company has found success with its health and personal care related products. The Ace and Futuro brands of braces and supports have been improved to be more than just elastic bandages. There are now many adjustable products available for specific body parts such as knees, ankles, elbows, back, hands, wrists, etc. The beauty of the innovation in these products lies in the adjustability aspect where users can get the perfect fit for comfort and support.
3M's healthcare related products have taken innovation to a high level. The company has created solutions for dental and orthodontic uses, critical and chronic care, infection prevention, and more.
The Command brand is an example of simple, yet practical innovation. These products include: poster, picture and frame hangers, various stick-on hooks, and organizational products. With command products, some of your lighter pictures can be hung without banging nails through the wall with 3M's picture hanging strips. The Display and Graphics segment has some excellent innovative products. Some products in this segment include: computer privacy filters, touch screen systems, architectural solutions, large format graphics, and more.
The primary point to make with respect to 3M's innovation is that the company is constantly looking to improve and develop new products. 3M has a knack for creating useful products that consumers want. The company's expertise in innovation will drive revenue and earnings growth for the future.
Reason 4: Diversified Portfolio of Products
One of the main reasons for investing in 3M is its strong diversification across multiple sectors. Since 3M operates six segments, it has a cushion against downside risk as its sales are spread out among different sectors. The second quarter was a prime example where the Electronics and Energy segment's 2% decline was largely offset by increases in the Healthcare and other segments. The company is not highly levered to any one sector. Whereas energy companies are highly dependent on the price of oil and steel producers are highly dependent on the price of steel, they take on more downside risk when conditions in their specific sector go against them. 3M's diversification among hundreds of products in very different sectors gives it less downside risk as compared to many companies.
Conclusion:
The company is expected to grow earnings annually by 10.7% for the next five years. This is higher than the expected earnings growth for the S&P 500 of about 9.4%. Given this future growth rate and the company's commitment to increase dividends and repurchase stock, I can reasonably surmise that 3M will outperform the market over the long-term. I would expect the Healthcare sector to continue to show strength as the aging baby boomer population experiences declines in health. The company's ability to innovate in multiple sectors will also drive the company's expected growth. The downside is limited by 3M's diversification across six segments with a variety of products in each segment.
Disclosure: I have no positions in any stocks mentioned, and no plans to initiate any positions within the next 72 hours. I wrote this article myself, and it expresses my own opinions. I am not receiving compensation for it (other than from Seeking Alpha). I have no business relationship with any company whose stock is mentioned in this article.