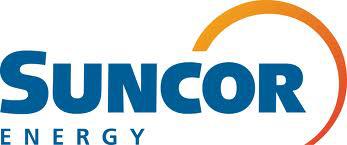 Suncor Energy (NYSE:SU) released Q2 earnings this week and they were less than stellar due to pipeline shutdowns, a power outage, and Upgrader 1 maintenance. However, the company is on track for an excellent second half of 2013 based on higher production, stronger WCS prices year-over-year, and the success of its integrated refining operations. Also, SU has transitioned to a 5-year upgrader turnaround cycle - the next major turnaround is anticipated to occur in 2016 at Upgrader 2. In addition, President and CEO Steve Williams reiterated on the conference call that takeaway transport is absolutely not an issue:
For Suncor, access to markets is simply not an issue. We have ample market access to handle current production and future growth.
As a result of these bullish fundamentals, shares of Suncor could easily appreciate 40% over the next 12 months.
Q2 Financial Results
Q2 operating earnings were $934 million ($0.62 per common share), compared to $1.249 billion ($0.80 per common share) for the Q2 2012. Net earnings were $0.45/share versus $0.21/share for the prior year quarter. Cash flow from operations was $2.250 billion ($1.49 per common share) for the second quarter of 2013, compared to $2.347 billion ($1.51 per common share) for the second quarter of 2012.
Q2 Production Impacted By Third Party Outages
Upstream production was 500,100 boe/d, down 42,300 boe/d compared to 542,400 boe/d Q2 of 2012. Oil Sands production averaged 276,600 bbls/d in Q2 compared to 309,200 bbls/d in the prior year quarter.
Third-party outages reduced production in the quarter by approximately 36,000 bbls/d. Production was negatively impacted by a precautionary shutdown of an Enbridge (NYSE:ENB) pipeline due to flooding in Alberta and a third-party cogeneration outage resulting in a three-day outage of Upgrader 2 and a subsequent ramp-up period. In addition, production was also affected by the seven-week planned turnaround at Upgrader 1.
The Bullish Case Moving Forward
From the Q2 conference call, SU said:
SU Has Adequate Takeaway Capacity
Less Turnaround Downtime Going Forward
Increased Production
July Is Expected to Post A Record 390,000
Oil Sands Production Currently Running At Record Rates
Refineries Are Running At Near Capacity
NOTE: In addition to the Q2 conference call, Suncor provided a Q3 investor packet.The slides shown below were taken from the investor packet.
In spite of investor concerns about the Keystone-XL pipeline delay (and possible cancellation), Williams reiterated on the conference call that getting production to market was not an issue for Suncor - not for current or future production. This was a very clear statement to address investor concerns on this issue.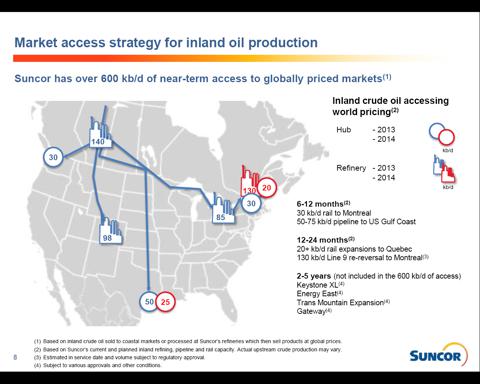 SU has transitioned to a 5-year upgrader turnaround cycle - the next major turnaround is not anticipated to occur for 34 months. This will smooth out production results going forward, lead to increased overall production, and take out the lumpiness in quarterly earnings that SU has experienced in the past.
Total production guidance for 2013 was in the range of 570,000-620,000 boe/day. The breakdown of upstream production can be seen in the following slide: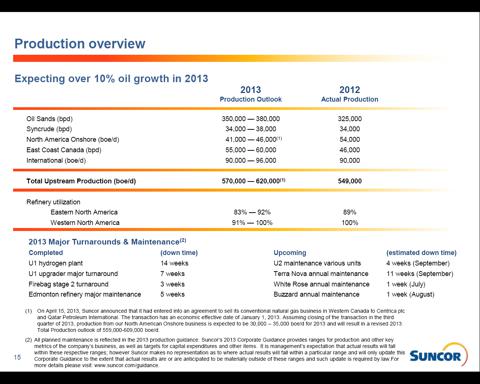 2nd Half 2013 Analysis
SU's production for the first two quarters of 2013 were as follows:
Q1 596,100 boe/d
Q2 500,100 boe/d
If SU is to hit the middle of its 2013 total production guidance (595,000 boe/day), it would have to average 641,950 boe/d in Q3 and Q4. That would be up ~141,000 boe/day over Q2 production: an increase of 28%, and an increase of 7.6% over Q1.
If we estimate Q3 and Q4 net income simply by scaling Q1's net income ($0.71/share) for the 7.6% increase in production, we get: $0.71+($0.71*.076)=$0.76. So for the full year we would get net income estimate of:
Q1 - $0.71 (reported)
Q2 - $0.45 (reported)
Q3 - $0.75 (estimate)
Q4 - $0.75 (estimate)
or $2.66/share for the full year.
However, due to the increase in realized prices experienced in Q2, the firmness in Brent, WTI, and WCS prices seen in the recent weeks, and the fixed cost nature of the oil sands operations, it is conceivable 2nd half earnings could beat my estimate by anywhere from 10-15%, or close to $3/share (net) for the full year. Suncor's current P/E is ~20.
Obviously, some of this good news is already priced into the stock. But even if the P/E were to contract by 25% (to 15), on earnings of $3/share that would lead to a stock price of $45, or 40% above today's price. While my earnings estimates cover the next 6 months, I believe SU will have to prove itself in terms of production, downtime, refining, and market access performance. This is why my 40% target is a twelve month target instead of 6 months. Also, note my estimates are based on the midpoint of SU's 2013 full-year production guidance. From the very bullish tone of the conference call, odds are the company could hit the higher end of its guidance.
Summary & Conclusion
Suncor has had a difficult few years in terms of its stock performance. Lower realized prices, floods, maintenance and downtime, takeaway capacity concerns - it has been one challenge after another. As a result, the stock is trading near the same level it was back in mid-2009. As a result, many investors have left the company it is now flying under the radar. However, I believe the company is about to hit a nice down hill run: production is growing, takeaway capacity has been addressed, WCS/WTI/Brent prices are rising, maintenance & downtime is being minimized, and refinery operations have been superb. Suncor Energy is a BUY and could hit $45 (up 40%) over the next 12 months.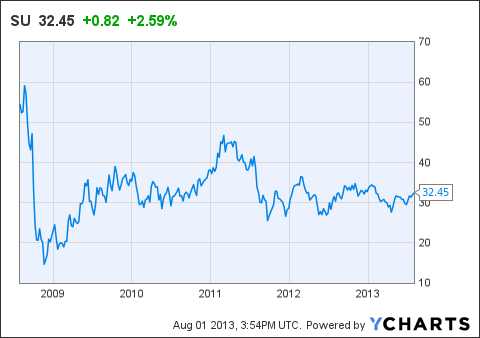 Disclosure: I am long SU. I wrote this article myself, and it expresses my own opinions. I am not receiving compensation for it (other than from Seeking Alpha). I have no business relationship with any company whose stock is mentioned in this article.
Additional disclosure: I am an engineer, not a CFA. The information and data presented in this article was obtained from company documents and/or sources believed to be reliable, but has not been independently verified. Therefore, the author cannot guarantee its accuracy. Please do your own research and contact a qualified investment advisor. I am not responsible for investment decisions you make. Thanks for reading and good luck!