I am bullish on the U.S coal industry. I believe the worst is priced in and the U.S coal industry is likely to benefit from a rise in natural gas prices. Also, an increase in the U.S coal consumption, coal production cuts and strong coal exports augur well for the industry.
The U.S coal industry has been facing tough times for the last couple of years due to weak coal demand and prices. The global economic crisis, lower natural gas prices and tough environmental regulations have resulted in extraordinary pressures on the coal industry. The U.S coal companies have lost a significant amount of their market capitalization since 2011. The table below displays the market capitalizations lost by U.S coal companies:
| | |
| --- | --- |
| | Market Capitalization lost since 2011 |
| Peabody Energy (BTU) | -72% |
| Arch Coal (ACI) | -85% |
| Walter Energy (NYSE:WLT) | -90% |
| Alpha Natural Resources (ANR) | -88% |
| Coal ETF (NYSEARCA:KOL) | -63% |
Source: googlefinance.com
Coal Consumption
Natural gas prices dropped below $2 mmBtu in April 2012, leading to a rise in natural gas consumption and a decrease in coal demand. Due to lower natural gas prices, natural gas fired electricity generation increased, which resulted in a reduced coal demand for electricity production. The Energy Information Administration [EIA] is expecting natural gas prices to increase to almost $4 mmBtu in the second half of 2013 and beyond. The following chart shows the natural gas price projection by the EIA.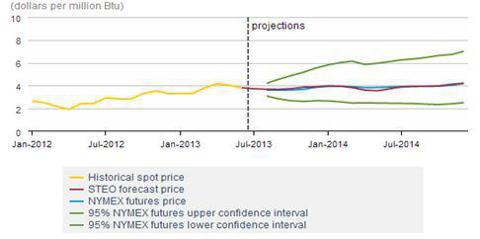 Source: eia.gov
As natural gas prices have increased in 2013 sequentially, the reverse coal to gas switch' has started and coal consumption by the electricity generators has started to pick up. The recent increase in coal consumption by electricity generators is being met by burning through stockpiles. As stockpiles at the electric power plants continue to decrease, I believe demand for coal will rebound in order to maintain stockpile levels at the electric power plants.
A further rise in natural gas prices augurs well for the U.S coal industry because coal fired electricity generation will increase as coal will become more cost competitive in comparison to natural gas. EIA is anticipating coal fired electricity generation to rise to 40.1% in both 2013 and 2014, representing an increase of almost 3% as compared to 2012.
Production Cuts
Another factor likely to benefit the struggling coal industry is an improved management of the coal supply. WLT, ANR and ACI are among the top three coal companies that have announced coal production cuts. According to the quarterly coal report published last month by EIA, U.S coal production in 1Q'13 totaled 245.1 million short tons; it is the lowest first-quarter coal production since 2007.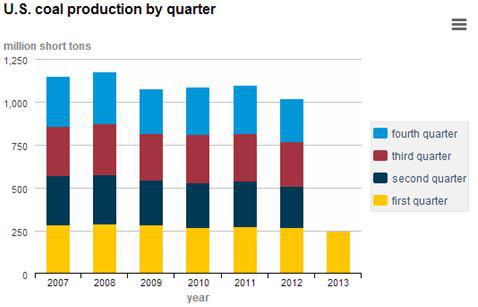 Source: eia.gov
U.S coal exports and imports
The U.S coal exports is also an important catalyst for the coal industry. Rising U.S coal exports and decreasing imports are likely to strengthen the weak coal markets. According to the EIA quarterly report on coal, 1Q'13 coal exports for the U.S increased by 13.7% as compared to 4Q'12, exceeding the five-year (2008-2012) first-quarter range. I believe as Europe will overcome the ongoing economic crisis, the U.S coal exports will increase even further. EIA has forecast coal exports to total 111.9 and 107.6 mmst in 2013 and 2014, respectively. The following chart is taken from the recent quarterly coal report published by EIA.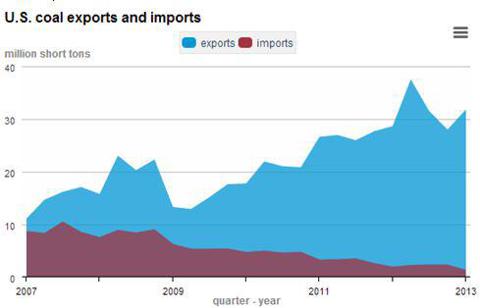 Source: eia.gov
Conclusion
As natural gas prices will rise, consumption and demand for coal will increase, which will support the earnings of coal companies. Also, rising U.S coal consumption, production cuts and higher coal exports bode well for the U.S coal industry. Moreover, the U.S coal companies are trading at depressed valuations (as shown below), which make them attractive investment options for the investors. Therefore, I reiterate my bullish stance on the U.S coal industry.
| | | | | |
| --- | --- | --- | --- | --- |
| | BTU | ACI | ANR | WLT |
| Price/Sales | 0.60x | 0.20x | 0.20x | 0.30x |
| Price/Book Value | 1.0x | 0.30x | 0.25x | 0.75x |
Source: Yahoo finance
Disclosure: I have no positions in any stocks mentioned, and no plans to initiate any positions within the next 72 hours. I wrote this article myself, and it expresses my own opinions. I am not receiving compensation for it (other than from Seeking Alpha). I have no business relationship with any company whose stock is mentioned in this article.