As we look at this year's stock performance in developed markets, a sense of overwhelming optimism quickly becomes apparent. The SPDR S&P 500 ETF Trust (NYSEARCA:SPY) has seen tremendous positive momentum and is currently higher by almost 22%, year-to-date. I have written previously about the comparative weakness that has been shown in earnings at key tech companies, but even with these big misses, the PowerShares QQQ Trust ETF(NASDAQ:QQQ) is still showing gains of about 19% during the same period. These trends are indicative of what is seen in developed markets as a whole, as even economically battered countries like Spain, with its unemployment rate still above 26%, have benchmark indices that are trading in positive territory for the year.
But this optimism has not carried over into emerging markets. The Bovespa in Brazil is currently showing losses more than 20% for the same period, China's Shanghai Composite Index (SHCOMP) is down by more than 11%, and one of the broadest measures in emerging markets, the iShares MSCI Emerging Markets Index ETF (NYSEARCA:EEM), is down by nearly 10%. These major divergences should be lighting warning signals for investors as the days of "buy and hold" strategies in emerging markets are no longer the "guaranteed win" they used to be.
Reasons to Favor SPY
The reasons for these drastic divergences come from a few different directions. The most immediate positive for the SPY has been relative strength in earnings, when compared to analyst expectations. So far this earnings season, nearly 75% of the companies in the S&P 500 have produced results that were above market expectations. At the same time, emerging markets have revised lower their 2013 growth expectations, with key examples of official statements from the leadership in emerging markets that lower growth rates will have to be accepted.
The most pronounced example of these reduced expectations can be seen in China, where we have seen announcements showing that 1,400 factories labeled as "obsolete" or "excessive" will be closed into the latter parts of the year. When we look at the declines in the country's benchmark stock indices, the weakening sentiment is even more striking. Since 2009, the SHCOMP has erased nearly three-quarters of a trillion dollars in value while the S&P 500 has recovered all of the losses generated by the Credit Crisis in 2008-2009. From a central bank perspective, these trends show no indication of reversing. The People's Bank of China has already gone to great lengths to prepare markets for the possibility of sub-7% growth. The US Federal Reserve, on the other hand, is preparing markets for an end to stimulus programs. Given the strength of earnings, and the clear positioning of central banks in the US versus the developing world, investors should expect prolonged outperformance when we look at SPY relative to its emerging market counterparts.
Chart Perspective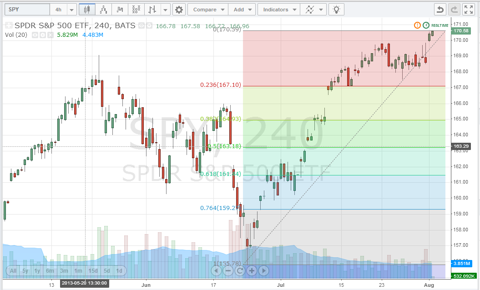 SPY continues to press to new highs and given the strength of the underlying momentum, and buy on dips strategies look to be most favorable. The first level to watch in SPY can be seen at 167.95, but it makes sense to wait for a fuller retracement to the 38.2% Fib level based on the rally from 155.80, which can be found at 164.95. Structurally, the bias is constructive, and this should continue to be the case as long as markets hold above the 161.60 zone.
Disclosure: I have no positions in any stocks mentioned, and no plans to initiate any positions within the next 72 hours. I wrote this article myself, and it expresses my own opinions. I am not receiving compensation for it (other than from Seeking Alpha). I have no business relationship with any company whose stock is mentioned in this article.