Rex Stores (RSC) will report its 2Q ending July 31 results next Wednesday, Sept 9th. While this quarter will still have a drag from its legacy retail business including potential store closure costs, the operating results in its core ethanol and real estate business should show improved results relative to 1Q.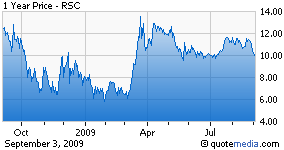 Excluding exit costs from retail, Rex could post its first positive EPS in a year, reversing the trend in losses seen since the beginning of the consumer spending downturn late last summer. Given Rex's substantial asset base (book value $25/share, net corporate level cash of $8.50-$9.50/share), a positive earnings result could help boost the stock modestly as it would help alleviate concerns of eroding value.
2Q results should benefit from modestly higher ethanol prices (estimating blended price of $1.64/gallon) and relatively flat variable input prices relative to 1Q. Additionally, with interest rates now rising, the company should not see a drag from interest rate hedges as it has for the last several quarters. Hedges could boost earnings this quarter.
Looking ahead to 3Q, the company should see a more robust earnings increase versus last year's poor results. Retail will be completely closed down. Corn and natural gas prices have fallen more than declines in the price of ethanol leading to improved (albeit still weak) spreads currently. The last of the ethanol plants being built by companies Rex has invested in should be up and running for the full quarter.
It would be encouraging to see improved financial results, but in the end Rex is still an asset/value play. The stock is trading just above its corporate level cash balance at $8.50-$9.50. Real estate and other assets could be worth an additional $7.00 per share. Valuing ethanol assets is perilous, but given the price of the stock and value of real estate, you are essentially getting the interest in various ethanol assets of approximately 139 million gallons per year (mgpy) production at name plate capacity for free.
Disclosure: Long RSC.