Rentech (NYSEMKT:RTK) is seeing estimates for 2013 slide deeper, and as a result it is a Zacks Rank No. 5 (Strong Sell). It is the Bear of the Day.
Moving to the Nasdaq Capital Market
Yesterday, the company announced that it will transfer its listing from the NYSE to the Nasdaq Capital Market effective with the start of trading on Aug. 13, 2013. Rentech will continue to trade under its existing ticker symbol RTK. Rentech's common stock will trade on the NYSE MKT until the close of trading on Aug. 12, 2013.
Company Description
Rentech engages in the sale of natural-gas based nitrogen fertilizer products in the United States and Brazil. Its products include ammonium sulfate, sulfuric acid, and ammonium thiosulfate used in the production of corn, soybeans, potatoes, cotton, canola, alfalfa, and wheat. Rentech was founded in 1980 and is based in Los Angeles, Calif.
Earnings History
Over the last six earnings reports, RTK hasn't done so well. I see one beat for the September 2012 quarter. There were two earnings meets and three earnings misses. Two of the three earnings misses have been the last two reported quarters. The negative earnings surprises both came with Wall Street looking for the company to report either a gain or a breakeven quarter, and both times the company reported a loss in the quarter.
Earnings Estimates Not Growing
Estimates for RTK have declined of late. The 2013 estimates are moving lower, but not by that much. Peaking at $0.14 in March, they have ticked lower to $0.07 in April. They have since slide to $0.02. The 2014 Zacks Consensus Estimate seen a more dramatic collapse, with estimates moving from $0.26 in June to $0.14 at the current level.
Valuation
The valuation picture for RTK is off the charts. By off the charts I mean that the industry averages are negative, not allowing for a proper comparison. Still, the 107x trailing P/E is huge, but bigger still is the 142.7x forward P/E. The price-to-book multiple of 2.6x is a good -sized premium to the industry average of 1.9x. The price-to-sales metric has the company trading at 1.7x vs. 1.1x for the industry.
The Chart
The price and consensus chart really tells the story here as the estimate lines for 2013 and 2014 have recently taken a nosedive. That dive lower in estimates comes a little after the stock fell from $3 to $2.25. The problem is that estimates may still fall further, which will lead to lower stock prices.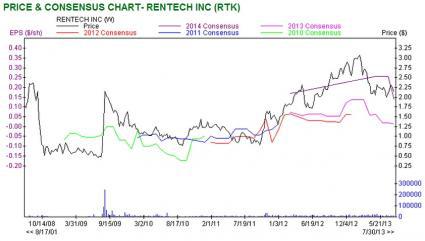 Rentech: Free Stock Analysis Report (email registration required)