When it comes to adding funds to my ETF watch list, I prefer not to crowd it with generic index-based products that have little hope of ever gaining a foothold in my client's portfolios. For this reason, I'm drawn to more exotic or innovative products that slice-and-dice large groups of stock to focus on just 50 or 100 names for a specific purpose. As it naturally gives you the ability to target specific company traits or areas of the economy. These types of ETFs are still diversified enough as to not be considered a sector or special situation holding, so I refer to them more as "core plus" positions. Moreover, when considering an allocation to this type of fund, I size the position to complement existing core positions in ETFs with broader reaches.
A fund that I've been very enthusiastic about for my opportunistic growth clients, and could see purchasing during the next correction is the First Trust Capital Strength ETF (NASDAQ:FTCS). The Index is a cross section of the NASDAQ Benchmark US index, an index comprised of 500 stocks, but to be eligible for inclusion in FTCS a stock must have:
At least 1 Billion in Cash or Short-Term Investments.
A market cap to long-term debt ratio of less than 30%.
A return on equity greater than 15%.
Then specialized criteria screens are applied to create a portfolio of just 50 stocks. The index construction characteristics I favor the most in this ETF are the equal weight allocations, low volatility screening, and sector limitations. It's what really sets it apart among many other large cap ETFs and the primary reasons I believe it makes a strong case for inclusion in your portfolio.
Equal Weighting
Equal weight indexes have posted very strong outperformance vs. their market cap weighted counterparts so far in 2013. Especially since many smaller capitalization stocks have been bid up strongly in the latter stages of this rally. I don't believe a market cap weighting methodology would add much value to FTCS since it's comprised primarily of large-cap stocks that all possess the same traits listed above. They weren't chosen by a committee, so tilting a percentage point here or there toward larger names could be of little benefit. I like the concept that each holding is forced to stand on its own, so that larger underperforming companies don't drag on smaller ones or visa-versa.
Low Volatility
I have always favored a low volatility style of investing, and would buy stalwart stocks over hot-money names any day of the week. Mainly for the dividends they pay, but primarily for the overall stability they present during market corrections. The fund's constituents are screened based on short-term (3 Month) and long-term (1 year) realized volatility. Which means only the stocks that have consistently presented reduced volatility are included in FTCS.
Sector Limitations
Have you ever taken a look at an ETF with a great performance, but then pull back the layers underneath the surface to find that it is heavily concentrated in one sector? For example, many high income ETFs look and perform great, but are heavily skewed toward utilities, mREITS, or consumer staples stocks. Which can be fantastic when those areas are "working," but languish if interest rates are climbing or some other challenge presents itself to those sectors. FTCS employs a screen where a single industry cannot dominate more than 30% of the fund, for this reason it keeps a relatively balanced weighting across multiple areas of the market.
The Final Word
For those that pay close attention to relative performance, FTCS has beat the SPDR S&P 500 ETF (NYSEARCA:SPY) by a margin of roughly 2.5% so far year-to-date. With the majority of the divergence beginning during the May correction. So from a relative standpoint, FTCS has definitely held its own against its benchmark, albeit mainly due to lower volatility and drawdown during the most recent correction.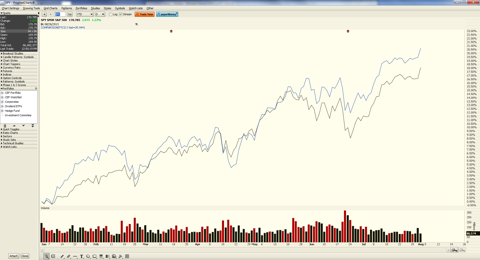 One drawback to the fund is that it carries a slightly higher expense ratio than most large cap stock ETFs at 0.65%. For comparative purposes it's something to consider if you plan on holding it for an extended period, but if the recent performance continues it could easily be worth the extra expense. For investors looking for a great core-plus equity alternative, keep FTCS in mind for your next round of equity purchases. Just remember to always adhere to some sort of risk management plan with any holding in your portfolio.
Disclosure: I have no positions in any stocks mentioned, and no plans to initiate any positions within the next 72 hours. I wrote this article myself, and it expresses my own opinions. I am not receiving compensation for it. I have no business relationship with any company whose stock is mentioned in this article.
Additional disclosure: Fabian Capital Management, and/or its clients may hold positions in the ETFs or mutual funds mentioned above. The commentary does not constitute individualized investment advice. The opinions offered herein are not personalized recommendations to buy, sell or hold securities.