Shares of EpiCept (NASDAQ: EPCT) are on the move as speculation about coming news had shares trading up more than 21% on Wednesday and even higher overnight in Europe (where shares for the company are also traded on the NASDAQ OMX Nordic Exchange) on Thursday morning. The Company possesses an approved cancer product and a deep and balanced pipeline of three major clinical product candidates:
Ceplene(NYSE:R) - approved in the European Union for the remission maintenance and prevention of relapse of patients with Acute Myeloid Leukemia [AML] in first remission; AML is the most common form of leukemia in adults. In June 2009 EpiCept launched a Named Patient Program for Ceplene[R] in Europe and certain other markets through a partnership with IDIS. Drug inventory has been manufactured and shipped to the European Union for use by IDIS and in preparation for the commercial launch. Currently there are no other effective medical-based therapies for AML patients.
EpiCeptTM NP-1 - a prescription topical analgesic cream designed to provide long-term relief from the pain of peripheral neuropathies, which affect more than 15 million people in the U.S. alone. In January 2009 EpiCept reported positive top line results from a 360-patient Phase IIb trial of NP-1 in patients with post-herpetic neuralgia. In this trial NP-1 achieved statistically significant pain relief as compared to placebo and was not statistically different in pain relief to the market leader Gabapentin, yet had fewer CNS side effects.
Crinobulin (EPC2407) - a vascular disruption agent which has demonstrated potent anti-tumor activity in both preclinical and early clinical studies. In preclinical in vitro and in vivo studies, Crinobulin has been shown to induce tumor cell apoptosis and selectively inhibit growth of proliferating cell lines, including multi-drug resistant cell lines. In May 2009 EpiCept announced the completion of a Phase Ia study that determined Crinobulin's maximum tolerated dose and provided evidence of clinical symptomatic activity and radiographic evidence of efficacy in end stage patients. The Company is making preparations to initiate a Phase Ib trial for the compound in combination with other chemotherapeutic agents.
Azixa[TM]- a compound discovered by EpiCept and licensed to Myriad Genetics, Inc. as part of an exclusive, worldwide development and commercialization agreement. Myriad is currently conducting Phase II trials for Azixa and intends to disclose the outcome of at least one of their ongoing Phase II Azixa trials at the November 2009 meeting of the American Association for Cancer Research [AACR]. If successful, these results could lead to Phase III registration trials for the compound, which would trigger a milestone payment to EpiCept.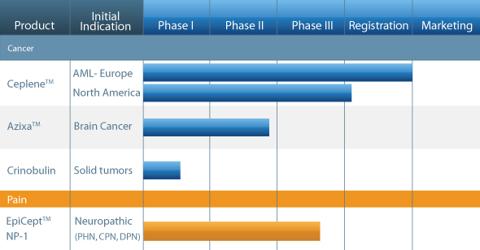 The recent spike in volume and share price may be attributed to one or more of these upcoming catalysts:
On 8/05/2009 EpiCept filed a New Drug Submission [NDS] for approval of Ceplene with Canada. Health Canada typically accepts or refuses an NDS and designates review status within 45 days of filing. Investors are anticipating news in regards to this NDS to be released shortly.
Sources at the company say that investors should expect a New Drug Application [NDA] with the US Food and Drug Administration [FDA] for Ceplene towards the end of 2009. Contingent upon discussions with the FDA.
Investors are anticipating the release of EpiCept NP-1 updated stage 3 clinical trials. Said announcement could take place next week (see #5 below)
Scheduled Azixa update in November 2009
Next week, on 9/09/2009- EpiCept presentation at the Rodman and Renshaw 11th Annual Global Investment Conference which attracts over 3500 investors including mutual funds, hedge funds and various institutional investors.
A strong pipeline combined with numerous upcoming events could continue to propel this stock higher in the coming weeks. This article appears in its entirety at BioMedReports.
Disclosure: No Positions.