Editors' Note: This article covers one or more micro-cap stocks. Please be aware of the risks associated with these stocks.
The Health Care Select Sector ETF (NYSEARCA:XLV) was trading as low as $21.63 in March 2009. The index is currently trading at $51.34 or 137.4% above the low made in March 2009.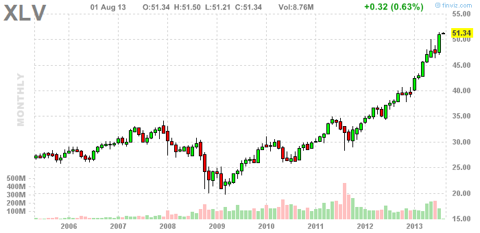 Click to enlarge
In this article, I will feature one healthcare company that has seen intensive insider buying during the last 30 days. Intensive insider buying can be defined by the following three criteria:
The stock is purchased by three or more insiders within one month.

The stock is sold by no insiders in the month of intensive purchasing.

At least two purchasers increase their holdings by more than 10%.
Hansen Medical (NASDAQ:HNSN) develops, manufactures, and sells medical robotics designed for the positioning, manipulation, and control of catheters and catheter-based technologies.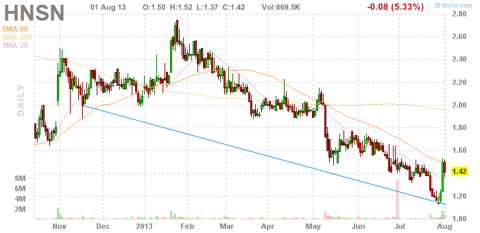 Click to enlarge
Insider buying by insider (last 30 days)
Insider buying by calendar month
Here is a table of Hansen Medical's insider trading activity by calendar month.
| | | |
| --- | --- | --- |
| Month | Insider buying / shares | Insider selling / shares |
| July 2013 | 1,147,484 | 0 |
| June 2013 | 0 | 0 |
| May 2013 | 83,613 | 0 |
| April 2013 | 0 | 0 |
| March 2013 | 65,900 | 50,891 |
| February 2013 | 130,353 | 0 |
| January 2013 | 101,851 | 0 |
There have been 1,529,201 shares purchased and there have been 50,891 shares sold by the insiders this year.
Financials
The company reported the first-quarter financial results on May 8 with the following highlights:
| | |
| --- | --- |
| Revenue | $2.9 million |
| Net loss | $17.2 million |
| Cash | $31.3 million |
| Debt | $29.5 million |
On July 31 Hansen Medical announced that it had entered into a securities purchase agreement for up to $93 million with Oracle Investment Management, leading medical device executive Jack W. Schuler, certain members of the company's Board of Directors, and other existing and new shareholders, including several former healthcare executives.
Outlook
Hansen Medical anticipates the commercialization of 14 to 17 total robotic catheter systems in 2013, as well as total estimated procedures of between 3,100 and 3,400 during the year. The company continues to expect improvement in gross margins over 2012 levels based on current volume assumptions of product sales and increased efficiency from cost savings initiatives. Hansen Medical also continues to anticipate that operating expenses will increase moderately, as the company expects to add resources to support the commercial launch of the Magellan System and the continuing adoption of the Sensei System. Hansen Medical will continue to invest in new products in 2013, and the company anticipates the commercial launch of its 6F vascular catheter for use in smaller vessel, peripheral applications by the end of 2013.
News
On July 23 Hansen Medical reported certain preliminary second quarter 2013 results with the following highlights:
Expects to report revenue of approximately $3.1 million to $3.4 million in the second quarter, down 4% to 12% year-over-year.
Anticipates reporting the commercialization of three systems in the quarter, bringing the total number of systems commercialized for the year-to-date ended June 30, 2013 to four.
Expects to report net loss of $13.2 million to $13.7 million for the second quarter.
Anticipates reporting the sale of approximately 875 catheters in the second quarter, up 24% year-over-year and up 48% sequentially. Consistent with the prior year, hospitals increased inventory levels in the second quarter following a sequential decrease in the first quarter.
Physicians performed an estimated 864 Hansen robotic procedures in the second quarter, up 36% year-over-year and 11% sequentially. This is the eighth consecutive quarter of procedure growth.
Expects to report holding cash, cash equivalents and short-term investments of approximately $21.1 million at June 30, 2013, representing a quarterly cash burn of approximately $10.2 million.
Competition
I chose three other medical robotic companies Mako Surgical (NASDAQ:MAKO), Intuitive Surgical (NASDAQ:ISRG) and Stereotaxis (NASDAQ:STXS). Here is a table comparing these companies:
| | | | | |
| --- | --- | --- | --- | --- |
| Company | HNSN | MAKO | ISRG | STXS |
| P/S | 8.55 | 6.24 | 6.70 | 0.79 |
| P/E | - | - | 22.86 | - |
Only Intuitive Surgical is profitable out of these four companies. Stereotaxis has the lowest P/S multiple out of these four companies.
Conclusion
There have been six different insiders buying the shares and there have not been any insiders selling the shares during the last 30 days. The company has an insider ownership of 0.90%. There is one analyst buy rating, three neutral ratings and one sell rating with an average target price of $2.00. I have a cautiously bullish bias for the stock currently based on the intensive insider buying.
Disclosure: I have no positions in any stocks mentioned, but may initiate a long position in HNSN over the next 72 hours. I wrote this article myself, and it expresses my own opinions. I am not receiving compensation for it (other than from Seeking Alpha). I have no business relationship with any company whose stock is mentioned in this article.