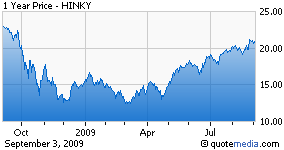 Stock Price: €29.5 (US$42.28)
Conclusion: We keep buying the stock, rerating underway, 15%+ left
H1: Revenue flat like for like, +11% reported to €7.14bn (US$10.23bn), net earnings +12% like for like,+20% reported to €489m (US$701m). Management forecasts organic net profit growth at least high single digit for FY 2009.
Value strategy is paying off.
Despite lower volume (-6.6%), Heineken (HINKY.PK) managed to maintain sales flat thanks to +6.2% average price increases in H1. We expect this trend to continue in H2, helped by an easier comparison in volume terms, offset by some slowdown in Africa and abating pricing effect. Management acknowledged that trading down is an issue and that private labels are gaining share in the market. However, focus on brand building should help to preserve flat sales.
Longer term, we think that three markets offer significant opportunities. Africa is the obvious one, growing double digit and representing 26% of total EBIT, second largest contributor behind Western Europe. The two others, the UK and the US are more challenging, but could provide a booster depending on their successful turnaround. The UK market is declining but Heineken is adapting its structure and gaining share, both in beer and cider. Heineken brand suffered a setback in the US, with a 12% decline in volume in H1. According to management, there is a lot of work to do. They just appointed a new agency in order to help to restore the brand equity.
High single digit organic growth in EBIT and net profit expected for the full year.
Heineken will benefit from four factors: higher pricing, slightly lower raw material and packaging costs, lower media rates (marketing costs fell 6% in H1) and restructuring benefits. TCM cost reduction program delivered savings of €50m in H1 , €120m annualized. Management sees substantial opportunities to drive down the cost base in H2 and beyond. Heineken saved €450m (US$645m) between 2006 and 2008. Heineken is ahead of plan in the UK, with 85% of savings realized so far.
Reported income should remain unchanged versus 2008 as a result of a switch to negative effect of Forex and the dilutive impact of the consolidation of S&N (-15% estimated).
Balance sheet structure remains sound.
Net debt amounted to €8.806m (US$12.62m), implying a Net debt/EBITDA ratio of 3.1x (year end 2008 at 3.3). Free Operating Cash Flow reached €386m (US$553m), up €530m (US$759m) versus prior year thanks to improved working capital and lower capex.
We expect free cash flow for the full year to reach €1.080bn (US$1.54bn) and net debt to fall to €8.100bn (US$11.6bn).
The stock is up 18% since our last comment. Nevertheless, P/E ratio remain moderate (14.6x and 12.5x based on our 2009 and 2010 estimates), while FCF yield looks attractive (7.5%) We value the stock within €35-40 (US$50-57) range.
Disclosure: Long Heineken at time of writing.