If you want to see a sector that has been decimated because of a perfect storm of factors coming together, look no further than the municipal bond Closed-End fund (CEF) sector. Between a spike up in interest rates, the threat of a cap in the tax-free status of interest payments and worries over municipal bond defaults triggered by the ongoing saga in Detroit, this is a sector that has been pummeled all year and keeps getting pummeled from all sides. When investors think that stocks are the safest security in their portfolio and that a bond is a 4-letter word, you know things have gotten very bad for fixed-income.
How bad has it been for the municipal bond CEFs? Many funds are in bear market territory having dropped -20% or more from their 52-week highs on an absolute basis (i.e. not adding back distributions). Most are also at multi-year lows as of the close August 1st. Here are a couple of 1-year Premium/Discount graphs showing the collapse of the fund's market prices compared to the drop in the fund's Net Asset Values (NAVs). Collapse is a hard word to use but considering how many investors in these funds probably thought they were getting into something that was moderate risk to even conservative, I think collapse is an appropriate term. What many investors didn't realize however, is that anytime you use 30% to 50% leverage, which is what most of these funds use, the risk level goes up dramatically even if the portfolios are invested in conservative municipal bonds.
These graphs are meant to be representative of the majority of leveraged municipal bond CEFs though the actual decline in each fund's market price, NAV and premium/discount valuation will obviously vary. I've included a couple of the larger national muni bond funds (i.e. non state specific) from two well-known fund sponsors.
The first is of the Invesco Van Kampen Municipal Trust (NYSE:VKQ), a $968 million fund that even after two distribution cuts over the last year, offers a 6.93% Federal tax free yield paid monthly, equating to a 10.7% tax-equivalent yield for investors in the 35% tax bracket. Nonetheless, VKQ is now at a -11% discount, the widest since early 2009.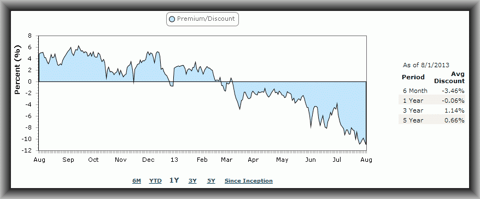 Or how about the Nuveen AMT-Free Municipal Income fund (NYSE:NEA), a very large fund at $1.56 billion in managed assets which actually increased its monthly distribution a very slight amount last month after reducing its distribution a modest 2.8% at the end of last year. No matter...it still got taken out to the woodshed. In fact, NEA hasn't seen a market price of $12.00 (NEA's close on August 1st) since March of 2009 when the markets were just recovering from the 2008 financial crisis.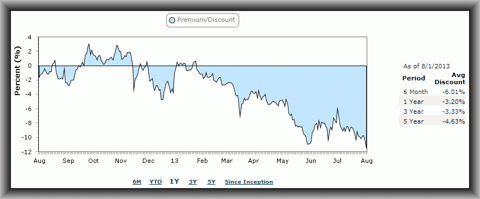 Though most funds have already adjusted their distributions at least once since last year to better align their future payments with their income levels, a spike in interest rates beginning in May has caused most of the damage to these fund's NAVs and particularly to their market prices. We may see additional cuts before all of this is over but in the scheme of things, distribution cuts are not what is causing the rout in muni bond CEFs since on a market yield basis, municipal bond CEFs currently offer some of the highest tax-equivalent yields of any funds, equity or fixed income. That is, of course, as long as the tax-free status is maintained.
No, what is decimating the municipal bond sector, beyond the spike up in interest rates, which is hurting all fixed-income investments, is the bankruptcy proceedings in Detroit and other pension reforms going on in municipalities across the country as well as the assault on the tax-exempt status of municipal bond interest payments. It's safe to say that cities and counties today are now being compared to Lehman Brothers of 2008 and all of this is creating an immense amount of uncertainty.
But could one actually help diffuse the other? It's hard to quantify how much each of these concerns is weighing more on the municipal bond market, but I would argue that what is going on in Detroit, as the latest poster child to the problems many municipalities face with balanced budgets, may actually help put any municipal bond tax-reform proposal on the back burner or even off the table altogether. Though obviously Detroit is a unique situation and is hardly a harbinger of what's to come for other municipalities, its timing may help cities and counties galvanize their efforts to resist any changes to the tax-exempt status of municipal bonds since they are already putting up a united front against any such modifications.
Here is a copy of a letter from a broad coalition of municipal and private sector interests sent to Senate Majority leader Harry Reid and Senate Minority Leader Mitch McConnell this past March. And since the Obama administration has consistently called for a cap on the muni bond exemption as part of an overall balanced budget proposal for 2014, there have been ongoing efforts by the public sector to stress the harm this would cause to the public financing. Though the Obama administration is obviously targeting wealthier investors who are the primary buyers and holders of municipal bonds either directly or through mutual funds, there is ample evidence that the elimination or reduction of the tax-free bond status would hurt cities and counties much more than individuals who are in high tax-brackets or who are high earners.
A report from the National League of Cities, National Association of Counties, and the U.S. Conference of Mayors estimates that if a proposed 28% benefit cap on interest income on municipal bonds (one of the proposals being floated by the Obama administration) was in place over the last ten years, it would have increased the borrowing costs to state and local governments by over $173 billion. Complete elimination of the cap would have increased borrowing costs by over $495 billion.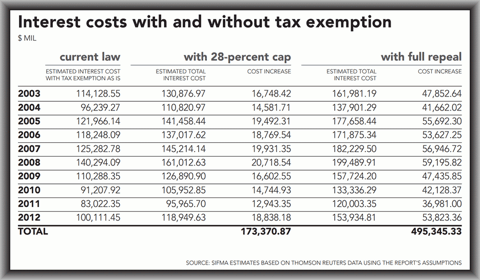 According to the report:
In the last decade (2003-2012) state and local governments financed more than $1.65 trillion of infrastructure projects through tax-exempt bonds;
$514 billion of primary and secondary schools were built with financing from tax exempt bonds;
$288 billion of financing went to general acute care hospitals;
$258 billion funded water and sewer facilities;
$178 billion went to roads, highways, and streets;
$147 billion funded public power projects; and
$105.6 billion went to mass transit projects.
Do any of these projects sound like something the Obama administration and the Democrats would like to jeopardize in the future, particularly considering the difficulties most municipalities are already facing with pension reform, etc? Another recent study in June co-sponsored by the National League of Cities found that if Congress capped the tax exemption to 28% for municipal bonds that finance local infrastructure projects, 311,736 jobs, $16.4 billion of labor income and $24.7 billion in GDP would have been lost in 2012. If Congress eliminated the tax exemption all together, then the loss would have been 891,962 jobs, $46.9 billion of labor income and $70.7 billion in GDP.
Publicly financed infrastructure projects are one of the mainstays to the middle-class jobs growth plan of the Obama administration and the Democrats so I have to believe that any cap or modification to the tax-exempt status of municipal bonds is more of a political negotiating plan with Republicans rather than a serious attempt to change existing tax code laws which have been in place for over 100 years. Time will tell.
My Take On The Municipal Bond CEF Market
The drop in market prices of the municipal bond CEF sector has been one of the worst I have seen since the financial crisis of 2008. I had warned investors last year and even as recently as March that these funds were a lot more volatile and interest rate sensitive than most investors realized because of their heavy use of leverage. I even said as much in my March 15th article, Muni CEFs Take A Beating Again,
This latest sell-off in municipal bond CEFs has pushed their tax-free yields to well over 5% to even 6%+ and many investors might be inclined to buy here. I would be cautious, however, about jumping into these funds even at these levels where many are now at discounted market prices. Though my focus is on equity funds, I did spend many years at Citigroup Smith Barney (C) and Morgan Stanley (MS) dealing in fixed-income and municipal bond securities and if there is one thing I learned, it's that in the world of fixed-income, trends are like moving a battleship. They may take awhile to get started, but once they get going, they are hard to stop.
Of course, a few months later in early June, I thought the waters had calmed enough that investors could start accumulating shares of beaten down funds based on the rapid decline of their market prices which were dropping far quicker than their NAVs. Though I felt at the time that we would not see a bottom to these funds until the Fall, I said that investors could probably start picking up shares right then. That turned out to be pre-mature as most funds have taken one or more legs to the downside since then and I have once again been reminded why I tend to shy away from fixed-income CEFs as I am sure many muni bond CEF investors have now sworn off these funds altogether.
But that is what makes CEFs both frustrating and opportunistic. Nowhere is the ugly head of fear and greed more revealing than in CEFs and fear is firmly in control right now. However, I like to look at what could go right since there is a lot of bad news already built into the valuations of these funds with over 1/3 of the national municipal bond CEFs at -10% to -13% discounts and most of the rest at between -5% and -10% discounts. That is a far cry from the premium valuations many funds had at the end of last year.
There obviously could be more legs down for the muni bond sector at this point, driven mostly by a continued rise in interest rates, but I do think time is now on the side of muni bond CEF holders since the next few months should eliminate a lot of the uncertainly currently swirling around this sector. I think it would be ironic that the situation in Detroit might actually be of benefit to the municipal bond sector by reminding the White House and Congress of the tenuous state many cities and counties are still in and that this proposal is not about helping balance the budget by cutting the tax-free income from the wealthy but rather growing the economy and keeping the middle class jobs that the Obama administration now espouses.
To see a full list of municipal bond CEFs available to investors, go to this page at CEF Connect and check the box(s) under Tax-Free Income.
Disclosure: I have no positions in any stocks mentioned, and no plans to initiate any positions within the next 72 hours. I wrote this article myself, and it expresses my own opinions. I am not receiving compensation for it (other than from Seeking Alpha). I have no business relationship with any company whose stock is mentioned in this article.