When State Street introduced the first foreign bond ETF nearly 2 years ago, I was ecstatic. The SPDR Barclay International Treasury Bond Fund (NYSEARCA:BWX) offered an annual income stream above 4.25%, a natural hedge against the U.S. dollar, potential for some capital appreciation and a history of non-correlation to stock assets.
Today, BWX produces an income stream of 2.25% while trading at a 0.6% premium to net asset value. Clearly, the desire to hedge against U.S. dollar devaluation – even at a premium, even with a dwindling income component — is still very vibrant.
As much as I still feel BWX is a strong contender as a portfolio mainstay, new foreign bond ETFs have come on the scene. Many of them have shorter average maturities than the 8 years of SPDR Barclay International Treasury Bond Fund (BWX).
For instance, SPDR Barclays Short Term International Treasury Fund (NYSEARCA:BWZ) has a 30-day SEC yield of a mere 1.15%… a full percentage point less in income. Yet the "cousin" SPDR has one quarter of the average maturity at just 1.7 years. In effect, you get the currency hedge as well as the low correlation for diversification purposes… with a bit less overall risk.
Another consideration is the likelihood of inflation in foreign countries where economies are beginning to expand. The worldwide stimulus spending and ultra-low interest rates probably seal the deal. That's why an investor might be interested in the SPDR DB International Government Inflation-Protected Bond Fund (NYSEARCA:WIP).
The average maturity for WIP is 12 years to BWX's 8 years. And the SEC yield for WIP is 50 basis points less at 1.75%. Yet the added benefit of purchasing power protection should world inflation gauges rise would increase the value of WIP's net underlying assets.
Last, but certainly not least, the Nuveen Multi-Currency Short-Term Government Income Fund (JGT) provides an attractive level of income through direct and indirect investment into short-term international government securities. Investing in non-U.S. government securities through a variety of different currencies often garners unique results.
It's not a cheap fund at a total management fee of 1.1%. And it's not necessarily for the faint of heart, getting pummeled in the heart of the credit crisis. Yet it is already up 20%+ in 2009 and it has only lost 10% in the bear.
The Nuveen Multi-Currency Short-Term Government Income Fund (JGT) currently trades near a 7% discount to its net asset value. Most important, JGT is serving up an annual distribution close to 9% on quarterly payments, although it has already lowered its distribution amount once.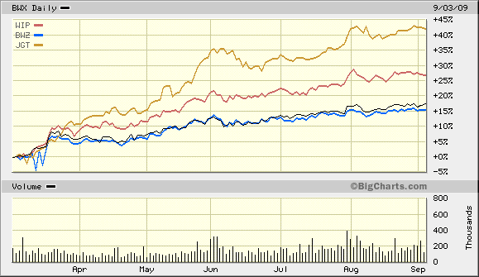 Click to enlarge
Full Disclosure: Gary Gordon, MS, CFP is the president of Pacific Park Financial, Inc., a Registered Investment Adviser with the SEC. The company may hold positions in the ETFs, mutual funds and/or index funds mentioned above.