We have had a love-hate relationship with Facebook (NASDAQ:FB) for some time. But now the company is gaining "proved" traction in mobile, getting a big win for mobile monetization with its recent quarterly results. Yet, at the current price, a 50% annualized growth in free cash flow is already baked in, suggesting little to no upside to the stock.
Why everyone rushed to buy
The day after Facebook's 2Q EPS release was the second largest trading day in Facebook's short history, eclipsed only by its public market debut back in May 2012.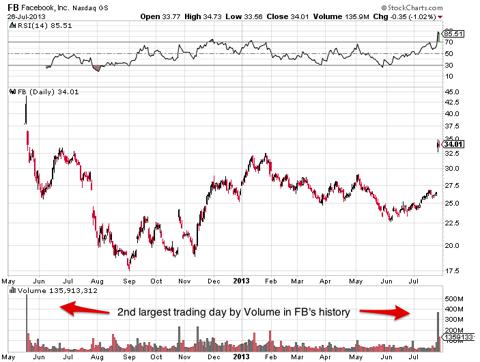 Facebook does have the first mover advantage in the social networking space, as well as broad reach, operating across the globe. It has amassed 1.1 billion-plus monthly active users and the future potential is vast.
GroupM pegs the global digital ad spend total at $113 billion by 2013-end, a 14% year-over-year growth. With 1.1 billion plus monthly active users, it's hard to deny that Facebook won't benefit from the rise in online ad spending.
eMarketer thinks that Facebook will be able to capture some 15.5% of the U.S. display ad market this year, generating revenue of $2.75 billion in ad display revenue.
Even with the great growth opportunities afforded Facebook, the current valuation already reflects its miraculous potential. Bear with me, as we'll get to the valuation soon enough, but let's make sure we touch on what Facebook's doing right.
The big win for the social network was that mobile ad revenues were up 75% year over year during 2Q, with total revenue rising 50% year over year. Monthly active users grew to 1.15 billion and daily active users were up to 699 million -- with engagement (DAUs as a percent of MAUs) up to 61%. And average revenue per user was up 26% year over year to $1.60.
The way of the future
Facebook introduced ads for its News Feed earlier this year, which are proving to be way more effective than its previous ads.
Ad agency AdRoll has placed the news feed ads as having a 49x higher click through rate compared to its sidebar ads. The news feed ads also have an over 50% lower cost per click than sidebar ads. So Facebook has done something right. And it showed in 2Q numbers.
One of Facebook's key initiatives going forward will be video ads. Facebook has rolled out videos on Instagram, which should be one of its top platforms for introducing video ads. FB is also rolling out video ads that will auto play in the Facebook news feed.
International growth shall save us?
While it's true that there lies "great" opportunities in the emerging markets, such as Africa and eastern Asia, the reality is that the penetration rate for the Internet remains very low. So while Facebook may come to Africa, it will be a while.
Facebook's fastest growing market is Asia...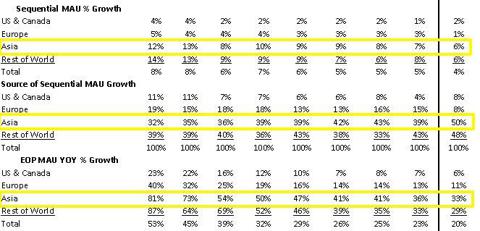 ....but there's a lot of uncertainty as to how the continent will embrace the social network. China is notorious for closely guarding the sharing of data on the Internet, and access to Facebook is limited in the country, which is the world's largest online population.
The other issue with Facebook's international foray, namely Asia, is that its average revenue per user is generally lower than in the U.S.


Total average revenue per user for Asia is only 40% of what the Europe market brings in and a mere 20% of what the U.S. market commands. A greater reliance on Asia will be sure to push down Facebook's margins over the long term.
Valuation
Here's where we get excited about laying out why we are not owners of Facebook. If we look at FB from a cash flow valuation standpoint, we find that the stock is trading at fair value. The below excerpt focuses on Facebook's cash flow generating potential.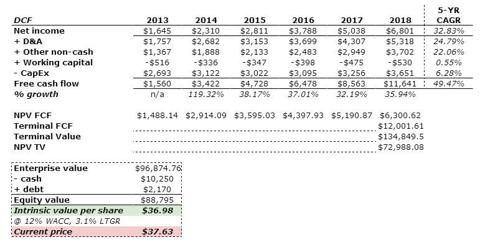 The real key to the above valuation is that from 2013 to 2018, the FCF CAGR is 50%. Quite high, we know. Question is; is this possible? Sure. Other major tech giants, Apple (NASDAQ:AAPL) and Google (NASDAQ:GOOG) have done it before. Apple saw its 5-year FCF CAGR grow at nearly 50% over the five years leading up to both 2010 and 2012, while Google's greatest growth was from 2006 to 2011.

However, and again, this is where things get interesting, if we do a similar valuation (like the one on FB from above) on both Apple and Google, we find that these stocks were actually undervalued prior to their 50% FCF growth spree. What this means is that we feel fairly confident that FB's valuation is spot on, and the stock is fairly valued.
Let's start with Apple. If we value Apple's FCF in the five years from '05 to '10 we find that the stock was heavily undervalued in 2005.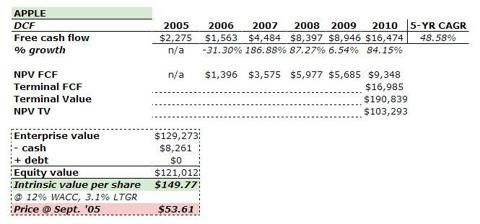 Meanwhile, if we look at Google's valuation in '06, we see that the stock was also undervalued.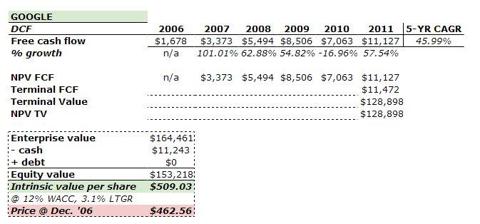 And as we know, in the years following 2005 and 2006, both Apple and Google rose to their fair value. The other big headwind for FB is that the 50% growth rate for its FCF could be overestimated, leaving little room for performance "hiccups" -- meaning the stock already has a lot of growth baked in.
Bottom line
We think Facebook is fairly valued, and the case could even be made that the company is overvalued. What's more is that Zuckerberg controls the company, having the majority of the voting power. Thus, the future of the company ultimately lies with him making the right decisions, something we are skeptical of. For owners of the stock that refuse to sell, buying some protection with covered calls (an income oriented strategy) would not be a horrible idea.
Disclosure: I have no positions in any stocks mentioned, and no plans to initiate any positions within the next 72 hours. I wrote this article myself, and it expresses my own opinions. I am not receiving compensation for it (other than from Seeking Alpha). I have no business relationship with any company whose stock is mentioned in this article.